In this post, I will show you how to make Nigerian beans pie. Here you will find all the recipes for Nigerian beans pie as well as the procedure to prepare it.
Beans pie is a Nigerian recipe. It is a vegetarian twist to the Nigerian meat pie. Note that vegetarian twists to numerous recipes do not exist in Nigerian seeing as Africans that we just love meat. You do not have to be a vegetarian however to try out this recipe.
The Nigerian pie, unfortunately, is not one of those recipes I can say I have fond childhood memories of even though I feel that is a loss on my part.
Read Also: How To Make Nigerian Meat Pie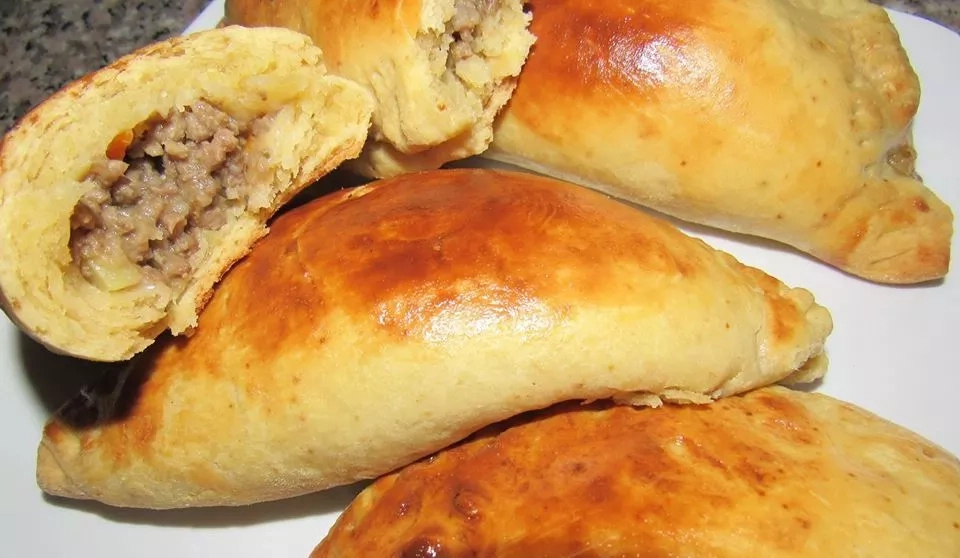 I did not know of the Nigerian beans pie till only a few years ago when I was exchanging childhood stories with a friend.
She grew up in Port Harcourt and apparently had a lady in her school cafeteria that made and sold delicious beans pie. I, on the other hand, grew up in Enugu and had never heard of or seen beans pie before this story.
The way she spoke so passionately about beans pie I went on to look out for recipes because to try out this beans pie.
Seeing as I already knew how to make the regular Nigerian meat pie it was a bit easier for me to figure out and to prepare successfully and I have never looked back ever since.
Read Also: How To Make Nigerian Pizza
Its dough is very similar to that of Nigerian meat pie with the only twist in preparing the filling. It can also be baked or fried, whichever you prefer. Locally made beans pie is usually fried but it's baked if you want an obviously healthier version.
Beans pie is extremely healthy, rich in carbohydrates from the flour, plant protein and fibres from the beans filling, vitamins and minerals from the tomatoes and healthy oils from the vegetable oil. It is very filling and as any other snack can be served with a cool drink and as finger food at a party or picnic.
In the recipe I'll include minor twists if you decide to fry your beans pie instead of baking because frying gives it a very delicious greasy feel and taste you are sure to enjoy.
Ingredients [for the dough 12 servings]
a. 3 cups of flour
b. ½ stick of butter
c. 1 level table spoon of yeast [for frying] or 1 level tablespoon of baking powder
d. ½ tablespoon of salt
e. a pinch of sugar
f. a pinch of nutmeg
g. ½ tablespoon of garlic
h. ½ tablespoon of ginger
i. ½ tablespoon of paprika
Water [as required, luke warm for frying and cold for baking]
Egg [for baking]
Read Also: How To Make Nigerian Sandwich
Ingredients [for beans filling]
a. ½ cup of cooked beans
b. ½ a small onion
c. 2 tablespoon crayfish
d. 1 fresh tomato
e. 1 habanero [ata rodo]
f. 2 tablespoon butter
g. Salt
h. Vegetable oil [for stew]
Steps
For making dough
Sift flour into a large bowl. Add the salt, nut meg, garlic and paprika.
If you are using yeast don't add it yet.
Mix the yeast in a little warm water and leave to froth.
Heat the butter just enough to melt it.
Mix the butter into the flour.
When the yeast and water mixture froths add it to the dry mixture and mix thoroughly.
Add water and mix till you form a thick stretchy dough.
Cover and place in a warm place for 10 minutes.
If you are using baking powder, mix in baking powder along with other solid ingredients.
Add melted butter.
Add water and knead till you achieve a stretchy dough.
Set the dough aside and start on the filling.
Read Also: How To Make Nigerian Akara
For making the filling
Boil the beans separately.
You might be required to boil the beans before you start mixing the dough because boiling the beans might take up to an hour if you are not using a pressure cooker.
Once the beans are ready [ that is, soft enough to be easily mashed with a spoon] remove from heat and strain the excess water.
Chop the tomatoes and onions.
Grind the crayfish into fine powder.
Heat up some vegetable oil.
Fry the tomatoes, onions and other ingredients in the vegetable oil making Nigerian stew.
Do not hesitate to taste the stew at intervals to ensure the tomatoes have lost the tangy fresh taste.
Pour the already boiled beans in the cooking pot of stew.
Stir and mash the beans till the stew is fully incorporated.
Remove the beans filling from heat.
For making final beans pie
Take out the dough once again, roll it out over a clean work surface.
Rub margarine in the oven tray to ensure that the meat pies don't stick to the tray or get burnt while baking.
Knead the dough some more and the roll it out to achieve a 5mm thickness
Carefully cut round shapes on the dough either using the cover of a small pot or using a meat pie cutter.
Make these round cuts till all the rolled out dough is finished.
Remove the excess dough and leave only the round cuts.
Scoop some of the filling onto the centre of the dough. Try not to put too much filling so that the meat pies can close comfortably without bursting open while baking.
Read Also: How to Make Chin Chin in Nigeria for Home Use and Business
Use a little water at the edges of the dough the fold one side over the other so that the filling is secure on the inside.
Use the butt of a fork to press it safely shut.
Place the meat pies on the oven tray and place in the preheated oven. Bake for about 20 minutes.
Feel free to open the oven to check at intervals if it's ready because some ovens take a shorter time than others to bake.
If you are frying, when the pies are already sealed, heat up enough vegetable oil in a large pan.
You might also want to cut smaller circles if you are frying so that more pie can fit in the pan at a time. This is just to make the process a bit faster.
Fry the pies in hot oil till golden brown then you flip to the other side and allow it to fry too.
Remove from heat and strain the oil using a kitchen napkin.
Serve warm alongside a cold drink and enjoy.
Cheers!!
👍Advertise your business on InfoGuideNigeria.com!
From just N4,999 per month, you can advertise your products and services to over 1,500,000 users on our website. Click here to read more.
👇👇👇👇👇
Information is Power!
Don't miss any valuable information or opportunity that can change your life, business, and family positively and permanently.
👇👇👇👇👇
For Latest updates on News, Jobs & Business Ideas, and Opportunities.
Copyright Warning!
Contents on this website may not be republished, reproduced, or redistributed either in whole or in part without due permission or acknowledgment.
.
Proper acknowledgment includes, but not limited to (a) LINK BACK TO THE ARTICLE in the case of re-publication on online media, (b) Proper referencing in the case of usage in research, magazine, brochure, or academic purposes,.
.
All contents are protected by the Digital Millennium Copyright Act 1996 (DMCA).
.
The images, except where otherwise indicated, are taken directly from the web, if some images were inserted by mistake violating the copyright, please contact the administrator for immediate removal.
.
We publish all content with good intentions. If you own this content & believe your copyright was violated or infringed, please contact us  for immediate removal.
🤑 Start Making Money from home today!
👉 Get the correct
FREE FOOTBALL PREDICTION
TIPS
and
Guides
today.
Click here