Pancake is a delicious snacks usually served at home as breakfast. It can as well be served anytime with a variety of toppings or filling like jam, syrup, meat, chocolate chips etc.
Its shape and structure also varies worldwide. Pretty much anything can be used to make as a face in pancake, all that is required is your imagination, I bet you the kids will love these
Here is an easy, simple, straightforward recipe on how to make yummy pancake. Gone are the days of boring pancakes. These unique recipes will turn your breakfast to fab.
Read Also: How To Prepare Chocolate Cake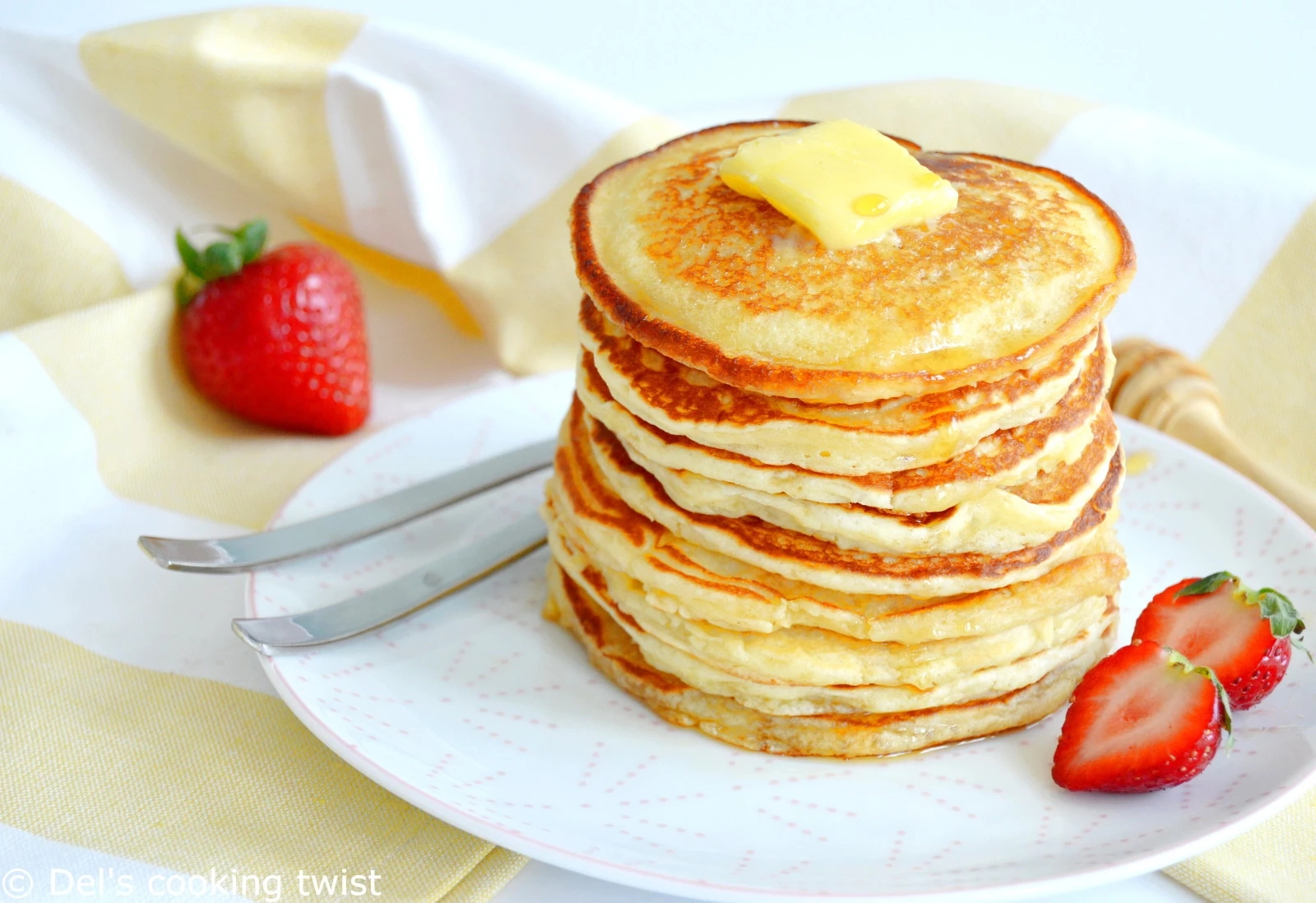 Ingredients for Pancake:

a. 125 gr plain flour
b. 2 Raw eggs
c. 100ml Water
d. 2 Tablespoonful of butter/margarine (melted) or vegetable oil
e. Chilli Pepper or Scrotch bonnet (atarods)
f. Chopped Onion
g. A Pinched of Nutmeg (optional)
h. 1-2 Tablespoon vegetable oil (for greasing the pan).
Read Also: How To Make Nigerian Cupcakes
Direction for Pancake

a. Get a bowl, break and add the eggs, melted butter  and sugar, then stir using a whisk spatula
b. Add the chopped onions, pepper, salt, nutmeg (optional) followed by milk. Then stir thoroughly
c. Now you can gradually add the flour and keep stirring until it gets a thick lumpy look
d. Gradually add water and keep stirring until the pancake batter gets smooth
N.B: The lighter the batter, the thinner the pancake turns out
e. Place your pan (non-stick pan) on heat to remove any spilled water, add a little quantity of oil into the pan. Then spread the oil using a griddle brush to grease the pan surface and heat up.
f. Pour and scoop some of the pancake batter using a ladle (soup spoon) into the hot pan. Now gently move the pan into sloping positions to make the batter evenly coat the surface of the pan
g. Heat one side of the batter for 30 seconds until slightly brown then flip over and repeat
h. Repeat the process for the remaining pancake batter. Serve and enjoy pancake with a chilled drink
N.B:  This is a Nigeria pancake, quite different from the regular one. The ingredients are slightly different. Onions, sugar, pepper are included when making a Nigeria pancake to add spicy taste which you wouldn't see in the regular pancake.
Baking powder is optional in a Nigeria pancake but if it must be added for more fluff, it should be in little quantity like a tablespoonful
There are people that enjoys pancake with toppings. Let us look at how to make some sweet and savory pancake toppings. These recipes are tasty enough to make your pancake feel special
1-Minute Peanut Butter Syrup
Ingredient
a. ½ cup of honey or maple syrup
b. ¼ cup creamy peanut butter
Direction for Peanut Butter Syrup
Get a microwave-safe bowl, add honey and peanut butter then stir. Microwave for 30 seconds, remove from microwave and then stir. Place again in microwave for 30 seconds, and then stir until mixture is completely combined.
Read Also: How To Make Nigerian Egg Rolls
Peach Pancake Syrup
Ingredient
a. 4 medium peaches
b. ¼ cup of sugar
c. 1 pinch allspice
d. I tablespoon unsalted
Direction
a. Peel the peaches.
N.B The simplest way of peeling a peach is to cut an X through the skin on the bottom each https://www.abclocksmiths.org/new-lock-replacement, the place into boiling water for 30 seconds after which you place in a bowl of ice water. This will make it easier for the skin to slip off.
b. Halve and pit the peaches.
N.B Its either you chop them into tiny pieces to make a chunky sauce or puree to make a smooth sauce.
c. Place a saucepan set over a medium-high heat, add the peaches, sugar, allspice, butter and water, stir to combine mixture.
d. Boil mixture then reduce to a simmer over medium-low heat.
e. Cook and keep stirring for 8 mins until syrup thickens
f. Remove and serve with pancake
Anty Bonnie's Chocolate Syrup for Pancakes
Ingredients
a. 1½ cups of sugar
b. 3 tablespoons of cocoa powder
c. ½ cup of water
d. A pinch of salt
e. 1 teaspoon of vanilla extract
Direction
a. Add all ingredients in a small saucepan.
b. Heat mixture, stirring until sugar dissolves.
c. Remove from heat and serve.
Read Also: How To Make Nigerian Meat Pie
Brown sugar and cinnamon syrup
Ingredients
a. 1 cup of packed light brown sugar
b. 1 cup of water
c. ¼ to ½ teaspoon cinnamon
d. Squeeze of lemon juice
Direction
a. Place your sauce pan over medium heat, add water and add sugar.
b. Heat to boiling point then reduce heat and simmer for 5 minutes until sugar dissolves, stirring occasionally.
c. Stir in cinnamon and lemon juice.
d. Serve warm
Easy homemade blueberry sauce
Ingredients
a. 3 cups of blueberries
b. A cup of water
c. ½ cup of water
d. 1½ table spoons constant of water
e. ½ teaspoon vanilla extract
Direction
a. Get a small saucepan, place the berries in it like 1½ cup
b. Add water and sugar then stir to mix
c. Place over heat, cook until berries just start to break down, keeping stirring constantly, and gradually adding your cornstarch mixture to the pan. Bring to a boil, remove heat and then simmer over low heat until sauce thickens
d. Gradually add water to give it a thin look atleast a tablespoon at a time
e. Remove from heat and serve above pancake
Warm Apple Pancake Topping
Ingredients
a. 1 cup and 2 table spoon apple cider
b. ¼ cup of brown sugar
c. 3 large apples, peeled and thinly sliced
d. 2 teaspoons of cornstarch
e. ½ teaspoon of vanilla extract
Direction:
a. Get a large sauce pan, add a cup of cider into it and the followed by brown sugar
b. Place pan over medium-high heat and bring to a boil
c. Add apples and then bring to a simmer
d. Cook apples for 10- 12 minutes, stirring until tender
e. Get a bowl; add 2 tablespoons of cider and cornstarch in a small bowl to make a slurry
f. Get the mixture and add to the apples, cook and stir until thickens.
g. Remove from heat and stir in vanilla then serve
Read Also: How to Make Chin Chin in Nigeria for Home Use and Business
Healthy fruit sauce
Ingredients
a. 3 cups of fresh or frozen fruit (any fruit combination of your choice like apples, strawberries, peaches, blueberries etc. these are few of the fruit that makes an excellent pancake toppers
b. 1 to 3 tablespoon of sugar, maple syrup or honey
c. A medium saucepan
Direction
a. Get the saucepan, about add ¼ inch deep of barely cover the bottom of saucepan
b. Add 3 cups of the fruit to the saucepan
c. Add about 1 to 3 tablespoon of sugar, maple syrup and honey in the pan for sweetening
d. Set the pan over medium heat, stirring from time to time until fruit begins to break down and the sauce thickens slightly. 15 mins is enough to do that
e. Remove from heat and serve
Information is Power!
Don't miss any valuable information or opportunity that can change your life, business, family positively and permanently.
👇👇👇👇👇
Subscribe to Blog via Email
✍️ Be Our Guest Publisher!
Do you have a press release, breaking news,  or any other helpful information to share with our growing readers? If yes, send your article to 👉 infoguidepr@gmail.com.
We will be glad to publish it if the information is useful to our audience.
This post can be helpful to somebody else, please share it on Facebook, Whatsapp, Telegram and Twitter. There are buttons below for this (easy to use too)!
Make money writing for us. Apply for
Freelance writing jobs in NIgeria
.
.
Copyright Warning!
Contents on this website may not be republished, reproduced, redistributed either in whole or in part without due permission or acknowledgment.
.
Proper acknowledgment includes, but not limited to (a) LINK BACK TO THE ARTICLE in the case of re-publication on online media, (b) Proper referencing in the case of usage in research, magazine, brochure, or academic purposes,.
.
All contents are protected by the Digital Millennium Copyright Act 1996 (DMCA).
.
We publish all contents with good intentions. If you own this content & believe your copyright was violated or infringed, please contact us at [infoguidenigeria@gmail.com] to file a complaint and we will take necessary actions immediately.