Economy
10 Major Problems of Transportation In Nigeria
Public transport is a critical means by which citizens can effectively access goods and services across the expanse of today's cities. Hiccup free roads with the wind in your hair and your car never hitting a road bump are certainly everyone's delight.
Unwrinkled, creamy and topmost safety in other modes of transport such as rail transport and water transport, which provides a luxury travel experience and lots more are desired by the 21st century passenger.
The transportation sector of any economy is always its back bone. This is the network that connects every part of a country together, it connects homes to religious gatherings, connects farms to markets and even connects students' accommodation to schools. Isn't that great?
Read Also: 10 Ways to Improve Transportation in Nigeria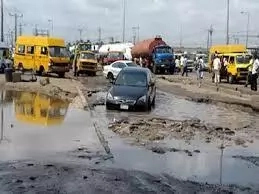 Unfortunately, Nigeria as a country is still far from world's best practices and all it takes to be there are essentially dependent on many parameters which are of national importance.
The accumulation of each government's input has given the transport sector a fair look compared to what it was several years ago. The teeming population has also raised the need for a standard transport system more than ever.
This article aims to throw light on the specific transportation issues existing in Nigeria. Perhaps, knowing the problems will take us a step further into knowing what the solutions are.
1. Undefined Bus Shelters
There's hardly any bus stop in Nigeria that has a proper bus shelter for passengers to sit, chill, chat and relax while waiting for the bus to arrive.
All you see, most times is, a skeletal shade or structure that's a short distance away from the road. Some areas don't even have this and the passengers are left with no choice than to stand by the road side to wait for buses.
This has led to pedestrian and vehicular conflicts and has also reduced the flow of traffic during transit.
 2. Insufficient Pedestrian Infrastructure
A working transport system should have its pedestrian at heart by providing the basic infrastructure needed to ensure safety while walking, crossing the roads and trying to catch a bus or alighting.
These includes pedestrian walkways guided with guard rails, pedestrian lights and signals and pedestrian bridges. All these infrastructures have different types and facilities that provides the safety and transfer needed from one location to another, unfortunately we have a very small number of roads with pedestrian infrastructure.
Read Also: History of Transportation in Nigeria
3. Unsignalled Junctions
Junctions without signals are norms in Nigeria. We are only being compensated by traffic wardens whose duties are limited to daylight hours.
They work manually till evening and leave the junctions for the angry transport operators to use according to their discretion, leading to many arguments and deformation of several vehicles.
This, in turn, results in longer queues of vehicles waiting for the drivers' disputes to be settled to allow movement.
4. Bad Roads
It is so obvious that our roads are so bad that every kilometer you travel by car or bus is bound to be decorated by one pot hole or the other.
It has become so bad that you dare not drive on a high speed, because, doing that will be at your detriment and it may be too late to stop or avoid the big hole staring at you.
Some roads have even been declared as dead zones as a result of the number of accidents that are recorded everyday on those roads.
Besides, there is no plan for continuous maintenance of these roads until they are totally deteriorated and almost abandoned, and when it is eventually maintained, you will be shocked to find out that the construction materials used are bogus and short-lived.
5. Road-Side Parking
Due to the absence of laybys and parking spaces, many vehicle owners are seen parking on the road side, thereby obstructing the smooth flow of traffic.
This is a major problem faced by the transport sector because the traffic will continue to be obstructed until proper transport infrastructure like bus laybys are provided by the government to our roads.
This can also be blamed on Some of the recently constructed road infrastructures are poorly built with low-quality materials corruption whereby someone in charge of the construction and provision of transport infrastructure is paid to do a standard job, but the person ends up doing only few and [pockets the rest in to himself.
Read Also: 10 Problems of Transportation in Nigeria
6. High Traffic Demand/Motorization Rate
The level of motorization we experience in Nigeria is on the high side, every one wanting to buy one car or the other due to the poor state of public transport for commuters.
This has led to the menace causing continuous congestion on our roads. If a good public transport bus could transport 20 people at the same time, that would take 20 buses off the road, but unfortunately, everyone wants to ride his own car at one's comfort and safety.
The rapid urbanization and overpopulation in major cities have also contributed to the high demand which has exceeded the supply and capacity of the road networks currently available.
Rapid urbanization and over-population of Nigerians results in more vehicles on the road and more traffic congestion on a daily basis on most of our transport networks.
7. Poorly Planned Junction Geometry
Due to the limit of our Nigerian studies, many of our junctions have been poorly built. We are behind in terms of latest trends in technology and Junction Improvement Works, hence, we keep making the same mistakes over and over again.
When a junction is poorly designed and constructed, the result is congestion and probable accidents. Most roundabouts are built too big that they do more harm than good, hence, we need experts from developed countries to proffer the best solution for that is unique to our land and road structure.
8. Insufficient Public Transport Modes
An integration of all modes of transport is what makes a transport system work properly. Unfortunately, only our road and air transport seem to work properly.
Our train networks have been poorly patronized due to the poor maintenance culture given to it, the few good ones are too small in number for the level of traffic demand in the country.
Our waterways need dredging to encourage depth and expansion because only a small body of water is currently in operation. Our non-motorized transport (bicycles, walkways etc.) also needs to be encouraged in a number of ways.
The optimization of all the modes will reduce the demand on road transport and heavy loads will be transported through rail transport. Dangerous heavy trucks will also drastically reduce on our roads.
Read Also: The Role of Transportation in a Supply Chain
9. Unavailability of Alternative Roads
The availability of several alternative roads is what makes drivers avoid congestion and reduce pressure on a particular route but since our roads have few alternatives, we find ourselves stuck on one road for a long time until the traffic clears off on its own during off-peak periods.
This is one of the major problem facing our transport networks. The need for an alternative road is only seen and quickly created when the only option is undergoing a repair or maintenance. This attitude to alternatives has resulted in reduced accessibility and flexibility.
10. Road encroachment
Use of the road space for other purposes is common with the major junctions, interchanges and bus stops hampered in their function by their use as unofficial bus stops, and encroachment by street trading and semi-official market activities; kiosks and commercial containers, advertisers, street dancers, beggars and other forms of obstruction affect the smooth flow of traffic on our major roads.
The aforementioned factors explained above have been responsible for the problems faced by Nigerian transport system.
Others include:
a. Lack of traffic information system
b. Absence of real time passenger information
c. Lack of CCTV
d. Recklessness and impatience of drivers
e. Insufficient speed limit signs
f. Inadequate off-street parking provision
g. Poor driver behavior
h. In-effective enforcement regime to curb indiscipline among drivers
i. Flooding of the carriage-way resulting from poor drainage infrastructures especially in rainy season
j. Hawking and Street trading; Fragmented bus service; Lack of pedestrian walkway
k. High level of operational indiscipline
l. Lack of major fleet operators
Read Also: 9 Steps to Obtain Driver's License in Nigeria
m. Unauthorized parking garage with their spillover effects on the carriageway
n. Unsafe and uncomfortable Bus condition
o. Indiscriminate bus parking, Poor traffic enforcement regime
p. Poor bus service delivery
q. Lack of Traffic System Management (vertical signs, lane markings)
r. Uncoordinated junction control mechanisms
s. Flooding of the carriage-way resulting from poor drainage infrastructures especially in rainy season
t. Indiscriminate bus parking to load and unload passengers and Congestion arising from lack of Traffic Systems Management (TSM) measures along the corridor.
Click here to see the latest
work from home jobs
Click here to see the latest
Jobs opportunities in Nigeria
.
Click here to Join
Recharge and Get Paid
Click here to Read Latest School News in Nigeria
Copyright Warning!
We work really hard and put a lot of effort and resources into our content, providing our readers with plagiarism-free articles, original and high-quality texts. Contents on this website may not be copied, republished, reproduced, redistributed either in whole or in part without due permission or acknowledgement.
Proper acknowledgement include, but not limited to (a) Proper referencing in the case of usage in research, magazine, brochure, or academic purposes, (b)"FAIR USE" in the case of re-publication on online media. About possible consequences you can read here: What are the consequences of copyright infringement? In an effort to protect our intellectual properties, we may report your website to Google without prior notice and your website be removed from search engines and you may receive a strike. All contents are protected by the Digital Millennium Copyright Act 1996 (DMCA).