Agriculture
Steps To Start Carrot Farming Business In Nigeria
Carrot is a crop that is consumed within and outside Nigeria and is nutritious. Steps To Start Carrot Farming Business In Nigeria will be explained here.
Plateau state is the largest producer of carrots in Nigeria and this is because of their weather and land. That does not mean you cannot grow carrots in other parts of country.
Nigerians decorate their foods with carrots and use it for making salad. Carrots is used to prepare foods like fried rice.
Read Also: Steps To Start Potato Farming Business In Nigeria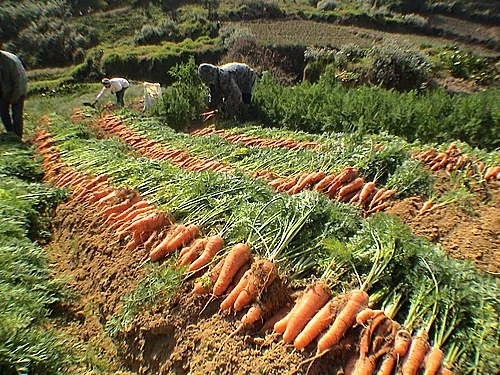 Nutrition Of Carrots
Carrots have nutrients like energy, fat, protein, water and carbohydrates, sodium, zinc, phosphorus, potassium, manganese, calcium and iron make up minerals. The percentage of water in carrots is 88% that of protein is 0.9 percent while that of dietary fibre is 2.8 percent.
Other components include fat which has a percentage of 0.2% while carbohydrates have a percentage of 9%.
The dietary fibres of carrots consists of lignin, hemicellulose and starch. Sucrose, fructose and glucose make up of free sugars.
Read Also: 9 Steps to Start Ginger Farming in Nigeria and Tips to Succeed
Different Species Of Carrots You Can Cultivate
Thumberline
There sizes are smaller and you can make them germinate with containers.
Imperator
It has high sugar content, stronger foliage and slenderness.
Nantes
They have higher yields and are cylindrical. Nantes are brittle and have much sugar content too. They have much yield and are cylindrical in shape. The blue tip of Nantes is shorter than the Imperator and they have a delicate skin.
Danves
They have longer roots than Chantaney. Danves have well defined, tapering and conical shape. They are short in comparison them to Imperator. They are able to resist soil of different conditions. Danves can be stored with efficiency.
What Are The Uses Of Carrots?
Carrots are a source of nourishment.
They are useful for teeth and liver.
Carrots are resistant to infection and this is why some teeth companies make it into cream. Carrots can enable the cleaning of the mouth with its floss.
Carrots have vitamin A which can remove toxins
Read Also: 11 Steps to Start Tomato Farming Business in Nigeria
Procedures To Begin Carrot Farming Business In Nigeria
1. Business plan
Your business plan should tell you the the things you need for the business. Tools, seeds and costs should be in this plan.
2. Land preparation
Ensure that you remove debris and other unnecessary items. The land should be loose. Carrots thrive well in loose soil. Plough the land surface and the maize beds in order to control water and cut down erosion. The use of compost manure is part of land preparation and can promote yield.
Do not use fresh dung to prevent burning of crops. You can use sandy-load since it is more preferable. Avoid using rocky, water-logged and clay soil.
3. Planting of carrots
Carrots have very small seeds and it takes time to germinate. However choose species that can yield more for planting. It takes about 12 to 14 days. Water the soil for germination to take place. You can use irrigation and plant the seeds in rows to let you know where the seeds are because they are small.
You can thin the carrots in the evening time since this is the best time for it. The smell of carrots can lead to pests. Avoid littering the foliage and do the thinning once. Thinning involves pulling up certain excessive seedlings to allow a space of 3 to 4cm between the two.
Planting Tips
You can grow 2 seeds in a hole in a depth that ranges from 4 to 5cm. Avoid planting on the surface. Thin carrots seeds when the size is up to 2cm in order to enable expansion and this can be between two and four weeks. You thin it so that the crops are 10cm and 4cm apart from each other.
Use knife to prone it since the use of hand may damage the roots.
Use Of Companion Plants
You can use companion plants with carrots and the smell of these companion plants can release diseases. Example of these companion plants are lettuce, tomatoes and radishes, herbs and sage. Carrots can survive in the middle of caraway, coriander, marigold, Swan River daisy and chamomile.
Carrots can be used as companion plants for other crops.
Things That Can Affect Carrots
a.Species of carrots
Nantes is one of the species that can yield more. Hybrid seeds yield more than others.
b. Space for planting
Do not makes it too tight in terms of space to prevent unnecessary competition for soil nutrients.
c. Soil texture
The soil should be loose
d. Water
Carrots require enough water to thrive and irrigation should be applied where necessary.
Read Also: How to Start Vegetable Farming in Nigeria
4. Fertilizer application
You have to add manure after about one month before you add another one. Add it again after 15 days and add some phosphorus too. Adding phosphorus should be after thinning. The popular ratio for the fertilizer is 1:9:3 and this enables crop yield.
5. Irrigation and weeding
Watering the plant should be often unless there is already much rain water. However do not add too much water. Weeding can be 2 weeks after you plant. The next weeding time can be between 4 to 5 weeks.
More on planting
Planting can be with sand to seed ratio of 100:1 for sand and carrots. Planting on May can help to avoid fly.
6. Pest control and diseases
Powdery meadow causes spotted pellicle. Yellowing and brown galls should be regulated with fungicides. Nematodes have some effects on the roots. The use of resistant varieties can prevent diseases. Do not overcrowd seeds and manage the agronomy.
6. Harvesting the carrots
Carrots is ready for harvest after 4 months. Pull it out using hand. You can use spade but harvesting late leads to cracking.
Cut the top after harvesting in order to make the front before consuming. It can reduce rotting of various varieties. Harvest the carrots when they are fresh due to their flavour.
Pull the upper part out either with a trowel but do not damage the roots.
7. Storage of carrots
Store carrots by putting them inside sand that is not dry. The place should be cool and dark without frost. Keep the carrots there for months is possible but do not keep damaged roots with the others. You may store them too inside refrigerators or inside a moist and dry place.
8. Marketing
You can sell to market men and women in bulk quantities who will now sell in smaller pieces to places like shoprite, restaurants, hotels and salad stores and carrots.
Nigeria still have low carrot production so locating your potential buyers before cultivation can help you market the carrots immediately after harvest.
Read Also: 8 Steps to Start Maize Farming in Nigeria
9. Promoting your carrot business
Use adverts offline and online or word of mouth for promotion.
Conclusion
Carrot farming business is one of the lucrative business you can do in Nigeria. The production of carrots in Nigeria is still low and more hands are needed.
Click here to see the latest
Study Abroad Scholarships and Guides
Click here to see the latest
Jobs opportunities in Nigeria
.
Click here to Join
Recharge and Get Paid
Click here to Read Latest School News in Nigeria
Copyright Warning!
We work really hard and put a lot of effort and resources into our content, providing our readers with plagiarism-free articles, original and high-quality texts. Contents on this website may not be copied, republished, reproduced, redistributed either in whole or in part without due permission or acknowledgement.
Proper acknowledgement include, but not limited to (a) Proper referencing in the case of usage in research, magazine, brochure, or academic purposes, (b)"FAIR USE" in the case of re-publication on online media. About possible consequences you can read here: What are the consequences of copyright infringement? In an effort to protect our intellectual properties, we may report your website to Google without prior notice and your website be removed from search engines and you may receive a strike. All contents are protected by the Digital Millennium Copyright Act 1996 (DMCA).