Uncategorized
Top 10 Most Popular Food In Tanke, Ilorin, Kwara State
Today, we would be taking a look at the most popular food in the tanke area of Ilorin, Kwara state. Look out and compare with your own areas.
1. Yam flour (Amala)
Yam flour as the name implies is gotten and processed from Yam. After Yam cut in pieces is dried, it is then pounded and grinded into powdery form.
👉 Relocate to Canada Today!
Live, Study and Work in Canada.
No Payment is Required! Hurry Now click here to Apply >>
Immigrate to Canada
Read Also: List Of Nigerian Foods For All Tribes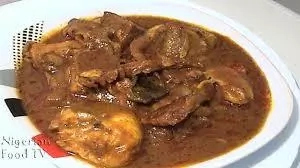 This powder is sieved into one that can be used to make Amala. Amala is an overly popular food in Ilorin, and enjoys the patronage of almost everyone, young and old.
It is sold in virtually every restaurant in the community. Apart from the high demand this product enjoys outside, many households do the processing in their various homes so they don't have to go purchase it outside anymore. This shows how popular Amala could be in Ilorin.
2. Beske
You get to find someone hawking Beske in almost every part of Ilorin you go to. And the thing is the food is consumed by every class of people right from the rich to the medium class, and the lower class.
The food is made from fermented milk which is later boiled or fried and cut into small sizes before sale. These small sizes are then sold at 10 naira each.
Most times, by evening, the sellers of this product must have emptied their sale rubbers which shows the high rate of demand Beske enjoys in Ilorin. It is mostly used to take Garri.
Read Also: How to Start Food Delivery Business in Nigeria
3. Garri
Have you seen any city or community in Nigeria where Garri is not popular? If you have, I can boldly tell you that Ilorin, Kwara state is not one of such places.
Ranging from children, to students to the working class fellows, Garri is dubbed to be a life saver. The cassava product can be taken with a lot of subsidiary products.
Some of the members of the community take it with meat, some with dried fish, majority take it with groundnuts, some with just sugar and other products like it.
You can conclude from this that Garri is a versatile food product which explains why it is much enjoyed amongst inhabitants.
4. Maize
The loud chants of "agbado ojo" around most areas in Ilorin is very rampant. Just like some other places, maize as a food is very common in ilorin.
Though mostly consumed boiled, you can also see roadside sellers of roasted one too. If you take a tour round the community, you would most likely see a lot of corn farms around which is a factor to how well it is being consumed.
The maize can either be consumed after boiling or roasting, or even used to make pap which is also a highly consumed product amongst locals in the community.
Read Also: 10 Factors Responsible for High Cost of Food Items in Nigeria and Solutions
5. Groundnut
Truly, Groundnut is popular in a whole lot of places around the country but it is especially popular in Ilorin, Kwara state.
Especially around the May to August periods, you wouldn't walk for 5minutes without meeting one of those that hawk groundnuts.
In Ilorin, groundnuts are not eaten as meals but are mostly eaten for enjoyments. They come in two forms which are the cooked and roasted groundnuts.
The cooked ones are most likely eaten bare while the roasted groundnuts could be eaten with Bread and mostly Garri. Taking Garri without groundnut in Ilorin is like entering a train that does not have an engine, so they say.
6. Fufu
Sometimes, you would think that Ilorin is mostly inhabited by the ibos as there is a very high rate of Fufu consumption.
Go to any buka in the community and you would be surprised at how it is favoured amongst the populace. Its popularity in bukas can be linked to the fact that it is very stressful to prepare at home so they prefer to go eat the ready made food product in bukas and restaurants. Fufu in Ilorin is mostly taken with efo, egusi and ogbono soup.
7. Bean cake (Akara)
Almost every night in Ilorin, if you decide to take a 1 kilometer walk, you'd most likely see more than five joints where bean cake is fried and sold.
Akara as a food product is very loved and popular by people in the community. Its versatility in consumption could be a predisposing factor.
Akara can either be taken alone, or taken with bread, or even with Yam and Potatoes. It goes with almost everything and almost everyone. A whole lot of families also fry it themselves mostly as breakfast and take with pap.
Read Also: 8 Best Yoruba Foods You Should Not Miss
8. "MoiMoi"
As a product made from beans, MoiMoi or "Olele" as it is fondly called also enjoys popularity to an extent in tanke area of Ilorin.
In fact, I can recall a place called the "executive moimoi center" around the sanrab area of tanke. This is how much the food is enjoyed.
MoiMoi comes as a result of boiling grounded beans packaged in white nylons, leaves and tin containers. Most households can also prepare this food by themselves and it is most likely taken with either pap or Garri.
9. Ewa Agoyin
I once heard someone say that "if it isn't ewa agoyin, then it isn't ewa agoyin". This is to show you how high an esteem this popular type of beans is placed, Ewa agoyin is a sort of marshed beans which comes with its own type of sauce, and the sauce is said to have its own differential taste.
Ewa agoyin in sold in many bukas across the tanke area in Ilorin and enjoys the popularity and patronage of inhabitants. Virtually everyone around wouldn't miss ewa agoyin for any other thing.
10. Potatoes
Both irish and sweet potatoes are very common in tanke. One predisposing factor to this is the versatility of the product.
Potatoes can be eaten as a meal, fried or cooked or even cooked with beans. Potatoes are commonly sold at night at various joints in the community. You can get potatoes where you get akara. They enjoy almost the almost the same popularity.
Read Also: 20 Most Popular Foods in Nigeria That Will Make You Beg For More
So there you have it, the 10 most popular foods in the tanke area of Ilorin. Which of these foods are popular in your own area?
👉 Relocate to Canada Today!
Live, Study and Work in Canada. No Payment is Required! Hurry Now click here to Apply >> Immigrate to Canada
👇👇👇👇👇
Information is Power!
Don't miss any valuable information or opportunity that can change your life, business, and family positively and permanently.
👇👇👇👇👇
👍Advertise your business on InfoGuideNigeria.com!
From just N9,999 per month, you can advertise your products and services to over 1,500,000 monthly users on our website. Click here to read more.
Copyright Warning!
Contents on this website may not be republished, reproduced, or redistributed either in whole or in part without due permission or acknowledgment.
.
Proper acknowledgment includes, but not limited to (a) LINK BACK TO THE ARTICLE in the case of re-publication on online media, (b) Proper referencing in the case of usage in research, magazine, brochure, or academic purposes,.
.
All contents are protected by the Digital Millennium Copyright Act 1996 (DMCA).
.



The images, except where otherwise indicated, are taken directly from the web, if some images were inserted by mistake violating the copyright, please contact the administrator for immediate removal.
.
We publish all content with good intentions. If you own this content & believe your copyright was violated or infringed, please contact us  for immediate removal.
🤑 Start Making Money from home today!
👉 Get the correct
FREE FOOTBALL PREDICTION
TIPS
and
Guides
today.
Click here