Economy
10 Ways to Eradicate Unemployment in Nigeria
Unemployment is a challenge that Nigeria has been battling with for decades. However, it seems to be getting worse by the day.
Unemployment has many negative effects on the economy such as insurgency, increased crime rate, poor economic growth and the likes.
The only way out is to look for ways of eradicating unemployment in the country. We are going to discuss ten of such ways to eradicate unemployment in the country which if implemented will go a long way in solving the problems of unemployment in Nigeria.
Read More: 10 Effects of Unemployment on Nigeria's Economic Development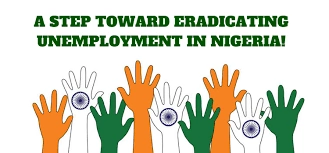 Ways of Eradicating Unemployment:
1. Build More Industries
One reason why unemployment is so rampant is due to lack of industries. Large industries employ thousands of youth and empower them to lead independent lives.
The government must do everything in its power to encourage building of industries to absorb the millions of unemployed youths that are not only unproductive but are destroying the country by engaging in unlawful acts.
Factors such as electricity and water supply must be made available to facilitate building of industries to help us deal with the problem of unemployment.
2. Train Youths to be Employable
Although there is shortage of industries, most youths in Nigeria are not employed because they do not possess employable skills.
Vocational skills such as carpentry, welding, plumbing and brick laying are highly sought after but the youths don't have training in these areas and so cannot be employed.
By training them to acquire these skills, they will be empowered to fend for themselves and even be of help to relatives and younger ones in their families.
 Read More: 10 Causes of Unemployment in Nigeria
3. Empower Entrepreneurs
The importance of entrepreneurship in eradicating unemployment cannot be overemphasized. There are Nigerian youths with amazing entrepreneurial dreams who have not been able to actualize those dreams for lack of funds or lack of amenities such as electricity and water.
By empowering them with loans or grants to establish on their own, you will not only help them to be independent but they will also empower many others by employing them to work. This is an option the federal and state governments should try in their fight against unemployment.
4. Check Corruption
Corruption is a major enemy in this country that has fought against everything that is good. It is great that the present administration takes corruption seriously but it needs to look at it from the angle of reducing unemployment.
There are many ghost workers in government establishments who occupy positions they are not supposed to occupy and not only drain the nation's resources but stop eligible employees from ever taking those positions. These must be investigated and prosecuted to prevent any further occurrence.
 Read More: 10 Problems of unemployment in Nigeria and possible solution
5. Tackle security threats
Security threats are a major contributing factor to unemployment in Nigeria. Investors are not confident about the safety of their investments and so would rather hold back.
This is even truer for potential foreign investors. Without security threats, industries will be built that will help to employ many youths and reduce the number of unemployed people flooding the streets of Nigeria today.
6. Encourage Foreign Investors
Foreign investors can bring a lot to this country. Apart from revenue from taxes, they will employ people to work in their companies.
This will massively reduce unemployment and its attendant consequences on the nation's development. It will also lead to the development of the country since youths that are hitherto unproductive become productive hen such foreigners invest in the country.
7. Train Graduates to be Employable
It is true that most Nigerian youths are not employable because they lack skills that make them employable but what is the government doing about this?
Most of these graduates are unemployed which means they cannot afford to sponsor themselves for professional courses that will make them employable.
The government can assist in sponsoring a number of youths every year in different skill areas that are highly sought after so that they will be eligible for employment after completing such trainings.
Read More: 10 Ways to Reduce Unemployment in Nigeria
8. Open Closed Down Sectors
Many sectors of Nigeria's economy have been closed for years. For instance the textile industry has been shut down with many factories in major cities of Nigeria closed.
These industry would have employed many graduates and reduced the number of unemployed youths. Other sectors like tourism have been completely neglected.
There are tourist attractions spread all over the country but they have not been developed so they do not provide employment opportunities.
If such areas are built up and used as tourist attractions, it will employ many youths and generate revenue for the government.
9. Control population
All the aforementioned factors contribute to unemployment in Nigeria but population explosion is also a key factor that has worsened the employment situation in the country.
No matter how industries spring up and the government expands to accommodate unemployed youths, it can never be enough if the population keeps growing at its current rate.
Couples must be educated on the need to control birth to reduce the pressure on the nation's resources. Some couples give birth to many children out of ignorance because that is perceived as an achievement in their localities.
An awareness campaign to educate them on the consequences of population explosion may go a long way in solving this problem.
10. Remove Ethnic and Religious Sentiments
Nigeria's ethnic and religious diversity has been a problem by causing crises but that is not the only problem. Employment in Nigeria today depends on who is to consider you for employment where you are coming from and your religious background.
Eligible employees may be denied employment on grounds of their ethnic or religious origin and such vacant positions are left until someone with a different background shows up.
This is a major challenge that must be overcome for the country to experience the economic growth we so much yearn for.
Read More: 7 ways to Encourage youth participation in agriculture; a panacea to youth unemployment in Nigeria.
Conclusion
We must work together as Nigerian citizens to eradicate unemployment in the country. Shun religious and ethnic differences and unite to bring about the change we have always wanted.
We must also stand to make our leaders do things that will provide employment opportunities for our youths so that we will lead better lives than what we see today.
This post can be helpful to somebody else, please share it on Facebook, Whatsapp, Telegram and Twitter. There are buttons below for this (easy to use too)!
Copyright Warning!
Contents on this website may not be republished, reproduced, redistributed either in whole or in part without due permission or acknowledgment.

.
Proper acknowledgment includes, but not limited to (a) LINK BACK TO THE ARTICLE in the case of re-publication on online media, (b) Proper referencing in the case of usage in research, magazine, brochure, or academic purposes,.

.
All contents are protected by the Digital Millennium Copyright Act 1996 (DMCA).

.
We publish all contents with good intentions. If you own this content & believe your copyright was violated or infringed, please contact us at [infoguidenigeria@gmail.com] to file a complaint and we will take necessary actions immediately.
🤑 Start making money from home today!
👉 Get correct FREE TIPS and Guides on how to make money from home today. Click here to start
.
👍Advertise your business here!
With over 1M unique users per month across all channels, we have a large audience for you to showcase your products and services. Simply get in touch via 👉 marketing@Infoguidenigeria.com.
🤑 Make Money now!
👉 Make money writing for us. Apply for Freelance writing jobs in Nigeria.
👉 Make Money as InfoGuideNigeria Advertising Agents, read more here
.