Economy
10 Causes of Unemployment in Nigeria
Unemployment is a major problem that Nigerians have faced for over a decade now. Most young people have no jobs including graduates of tertiary institutions of learning.
The unemployment rate has also grown over the years to 18.80 percent in the last quarter of 2017, and it is expected to have worsened by now despite the several promises by the current government to eradicate unemployment.
Among the unemployed population are people of all genders, educational qualifications, ethnic background and age especially young people of average 21 years old. There are several reasons why unemployment has persisted in the country and we will look at them one by one in this article.
Read Also: 10 Problems of unemployment in Nigeria and possible solution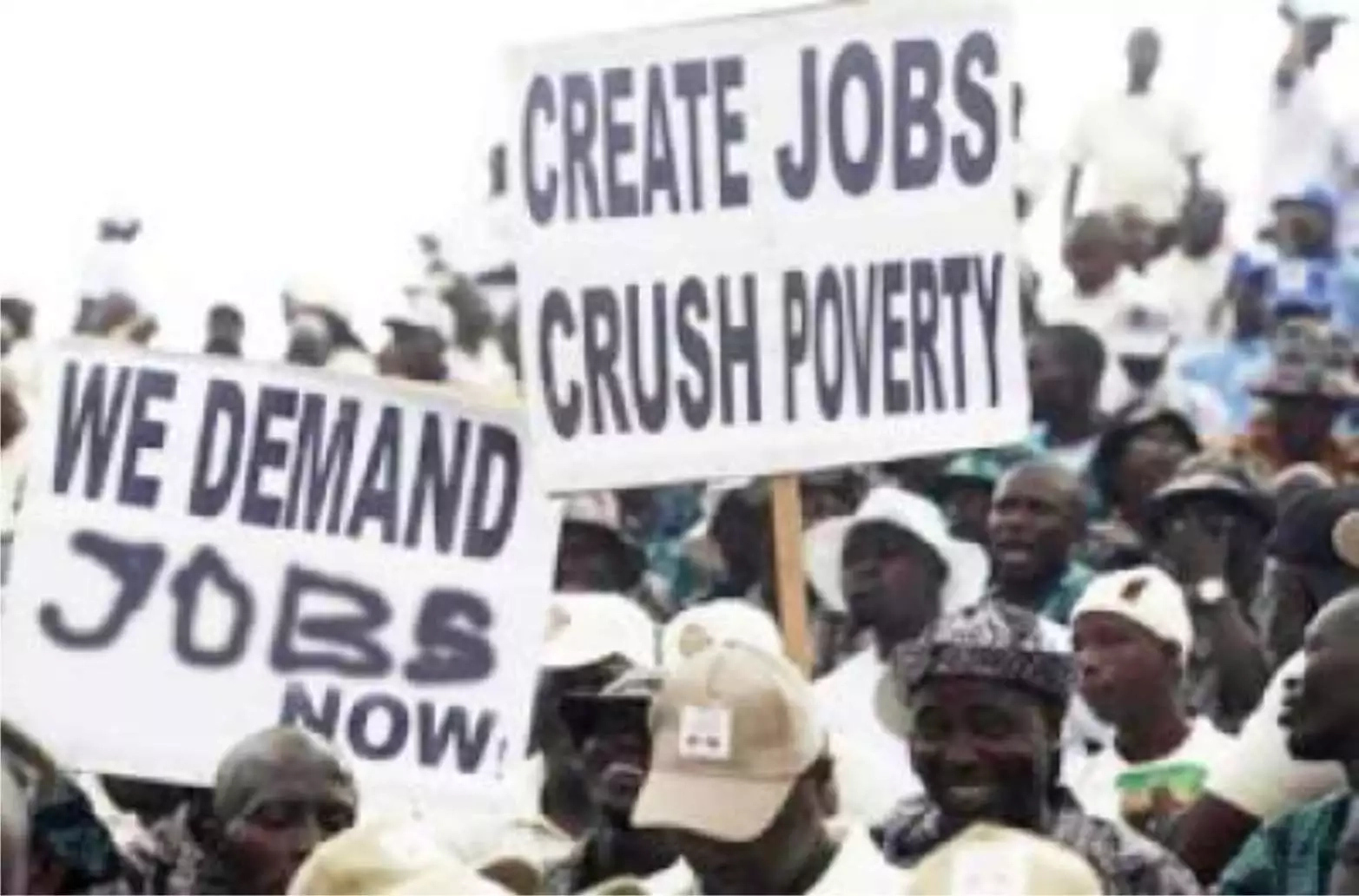 Causes of unemployment in Nigeria
The following are reasons why unemployment is increasing and will not leave Nigeria soon.
1. Corruption among government officials
Some senior officials that occupying major offices in Nigeria are corrupt. This is a general problem from the federal to the local government levels. They embezzle funds meant for workers under them including salaries and arrears that have been denied for years.
Most of these workers don't get to get their complete salaries in a year because delayed salaries overlap so some months go unpaid.
Because of this corruption, there is barely enough funds to maintain current staff let alone employ new ones and so the current staff are overworked because things that should have been done by newly employed people are assigned to them instead.
In some cases new workers are actually employed but someone else takes their salaries and the employed person is not even aware of his name being on the payroll.
2. Lack of useful skills
Working with the government most times may not require particular skills but the government can only take so many people while the private sector employs skills.
It is a known fact that the average Nigerian graduate doesn't possess any skills that make him employable from graduation. This poses a great challenge because the private sector has need for workers but our graduates just don't meet those requirements.
For instance an international Non-governmental organization may have a job opening looking for Water and Sanitation specialists in Nigeria but because no such training is given in Nigerian Universities, even graduates of water resources engineering may not meet the requirements for such positions. It is expensive to further train and acquire skills that make one employable and most cannot afford it.
Many disciplines exist in Nigeria but they don't empower graduates with skills to make real life impacts after school so everybody seeks employment for the same general job everyone else is doing.
Read Also: The Rate of Unemployment in Nigeria and Its Effect on Socioeconomic Development
3. Religious/ethnic sentiments
A major problem in Nigeria is the issue of religious and ethnic sentiments. As i said earlier jobs are hard to come by in Nigeria but when government job openings do show up, influential government officials decide who should be employed and sometimes end up employing all the people in their villages or religious backgrounds before people with even better qualifications are ever considered.
No wonder there is so much incompetence in all government offices in the country. The main interest is not to offer jobs to those who will make a difference but to families and friends of "big men" whether or not they have what it takes.
4. Lack of government establishment expansion
Another major cause of unemployment is lack of expansion of government facilities. For instance in the education sector, the number of universities have recently been increased by the then president of the federal republic of Nigeria Goodluck Jonathan.
But the number of graduates leaving higher institutions is still much higher than the number the universities in the country can take despite the fact that the minimum requirement for employment in such institutions is a masters degree except where a degree holder has an outstanding result.
Several Nigerian youths with the potential of teaching in such higher institutions end up settling for less because there is no room for them.
Read Also: 10 Ways to Reduce Unemployment in Nigeria
5. Retirement policies
In the past university lecturers agitated for an extension of their retirement age from 65 to 70 years when millions of graduates leave universities each year.
This kind of policy will keep the youths unemployed since old workers who should retire and give room for employment stay another five years in the service. This is definitely a problem that has aggravated the unemployment situation in the country.
6. Unfavourable environment for entrepreneurship
I have come across several young graduates with lofty dreams about businesses who are not even thinking about working for the government.
However, their dreams are shattered by factors such as lack of electricity, lack of capital and so forth. Ideas without capital cannot work and since there is no functional plan in place for the government to support young people who are potential entrepreneurs, their ambitions eventually die and the join the long queue of unemployed youths waiting for their turn to be employed.
Foreign investors who may build industries and create jobs for young people (although it is not the best option) cannot do so because of lack of regular power supply which is the number one requirement for running any industry.
7. Population explosion
Nigeria has the reputation of being the most populated nation in Africa and may soon be competing with the United States of America. The USA is more populated but they have a higher standard of living because they have a system that caters for the population.
In Nigeria however, corruption has taken over all government functions so there isn't much left to cater for the growing population which is why unemployment is so rampant.
The population of Nigeria must be controlled if the problem of unemployment will be taken care of. The only thing Nigeria can boast of is its unproductive population and I don't think that is good enough.
Read Also: The Effects of Unemployment in Nigeria (Part I)
8. Undeveloped government sectors
There are many disciplines in Nigerian universities that produce graduates who are competent but those graduates are not employed because their specialization does not match any sector in the country.
For instance the natural sciences which Nigerians despise are very important in sectors such as forensic science which is used to investigate crime.
If this aspect of the police is functional most of the unemployed science graduates today will be put to use ad unemployment rate will reduce drastically.
9. Closed industrial sectors
Another reason why unemployment has increased over the years is because some sectors of the economy that were functional have been shut down.
Sectors in Nigeria such as steel rolling mills and the textile industry. Metallurgical engineers are still being churned out of universities but nowhere to work because our steel industry is not functional.
Graduates of textile science are also roaming the streets when the textile industry would have employed thousands of them.
Read Also: 7 ways to Encourage youth participation in agriculture; a panacea to youth unemployment in Nigeria.
10. Ghost workers
There is the case of ghost workers in which individuals mostly children and relatives of civil servants are placed on government payrolls from childhood and the parents or relatives in the service keep taking the salaries.
So one civil servant can be receiving the salaries of five more people on the payroll who don't serve the government because they are ghost workers.
Meanwhile there are graduates out there hunting for jobs. It a thorough cleansing is not done to deal with those practicing this kind of evil acts, we cannot deal with unemployment in this country.
Conclusion
Now that we have seen some factors that cause unemployment in the country, my hope is that the government will take note and work on them to correct the ills in our government offices.
The present government takes unemployment very seriously and I hope they will work on these problems so that Nigeria will become great again.
Information is Power!
Don't miss any valuable information or opportunity that can change your life, business, and family positively and permanently.
👇👇👇👇👇
For Latest updates on News, Jobs & Business Ideas, and Opportunities.
Copyright Warning!
Contents on this website may not be republished, reproduced, or redistributed either in whole or in part without due permission or acknowledgment.
.
Proper acknowledgment includes, but not limited to (a) LINK BACK TO THE ARTICLE in the case of re-publication on online media, (b) Proper referencing in the case of usage in research, magazine, brochure, or academic purposes,.
.
All contents are protected by the Digital Millennium Copyright Act 1996 (DMCA).
.
The images, except where otherwise indicated, are taken directly from the web, if some images were inserted by mistake violating the copyright, please contact the administrator for immediate removal.
.
We publish all content with good intentions. If you own this content & believe your copyright was violated or infringed, please contact us at [infoguidenigeria@gmail.com] for immediate removal.
🤑 Start Making Money from home today!
👉 Get the correct
FREE FOOTBALL PREDICTION
TIPS
and
Guides
today.
Click here
.
👍Advertise your business here!
With over 1M unique users per month across all channels, we have a large audience for you to showcase your products and services. Simply get in touch via 👉 marketing@Infoguidenigeria.com.
🤑 Make Money now!
👉 Make money writing for us. Apply for Freelance writing jobs in Nigeria.
👉 Make Money as InfoGuideNigeria Advertising Agents, read more here
.