How To's
What To Do When Your Phone Falls Into Water
Losing your phone by accident can be a terrible thing. It could mean cancelled appointments to some and loss of vital information to others. It would be better if you expected to lose the phone.
One major way people accidentally lose their phone is when it falls into water, either in a bucket, or toilet bowl, or blocked sink.
Here are things to do when your phone falls into water:
1. As fast as you can, remove the phone from water and turn it off: In very few seconds, the port for charging, USB connectivity and hands free kit, and the tiny microphone hole allows water to enter the phone.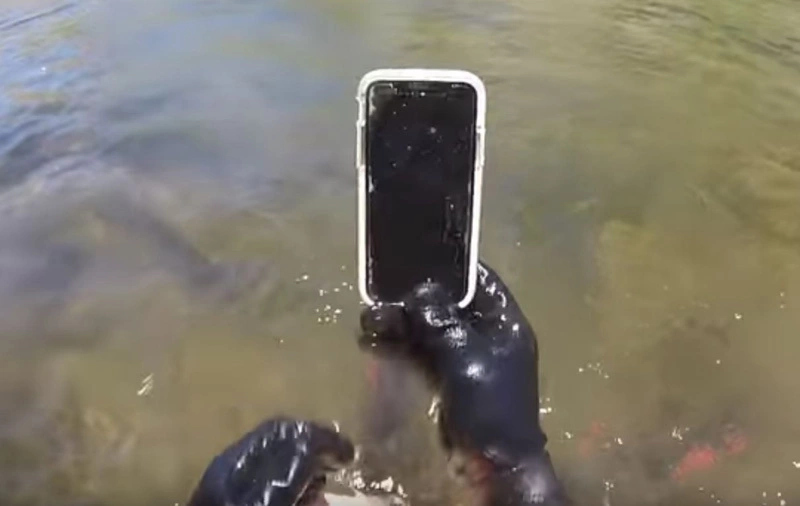 The plastic cover also allows water to pass through, so delay in removing the phone from water. So the phone does not short circuit, turn it off. Then assume it is waterlogged.
However, if the phone is connected to a wall charger, Do Not Make An Attempt To Remove It. Instead seek help from a professional. You may be require to turn of the main power switch or something similar to that.
2. Remove the battery cover and the battery: place the phone on a soft piece of cloth while you remove the battery and battery cover.
This is important in saving the phone from damage because many circuits in the phone would still survive immersion of water if they are not attached to a power source (like the battery) when they are wet.
3. If there is a SIM card in the phone, remove it: quality information are saved in the SIM card. Many people rather lose their phone than lose their SIM card.
Even though SIM cards can easily survive water damage, you can be more certain of the survival if you remove it from the phone as early as possible.
Use a piece of cloth to pat it dry and keep it in a safe place. (Some phones are without SIM cards. For these phones, jump this step.)
4. Remove all accessories and peripherals from the phone: remove the ear buds, memory cards and protective covers.
All crevices and slots should be empty and all plugs that cover gaps should be removed. This would make air-drying possible for parts of the phone.
5. Use a towel or soft piece of cloth to dry the phone: wiping off as much water as possible is necessary so it does not ease its way into the phone.
Even a single drop of water can cause damage to the phone by corroding the phone and shorting out the circuits or corroding them.
To avoid water moving through the phone, don't excessively shake or move the phone.
If you are using a paper towel, try not to clog the paper in gaps of the phone. You can clean the inside of the phone with rubbing alcohol.
6. Suck the water out of the inner parts of the phone: If there is a vacuum cleaner available, use it to suck water out of the inner parts of the phone.
Hold vacuum cleaner over affected area for about 20 minutes. Don't hold the vacuum cleaner too close to the phone, else static electricity could be created and that's not favourable to the phone. Don't attempt to turn on the phone the exposure to water was very short.
Warning: Do not use a hair dryer to suck out water. This is because the hair dryer may push moisture deeper into the crevices until it reaches electrical components that are further inside the phone. The damage can be worse if the hair dryer is warm.
Also, there are substances with the ability to draw out moisture like desiccants (like silica gel that can be found in some new shoes) or raw rice.
You can leave the phone in a bag of rice for a long time, maybe overnight. If you are using a desiccant, put the phone in an airtight space, like a sealed plastic bag and put the desiccant with it.
Then to dry the water in very tiny places, place the phone on a spot that is sunny.
7. Verify the absence of moisture: place the phone on a piece of paper, cloth or material that can absorb water. This is to be sure that the phone is absolutely dry.
Check the material every 30 mins to 1 hour for about 5 to 6 hours. If moisture is found, repeat the previous process (Process 6).
8. Test the phone: before you try to turn on the phone, be sure it is dry. All ports and compartments should be free from dirt or moisture.
Also check in between the crevices to see if their free from moisture and dirt. Every dust and dirt on the battery, cover and device should be wiped of (preferably with a soft piece of cloth).
Insert the battery into the phone. Make an attempt to turn on the phone while watching the screen for any strange sight and listening for any strange noise from the phone. If it turns on, attempt to operate it to see if it functions normally.
If it doesn't turn on and is it absolutely dry, then plug it to charge with the battery in it. If it works, the battery is at fault.
If it doesn't work,
9. Take your phone to an authorized dealer: they are more likely to solve your phone's problem if you tell them exactly what happened to your phone. Don't hide facts from them. In many cases, they have proven to be helpful.
Note:
1.. If you are not trained to take a phone apart or skilled to do so, NEVER make an attempt at it. If you do so, you can either cause shock or exposure to some components or chemicals.
2. If your phone turns on and doesn't operate properly or the way it does normally, it can either be assumed that corrosion has taken place or that you missed some moisture.
Remove all the covers, cards, the batter and every attachment, then wipe it gently with a brush, preferably a toothbrush or paintbrush. Videos on how to do this can be found on YouTube and some other video sites.
3.. If your phone falls into any form of salt water, like an ocean, after removing the battery, rinse it with fresh water.
With this few tips, you can always repair your phone when it falls into water.
Click here to see the latest
Study Abroad Scholarships and Guides
Click here to see the latest
Jobs opportunities in Nigeria
.
Click here to Join
Recharge and Get Paid
Click here to Read Latest School News in Nigeria
Copyright Warning!
We work really hard and put a lot of effort and resources into our content, providing our readers with plagiarism-free articles, original and high-quality texts. Contents on this website may not be copied, republished, reproduced, redistributed either in whole or in part without due permission or acknowledgement.
Proper acknowledgement include, but not limited to (a) Proper referencing in the case of usage in research, magazine, brochure, or academic purposes, (b)"FAIR USE" in the case of re-publication on online media. About possible consequences you can read here: What are the consequences of copyright infringement? In an effort to protect our intellectual properties, we may report your website to Google without prior notice and your website be removed from search engines and you may receive a strike. All contents are protected by the Digital Millennium Copyright Act 1996 (DMCA).