In this post, we will discus the 10 Causes of Blindness in Nigeria. Wikitionary defines blindness as the condition of being blind; unable to see.
In my own words, blindness can be defined as a total inability to see due to factors beyond a person's control. There are different factors which cause blindness but this article will show more light on the top 10 factors that cause blindness in Nigeria.
👉 Relocate to Canada Today!
Live, Study and Work in Canada.
No Payment is Required! Hurry Now click here to Apply >>
Immigrate to Canada
Read Also: 11 Functions Of The Federal Ministry Of Health, Nigeria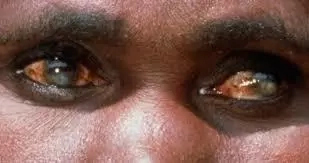 These factors include:
1. Cataract
2. Glaucoma
3. Diabetes
4. Traumatic injuries
5. Untreated refractive errors
6. Corneal or retinal infections and injuries
5. Surgery complications
6. Lack of enough optometrists (eye doctors)
8. Ignorance and poverty
9. Lack of adequate modern medical infrastructure
Read Also: 19 Ways to Achieve and Maintain a Healthy Life
Cataract: This is an eye defect caused by clouding of the eye's natural lens. This eye lens is located behind the iris and pupil. It is the main cause of blindness all over the world and Nigeria in particular and usually occurs in people aged over 40. There are three types of cataracts:
Nuclear cataract
Cortical cataract
Sub scapular cataract
a. Nuclear cataract: this is usually associated with aging
b. Cortical cataract: damage to the lens cortex; a part of the lens that surrounds the central nucleus.
Sub scapular cataract: this is usually associated with diabetes.
Cataracts are formed when the proteins which make up the eye clump together and start to cloud an area of the lens.
A cataract may make light from any source seem glaring or extremely bright. The following factors besides aging can cause cataracts: diabetes, smoking, family history, hypertension, obesity.
Glaucoma: This is a second most common cause of blindness in Nigeria. It occurs as a result of intra ocular pressure causing damage to the optic nerve.
It is the leading cause of irreversible blindness. The increased intraocular pressure can be caused by much fluid (aqueous humor) produced in the eyes than can be drained.
Read Also: 10 Problems of Nigeria Health Sector and Possible Solutions
There are two types of glaucoma:
a. Chronic glaucoma also known as open angle or long term glaucoma
b. Acute glaucoma also known as angle closure or short term or sudden glaucoma.
Blindness caused by glaucoma is usually experienced by people who didn't discover the problem early maybe because of little or no access to proper medical eye checking centres.
Diabetes: people suffering from diabetes are at risk of blindness; a condition known as 'diabetic retinopathy.' It is more common in diabetics from the age of 30 and above. Poorly controlled blood sugar is a risk factor leading to damage of blood vessels in the retina.
Diabetic retinopathy is more common in individuals with type 2 diabetes and individuals who have suffered from type 1 diabetes for at least five years.
Traumatic injuries: a traumatic injury can be defined as a physical or chemical injury of sudden onset and great severity which requires immediate medical attention. Examples include; a heavy blow to the eye, acid or insecticide pouring into the eyes.
This is one of the leading causes of blindness in Nigeria. Injuries resulting from blows to the eye(s) or head being the most common form.
Head injuries can cause increased pressure within the skull, which puts pressure on the optic nerve, cutting off blood circulation which can lead to blindness if left unchecked.
A blow to the eye might cause retinal; detachment, bleeding into the virtuous humor, all of which can cause blindness if left unchecked.
Untreated refractive errors: refractive errors like myopia (shortsightedness/nearsightedness), hyperopia (long-sightedness/farsightedness), astigmatism(imperfection in eye curvature), presbyopia (loss of near vision with age) can cause blindness if left unchecked or if correction is inadequate.
It is the third most common cause of blindness in Nigeria. It affects mostly those in the rural areas and those who don't have enough funds to go for routine eye checkup or those who aren't opportune to have an eye checking centre close to them.
Corneal or retina infections and injuries: infections of the cornea or retina due to the various bacterial, fungal or viral microbes are a cause of blindness.
Trachoma is a leading cause of corneal scarring and has cause corneal blindness in a lot of people. Corneal blindness affects mostly youths especially from a socio-economic background and have inadequate access to healthcare.
Retinitis pigmentosa which refers to the damage of the retina can be caused by tumors that affect the retina leading to blindness.
Read Also: 25 Ways to Improve Health Care Delivery in Nigeria
1. Surgery complications
In Nigeria, eye healthcare delivery is aeons backwards when compared to the more advanced countries. Due to poor eye surgery conditions; complications like retinal complications like retinal detachment, infections of the cornea and retina, retention of a piece of cataract can occur leading to blindness.
2. Lack of enough optometrists (man power)
Some might wonder if this is true; if lack of manpower for eye health can really cause blindness. The answer is a big, resounding YES! Due to inadequate, ineffective and unevenly distributed human resources i.e. optometrists, ophthalmologists, with at least 90% of them living in the urban areas as compared to the 70% of Nigerians who live in the rural areas because they find it difficult to reach the available manpower.
3. Ignorance and poverty
Ignorance is a disease that kills. 80% of Nigerians are very ignorant and uneducated; preferring to believe in their crude, archaic methods of healthcare which ends up doing more harm than good.
Fear, due to local superstitions make most of these citizens to shy away from proper medical eye care and they end up with blindness which they also blame their neighbours to be the cause of.
Poverty is another leading cause of blindness. The price for eye care is kind of expensive for the average Nigerian to afford. This has made a lot of them to shy away from visiting the hospital when they have any difficulty seeing clearly.
4. Lack of adequate medical infrastructure:
With the Nigerian government not paying much attention to the medical sector, there is serious dilapidation of medical infrastructure.
Most of the equipment being used by the eye doctors are archaic and don't function accurately. Because of the bad medical infrastructure, the optometrist might not give accurate diagnosis; he/she prescribes the wrong treatment which might lead to complications and eventually blindness.
👉 Relocate to Canada Today!
Live, Study and Work in Canada. No Payment is Required! Hurry Now click here to Apply >> Immigrate to Canada
👇👇👇👇👇
Information is Power!
Don't miss any valuable information or opportunity that can change your life, business, and family positively and permanently.
👇👇👇👇👇
👍Advertise your business on InfoGuideNigeria.com!
From just N9,999 per month, you can advertise your products and services to over 1,500,000 monthly users on our website. Click here to read more.
Copyright Warning!
Contents on this website may not be republished, reproduced, or redistributed either in whole or in part without due permission or acknowledgment.
.
Proper acknowledgment includes, but not limited to (a) LINK BACK TO THE ARTICLE in the case of re-publication on online media, (b) Proper referencing in the case of usage in research, magazine, brochure, or academic purposes,.
.
All contents are protected by the Digital Millennium Copyright Act 1996 (DMCA).
.



The images, except where otherwise indicated, are taken directly from the web, if some images were inserted by mistake violating the copyright, please contact the administrator for immediate removal.
.
We publish all content with good intentions. If you own this content & believe your copyright was violated or infringed, please contact us  for immediate removal.
🤑 Start Making Money from home today!
👉 Get the correct
FREE FOOTBALL PREDICTION
TIPS
and
Guides
today.
Click here