Education
14 Ways To Improve Education In Nigeria
The declining standard of the Nigeria educational system should trouble the mind of any well-meaning Nigerian, because, Education is the bedrock of development. But unfortunately, a lot of problems bedevil the education system in Nigeria.
Poor funding from the government leading to lack of educational infrastructure, lack of quality teachers, inadequate classrooms and teaching aids like Computers, Laboratories and libraries, coupled with numerous social vices like malpractice, cultism and corruption all contribute to the sorry state of the Nigeria educational system.
If Nigeria must move forward into the age of technological and scientific dependence, government and the contributing private sector must begin to pay full attention to solving the myriads of problems surrounding the educational system in Nigeria.
Read Also: JAMB And Its Functions In The Nigerian Educational System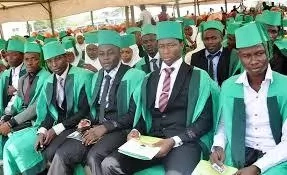 Below are a few solutions to the falling educational standard in Nigeria:
1. Both the government and the private sector should put in more fight and resources towards developing the education sector.
The educational system of the country is suffering from decades of underfunding, and is therefore necessary for the government to design a workable plan towards funding education.
For example, UNESCO recommended 26% of a nations' total budget to go to the education sector but since 1991, budgetary allocation to education has never crossed 10%.
As efforts intensify to improving the current allocation, there is also need for monitoring how the funds that are currently allocated are being managed.
2. Examination malpractice has to finally end 'kpata kpata'. Because of the rising cost of education fees and other materials, students and even their parents go to any length to ensure they are not held back by any failure or deficits in required subjects.
Re-orientation and re-educating teachers, students and parents on the need to shun examination malpractice need to be carried out in schools across the country.
Read Also: Problems And Prospects Of Educational Financing In Nigeria
3. Establishment of more vocational and technical centers. Vocational and technical centers in Nigeria are few and are not properly staffed and equipped across the country. More of these centers need to be set up to cater for the growing population.
4. Setting up an independent inspectorate committee. It is very important to have this in place as the current one existing has stopped functioning effectively. The committee should be put in place and deployed regularly to monitor the activities of schools.
5. Government should take responsibility of enrolment fees for secondary school external examinations and the primary six examinations.
6. Quality and affordable education should be made available. Acquiring quality education is supposed to help in fighting poverty, ignorance and diseases.
But acquiring this knowledge has become an expensive burden for so many poor people who are in need of this knowledge.
Being in school today depends on an ability to offer what is required in monetary terms to those who offer the services and not on the quality of learning offered by school operators.
This trend cut across all level of education in the country from the nursery and primary schools to the secondary and tertiary institutions. Provision of quality and affordable education by the government can go a long way in improving education in Nigeria.
Schools should be equipped and staffed to compete with the global economy.
Read Also: Problems And Prospects Of Computer Education In Nigeria
7. Equal opportunities should be given to applicants seeking job placement to compete for placement regardless of grades acquired and institution attended.
8. Doing a regular review of schools' curricula to adopt new topics is another way to improve education in Nigeria. Subjects that enhance 'innovativeness' and creativity should be introduced across board.
Topics about entrepreneurial and computer skill should also be introduced. Schools, colleges and universities across the country should adopt curricula and syllabuses that are tested, trusted and found effective.
The curricula and syllabus of particular concern is the primary school syllabus which children learn at their tender age.
This is the level of development that serious attention is given to the lessons the young children will receive. There must be training and experience on the side of the teachers handling them. They must be tolerant and tactful. They must be alert to observe the performance and conduct of their pupils.
9. Equipment that aid modern learning should be provided in schools. Teaching aids like computers, libraries, and laboratories should be made available in schools for sharper learning.
10. Introducing online registration for enrolling national exams. The national examination body should introduce online registration to mitigate the exploitative nature of most school heads.
Read Also: 10 Importance Of Girl Child Education In Nigeria
11. A conference on education should be held all over the country. Stakeholders in the education sector should deliberate and brainstorm in order to finding lasting and acceptable solutions in the falling standard in education all over the country.
In the technological age of computers, smart phones, etc, we are in today learning has been made simpler as these innovations speed up the process of assimilating knowledge especially in Science, Technology, Engineering and Mathematics.
Advice and consultancy on how to overcome these problems will always be offered by the United Nations Agencies and other voluntary organizations once they are beckoned on.
12. As a matter of urgency, the National Policy on Education should be reviewed. The educational sector in Nigeria needs to be restructured and all possibilities involved with taking remedial actions to raise the standard of education should be explored.
A learning expedition should be sent to various part of the world to understudy their working educational system for comparison and learning new methods and principles to solve the quagmire.
13. Communication ability and skills in the language of instruction should be given special attention. Offering explanations in mother tongue (some of the time) could be a rewarding move.
There should be rapport and understanding in the learning process with feedbacks and reaction desirable evidences that knowledge has been instilled.
Read Also: Challenges Faced By Educational Institution In Nigeria
14. Welfare package of teachers should be improved on. It is common knowledge that money and a suitable working environment are the major motivating factors for workers.
Therefore, salaries should be paid as at when due and a good learning environment should also be provided for teaching and learning
These are a few ways in which the government can improve the standard of education in the country to adequately prepare the young population to meet up with the requirements of the 21st century.
This post can be helpful to somebody else, please share it on Facebook, Whatsapp, Telegram and Twitter. There are buttons below for this (easy to use too)!
Copyright Warning!
Contents on this website may not be republished, reproduced, redistributed either in whole or in part without due permission or acknowledgment.

.
Proper acknowledgment includes, but not limited to (a) LINK BACK TO THE ARTICLE in the case of re-publication on online media, (b) Proper referencing in the case of usage in research, magazine, brochure, or academic purposes,.

.
All contents are protected by the Digital Millennium Copyright Act 1996 (DMCA).

.
We publish all contents with good intentions. If you own this content & believe your copyright was violated or infringed, please contact us at [infoguidenigeria@gmail.com] to file a complaint and we will take necessary actions immediately.
🤑 Start making money from home today!
👉 Get correct FREE TIPS and Guides on how to make money from home today. Click here to start
.
👍Advertise your business here!
With over 1M unique users per month across all channels, we have a large audience for you to showcase your products and services. Simply get in touch via 👉 marketing@Infoguidenigeria.com.
🤑 Make Money now!
👉 Make money writing for us. Apply for Freelance writing jobs in Nigeria.
👉 Make Money as InfoGuideNigeria Advertising Agents, read more here
.