Eating a fruit may protect against certain types of cancers, heart disease,obesity and type 2 diabetes. fruit has been recognized as a good source of vitamins and minerals.
Fruits are gifts from nature. They are medicines filled with vitamins,anti-oxidants,minerals,and phyto-nutrients- plant derived micro nutrients.
Fruit are full of flavours and it has a unique nutrition profile that helps keep the body healthy and free from diseases.
Read Also: Steps To Make Nigerian Fruit Salad And Recipes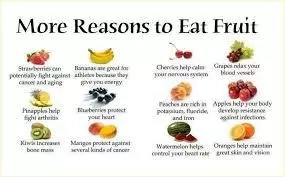 Here are the Lists of Fruits:
Acai berry, Apple, Apricot, Avocado. Banana, Blackberries, Black currants, Blueberries, Cantaloupe, Cherimoya, Cherry, Choke berry, Cranberries, Dates Durian fruit, Elder berry, Feijoa, Figs, Goji berry, Goose berries, Grapes, Grapefrui,t Guava, Jack fruit, Jujube, Kiwi fruit, Kumquat, Lemon, Loquat fruit, Lychee, Mango, Mangosteen, Mulberry, Nectarine, Orange, Papaya, Passion fruit, Peaches, Pears, Persimmon fruit, Pineapple, Plums, Pomegranate, Quince fruit, Raspberry, Sapodilla(Sapote), Star fruit, Strawberry. Tangerine, Watermelon etc.
Dried fruits are fruits that has been dried either artificially by machine or naturally. Dried fruit is a tradition since way back in the fourth millennium BC.
Read Also: How To Make Nigerian Fruit Cake
Examples are:
Raisins, Plums or Prunes and
Dates are artificially dried by machines
Apples, Apricots, Bananas,
Cranberries, Figs, Mangoes,
PawPaw, Peaches, Pineapples, Pears
and Tomatoes are naturally dried fruits
A good dried fruit last longer on shelf and it can be used as an alternative to fresh fruits which allows out of sean fruits to be made available
Drying fruits is a way of preserving fruits.
Remember that dried fruits have more calories,the reason is that they are more concentrated once the water has been removed.
Weight for weight fruits that are fresh have few calories than its dehydrated ones.
It is worthy to note that a single serving of fresh
fruit is 1 cup, but when fruit is dehydrated, a single serving is only one half of a cup.
Read Also: How To Make Nigerian Fruit Juice
Facts about fruits:
1. Fruits are low in calories and fat. It is a source of vitamins,simple sugar and fiber which is good for our health
2. Fruits are full of anti-oxidants such as poly-
phenolic flavonoids, vitamin-C, and anthocyanins.
3. Fruits provides soluble dietary fiber
4. Fruits are rich in vitamins, minerals, micro-nutrients, pigment anti-oxidants.
5. It protects against aging quickly
6. It helps to boost our immunity level
Eating fruits have so many benefits some of the examples are wrinkles of skin, hair-fall, and memory loss to major
ailments like age-related macular degeneration (AMRD) of
the retina in the eyes, Alzheimer's disease, colon cancers,
weak bones (osteoporosis) etc., the list of fruits
nutrition benefits simply never ends!
It is encouraged to always make fruits available for healthy living. Important fruit Nutrients are Folic- folate acid,potassium,fiber and vitamin C.
Read Also: 12 Health Benefits Of Coconut Oil
Your Nutrients In Fruits
Fruits have no cholesterol. Fruits nutrients include: potassium,dietary Fiber,vitamin C and Folic Acid(Folate).
Fruits rich in potassium helps to maintain healthy blood pressure. Potassium is used to maintain fluid and electrolyte balance in the body.
A short of potassium in the body causes irritability,fatigue and hypertension.
It is nearly impossible to have an overdose of potassium however it is possible to consume too much of it through potassium salts which leads to: vomits,nausea and can lead to cardiac arrest.
Examples of the fruits that contains potassium are: Avocados,guava,bananas,Prunes and Prunes kiwifruits,coconuts,juice,honey dew melon,dried Peaches and cantaloupe.
Folic acid helps the body form red blood cells. Folic acid is also good for pregnant women,and women of child bearing age taking 400mcg of Folic acid from foods or supplements.
Citrus fruits ranks the highest, among fruits that contain folic acid. Orange for example has the richest source of folic acid. An orange holds about 50 mcg and a glass of juice which is bigger in size may contain more. Other examples of Folic acid-rich fruits are: Papaya,banana,grapefruits,strawberries,cantaloupe.
It is very important to get adequate amount of folic acid. It helps in cellular growth and regeneration. Recent article from the New York Times figured folic acid as one of the most, "luscious micronutrients".
Studies suggest that a lack of folic acid may lead to mental conditions such as depression
Vitamin C is important and very common vitamin. It is good for repair and growth of the body tissues. It also helps heal cuts and wounds and also keep teeth and gums healthy.
Most people associate citrus fruits with Vitamin C.
Its is not a myth,all of our citrus fruits listed have vitamin C examples are: orange,lime,grapefruit,and lemon all these are excellent source of vitamin C.
There are some non-citrus fruits that are highly rated sources of vitamin C: papaya,pineapple,strawberries,raspberries,cantaloupe,and kiwifruit, these are very excellent vitamin C sources.
Water melon,cranberries,and blueberries are very good sources of vitamin C too. While bananas,pears and apples are also in good category. Any fresh fruit is very good source of dietary vitamin C.
Dietary Fiber fruits helps to improve the functioning of the digestive tact and also aid excretion process keeping us safe from constipation and gastritis.
Fibrous fruits also kicks against heart diseases it also have anti-cancionigenric properties and also prevents colon cancer.
Fruits are very important for the body not only that its good for those that are trying to lose weight ,it is good for the body because it does not have unnecessary fats. It also gives ample energy that your body needs .
When you become ill or sick or develop any disorder -eating fruits fights against sickness: it usually boost the immune system and keeps you in perfect health that's why people takes in fruits first after fasting which is also good for people that are always busy who does not eat on time.
Read Also: How to Start Fruits Selling Business in Nigeria
Importance Of Eating Fruits:
a. It gives ample energy
b. Keeps the body healthy
c. Fruits hydrates the body
d. It helps in managing your weight
e. It helps in having a low risk of some chronis diseases.
f. It protects against cancer, diabetes and heart disease.
g. It helps to smooth bowel movements as well as offer relief from constipation ailments.
Its is worthy to note that it is not advisable to eat fruits along with your main meal by so doing it can result in digestive problem because fruits are acidic in nature.
It is then advisable to always eat fruits before of after eating living an hour or two of separation. It is better and therefore recommended to eat fruit on an empty stomach or after a light meal.
Eating fruits on an empty stomach helps to delay having grey hair,nervous outbursts,balding and dark circles under the eyes.
Fruits are advisable to be taken in the morning because it helps in detoxification and weight loss. Although you can eat fruits anytime of the day but it is highly recommended to eat fruits in the morning.
Information is Power!
Don't miss any valuable information or opportunity that can change your life, business, family positively and permanently.
👇👇👇👇👇
Subscribe to Blog via Email
✍️ Be Our Guest Publisher!
Do you have a press release, breaking news,  or any other helpful information to share with our growing readers? If yes, send your article to 👉 infoguidepr@gmail.com.
We will be glad to publish it if the information is useful to our audience.
This post can be helpful to somebody else, please share it on Facebook, Whatsapp, Telegram and Twitter. There are buttons below for this (easy to use too)!
Make money writing for us. Apply for
Freelance writing jobs in NIgeria
.
.
Copyright Warning!
Contents on this website may not be republished, reproduced, redistributed either in whole or in part without due permission or acknowledgment.
.
Proper acknowledgment includes, but not limited to (a) LINK BACK TO THE ARTICLE in the case of re-publication on online media, (b) Proper referencing in the case of usage in research, magazine, brochure, or academic purposes,.
.
All contents are protected by the Digital Millennium Copyright Act 1996 (DMCA).
.
We publish all contents with good intentions. If you own this content & believe your copyright was violated or infringed, please contact us at [infoguidenigeria@gmail.com] to file a complaint and we will take necessary actions immediately.