There are several cultural dances in Nigeria which are closely associated with the community they stem from. Dancing is very popular means of expressing the culture and tradition of a given society. Dancing can take any form as its evolution is dependent on several factors among which are culture, trend, technology and fashion.
In this post, I will be describing the Atilogwu dance in eastern Nigeria with a focus on Anambra. You will learn much about this dance, its movement and what has made it to survive up till now, where dance styles are introduced almost every year.
👉 Relocate to Canada Today!
Live, Study and Work in Canada.
No Payment is Required! Hurry Now click here to Apply >>
Immigrate to Canada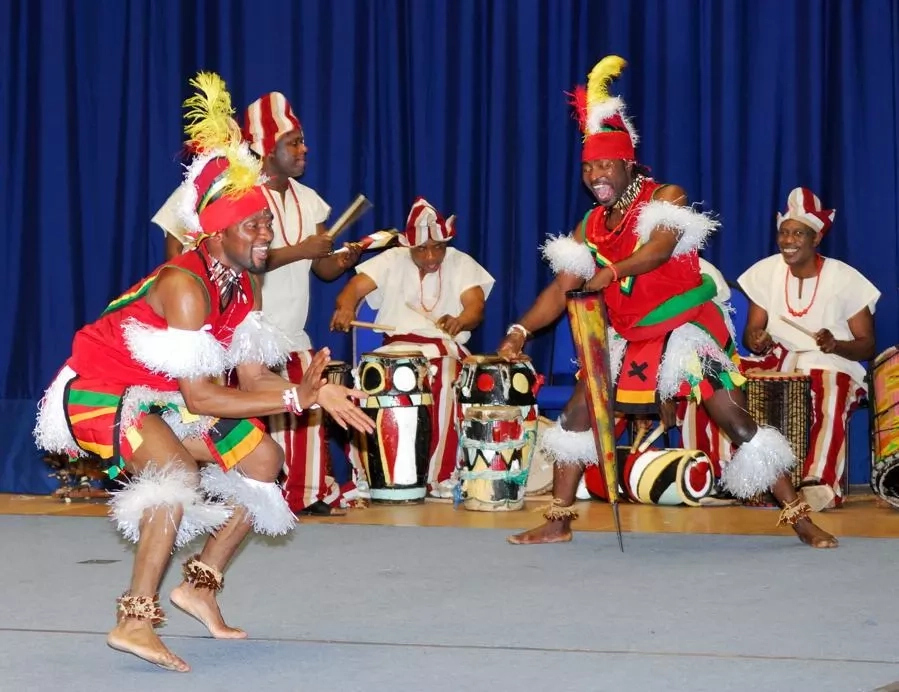 Anambra State
You might be wondering why Anambra should be famous for a dance when almost everyone in this city is into trade.
Anambra is a cosmopolitan city bringing in millions of people from all parts of the country. The people of Anambra are hardworking and are always eager to help strangers.
Anambra is home to some of the biggest industries in Nigeria but that has not stopped it from creating one of the best Dance; the Atilogwu dance in Anambra state.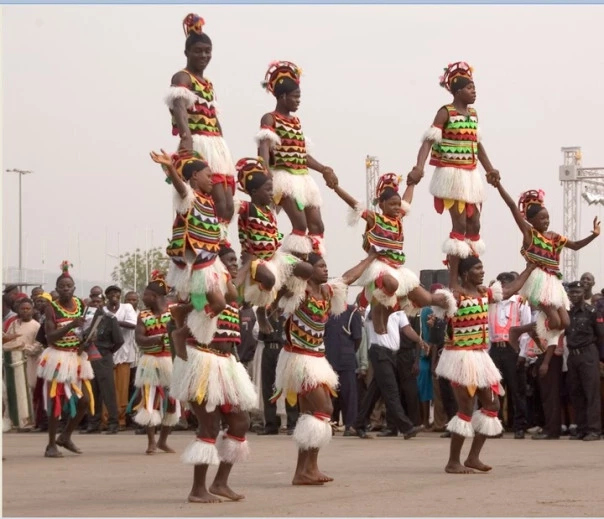 What Is Atilogwu
Atilogwu is a special kind of dance popular among the Igbo ethnic group particularly the people from Anambra. Atilogwu took several dancing styles from popular Igbo dances like Anam, Ogwulogwu, Anaku, Ochanja and Adunjanja. It differs from all other dances in that it require acrobatics and quick body movements to perform it, hence making it a very difficult dance to learn. Atilogwu is an Igbo term meaning 'having magic'. It was called this name because the people felt one would have to take some magic portion to be able to perform the dance at such a high tempo.
👉 Relocate to Canada Today!
Live, Study and Work in Canada.
No Payment is Required! Hurry Now click here to Apply >>
Immigrate to Canada
Brief History Of Atilogwu Dance
Atilogwu is one of the oldest dances in Igbo land. It has been practiced by these people in their town. However Atilogwu would reach national fame in the early 1940's when a member of the Aguobu Iwollo travelled to Ebeneba in Awka to learn about the dance. Before the Atilogwu became popular, dances such as the Ogwulogwu and Ubo Uya Kanga were the rave of the moment.
Special Features Of The Atilogwu Dance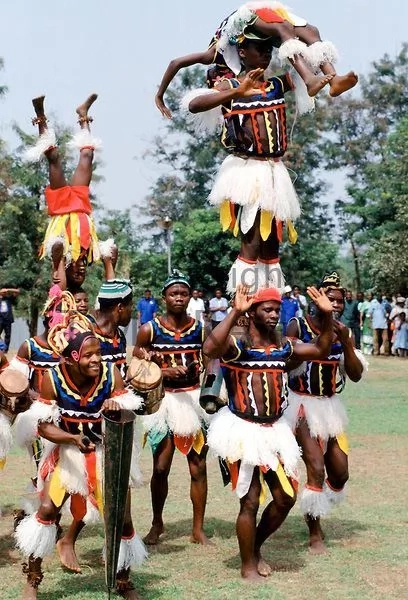 Atilogwu has remained a strong cultural identity among the Igbos. It is usually performed during festivals and other big events. Its brand of dance has spread throughout Nigeria and even outside the shores of the country. Some of its important features are;
It is performed only by youth due to the high amount of energy required to perform it.
It can take a considerable amount of time to perfect the dance; hence it is often taught to children who then grow to master it.
It involves a lot of body movements and the dancers are expected to be skilled in acrobatics.
It is performed by five to six people.
The dance movement involves high jumps, flips, twisting, climbing and falling down from a human tree.
The rate of the dance is usually dictated by the flute player.
The dance is usually accompanied by music which is played with the same tempo as the dance; when the dancers are in high spirit the tempo of the music also increases and vice-versa.
Dancers usually put on brightly coloured dress.
It requires a lot of foot-stomping which is usually done to create a special kind of rhythm that is unique to the Atilogwu.
It is usually performed with the aid of drums and a metal gong instrument known as 'ogene'
Atilogwu is not just a dance, it is seen as an art form that can be expressed to create happiness and well being among the people.
Atilogwu Dancers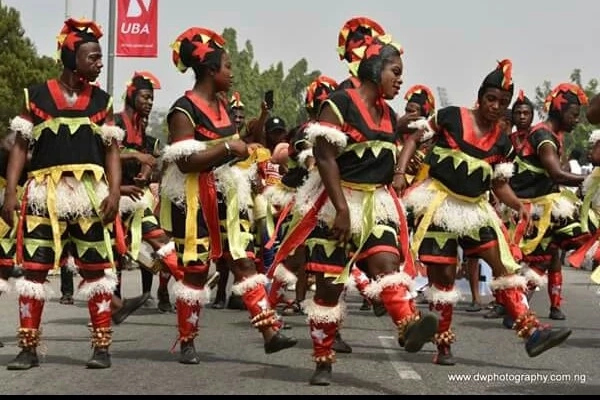 Atilogwu must have been born in Igbo communities but that did not stop it from been performed in various places in Nigeria. It had the biggest attraction outside its place of origin in Lagos, Nigeria where it grew to international fame. Some people however have played a leading role in positioning the dance as a main stream dance in Nigeria, they include;
Stephen Chidom
Clement Onwumelu
John Igbokwe (pot xylophonist)
Leonard Aliozo Nkedife
Dominic Onuoha (slit drummer)
Sylvanus Anidu (drummer)
Ofodile Udeabo alias Amaka
Ogueji Ebuo (flautists)
Sylvester Ejiofor
Godwin Ofor (otu ugo)
Most of these people have gone to receive national awards and scholarship due to their dance skill and creativity.
Don't Miss: How The Ooni of Ife is Selected; The Culture Behind the History of Ife People in Nigeria
International Recognition Of The Atilogwu Dance
It is very difficult to talk about dance in Nigeria without mentioning Atilogwu. It has come to stay as a national brand which has earned Nigeria good image among the international communities. It has been played in some of the biggest festivals and events in the Nigeria, some of its biggest shows are;
A grand display for Queen Elizabeth II in January, 1956 in Lagos.
A performance for the World American Society of African Culture (AMASAC) in 1961.
National Igbo day at the Dr Nnamdi Azikiwe Stadium, Yaba Lagos.
Festival of Arts and Culture 77 (FESTAC) in Lagos.
Stage production– Dance of the Forests by Nobel Laureate Wole Soyinka.
A gala show organized by Dr K.O. Mbadiwe in Lagos, Nigeria.
Official opening ceremony for the Nigerian Television Services on the 1st of April 1961 in Victoria Island, Lagos.
It was aired for 30 minutes by the Nigeria Television Authorities on several occasions.
They played on several occasions on Herbert Ogende's Concert Party
Performance in New York Lincoln University and Howard University for a bilateral agreement between Nigerian Airways and American World Airways.
Performance in the 8th World Youth And Students Festival Of Arts And Culture in Helsinki, Finland in 1962.
These are some of the major performance that featured the popular Atilogwu dance. Atilogwu dancers have been invited on several occasions by individuals, government and foreign embassies.
The Atilogwu dance will forever remain a symbol of the strength and virility of the Igbo people and its contribution to dance in Nigeria cannot be easily forgotten.
📢

We are hiring writers!
Article Writing Jobs
- We are hiring good freelance writers -
Click here to apply
👇👇👇👇👇
Immigrate to Canada Via Job Offer!
Get latest Jobs in Canada for foreigners with visa sponsorship 2023 and how to apply. Don't miss this opportunity that can help you relocate to Canada with your family.
👇👇👇👇👇