Finance
List of 28 Banks in Nigeria and their Websites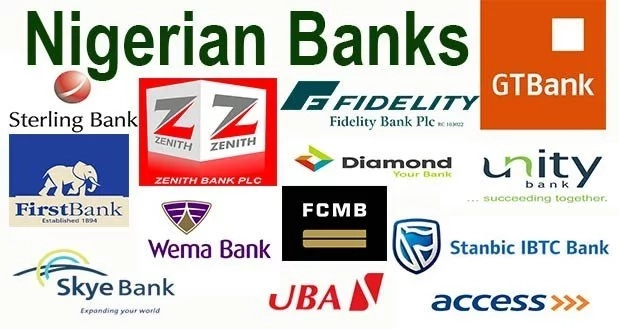 IIn this article, I will share with you the list of banks in Nigeria and their websites. There are over 20 banks operating in Nigeria. Some of these banks have met the global standards for banking while some others are coming up.
Some of these banks are indigenous while the others started from other countries and now have their branches in Nigeria. In this post, our spotlight will be on the following topics:
list of banks in nigeria 2018
25 commercial banks in nigeria
list of banks in nigeria and their website
list of merchant banks in nigeria
regional banks in nigeria
classification of banks in nigeria
list of banks in nigeria and their head office address
List of Commercial Banks in Nigeria
1) Access bank
Website: accessbankplc.com
This bank was once a corporate bank. Their banking platform are from Nigeria's International Commercial bank in 2012. They are among the largest banks in the country when it comes to assets, deposits, branch network and loans.
The headquarters of this bank is Lagos. They first got their license from the Central Bank of Nigeria in 1989 and they are among the Nigerian Stock Exchange in 1998.
2) Citibank
Website: www.citi.com
This bank has 2,649 branches in up to 19 countries which include 723 branches in the US and 1,494 branches in the country, Mexico. The bank has many branches in Nigeria.
3) Diamond Bank
Website: diamondbank.com
This bank is headquartered in Lagos and they maintain a subsidiary in the United Kingdom. By June 2013, the bank is operating 240 branches within Nigeria, 2 branches in Senegal, 1 branch in Togo, 3 branches in Senegal in Cote d' Ivoire and 20 branches in Benin Republic.
Diamond bank started as a private limited liability company in 1991. It became a universal bank 10 years later. Following a share off that brought up the bank' s equity base.
Diamond Bank became a public limited company. Diamond Bank runs many subsidiary firms that are based in Lagos except otherwise stated. The bank has many branches in Nigeria.
4) Ecobank Nigeria
Website: www.ecobank.com
The operations of the bank started in 1986. The bank operates as a universal bank that offers corporate, retail, investment and transaction banking services to it's customers in the market. The bank is divided into 3 main divisions which are:
a) Wholesale banking
b) Retail banking
c) Treasury & financial institutions. They also have capital markets and investment services.
Ecobank has many branches in Nigeria.
5) Fidelity Bank Nigeria
Website: www.fidelitybank.ng
This bank ranked as the 7th most capitalised Nigerian bank and the 25th most capitalised bank in Africa. By December 2013, Fidelity Bank as a financial service provider within Nigeria has much assets and more than 400 000 shareholders.
The bank was listed as part of the Nigerian Storage Exchange in May 2005 and have constantly paid dividends in an annual basis by June 2016. They became incorporated in 1987 and operations began in 1988. They started with a Merchant Banking license that has the objective of impacting positively on the economy of Nigeria. They have many branches in Nigeria.
6) First Bank of Nigeria
Website: www.firstbanknigeria.com
This bank was previously structured as an operating holding company before the actualisation of a non- operating Holding Company structure.
This bank has won the 'The Best Bank Brand in Nigeria' five consecutive times according to The Banker magazine of the Financial Times Group. They also won 'Most Innovative Bank In Africa' in the EMEA Finance African Banking Awards in 2014.
7) First City Monument Bank
Website: www.fcmb.com
This bank is a full service banking group with headquarters in Lagos. The bank is a provider of financial services in Nigeria and they offer corporate banking, retail banking.
They are also listed in the Nigerian Stock Exchange. They are the 7th largest bank in Nigeria with a branch in the United Kingdom and South Africa.
8) Guaranty Trust Bank
Website: gtbank.com
Guaranty Trust Bank was formed in 1998 by more than 35 young Nigerians. It was incorporated in 1990 as a limited liability company that is licensed to offer commercial and financial services.
Their operations began in 1991. Guaranty Trust Bank became a public quoted organization in September 1996 and won the Nigerian Stock Exchange a Presidential Merit Award.
The bank got a universal banking license and was later made a settlement bank by the apex Central Bank of Nigeria in the year 2003. The bank has many branches in Nigeria.
9) Heritage Bank PLC
Website: www.hbng.com
The roots of this bank was in the late1980s when Societe Generale Bank ( Nigeria) ( SGBN) founded it. By September 2013, the stock of the bank was publicly owned. The bank have many branches in Nigeria. In December 2012, CBN gave the bank SGBN license as a regional bank.
On 4 March 2013, the bank rebranded and became Heritage Banking Company Limited. Heritage Banking Company in the year 2014 met all the requirements of the Assets Management Corporation ( AMCON) and CBN towards possessing 100% shares in Enterprise Bank Ltd.
10) Keystone Bank Limited
Website: www.keystonebankng.com
They offer banking services to public institutions, small to medium enterprises and individuals and large corporates. They have many branches in Nigeria. This very bank in union with other offshore and onshore subsidiaries make up the Keystone Bank Group.
The subsidiaries are:
a) Orient Bank- Kampala Uganda
b) Global Bank Liberia, Monrovia, Liberia
c) Keystone Insurance Lagos, Nigeria
d) Keystone Bank ( Gambia) Limited, Banjul, Gambia. The bank website confirms that the bank maintains a network of more than 150 business offices and locations across all Nigerian states.
11) Skye Bank
Website: www.skyebankng.com
They are a financial service provider in central Africa and West Africa. They have many branches in Nigeria. This bank have many subsidiaries in Sierra Leone, the Republic of Guinea, the Gambia, Equatorial Guinea, Angola, Liberia and Equatorial Guinea.
The bank started using a Naira- denominated debit MasterCard known as MasterCard which is the first of its type in Nigeria. The bank also has services in mobile banking.
12) Stanbic IBTC Bank Nigeria Limited
Website: www.stanbicibtc.com
They were founded in 1991 and offer many services with many branches in Nigeria. This bank known as Investment Bank & Trust Company PLC ( IBTC) began as an Investment Bank on the 2nd of February, 1989 with Atedo N.A Peterside presiding as the Chief Executive Officer.
The Central Bank of Nigeria in 2005 made announcements on it's policy to recapitalise commercial banks. The bank is managed by a board of directors made up of directors made up of 12 persons with Atedo N.A Peter side as the Bank Chairman.
13) Sterling Bank
Website: www.sterlingbankng.com
They were incorporated in 1960 and was licensed in 1969. They offer many services.
14) Union Bank of Nigeria
Website: www.unionbankng.com
They were founded in 1917 and their shares were listed in 1971 in the Nigerian Stock Exchange. They offer financial services. In the year 1925, the bank was acquired by Barclays Bank and the name of the bank was changed to Barclays Bank of Nigeria Limited which is in accordance with the new banking laws that were made in 1968.
The bank later changed its name to the Union Bank of Nigeria in order to reflect the new structure of ownership. The Federal Government in 1993 completed the bank ownership.
Related: The Role of Microfinance Banks in Poverty Reduction in Nigeria
15) United Bank for Africa
Website: www.ubagroup.com
They were among the first international banks registered in 1961 with many awards for their services.
16) Unity Bank Plc:
Website: www.unitybankng.com
This bank trades in the Nigerian Stock Exchange with the symbol UNITYBNT. The headquarters of this bank is in Abuja and they are made up of 9 financial institutions which are:
a) Caranda Management Services Limited
b) Unity Capital & Trust Limited
c) Unity Registrars Limited
d) Northlink Insurance Brokers Limited
e) UnityKapital Assurance PLC
f) Unity Bank BDC
h) Hexali Properties Limited
i) Pelican Prints Limited
All these above named institutions make up this bank.
17) Wema Bank
Website: www.wemabank.com
The bank was incorporated in May 2 1987 and was listed in the Nigerian Stock Exchange in 1990. They offer financial services. The bank operates under the symbol WEMABANK and they were granted a Universal Banking License in the year February 2001.
18) Sun Trust Bank
Website: https://www.suntrustng.com
SunTrust is a private commercial bank licensed by the Central Bank of Nigeria and they offer many financial services. The bank head office is at Victoria Island, Lagos. They offer salary/wages administration and remittance services.
They have developed a variety of products and they offer current and savings account plans. The bank is a licensed commercial bank that is privately held under the BOFIA. The bank is focused on lending activities on Retail/Consumer banking, SME Finance, medium to large corporate finance and they have other specialized development structures.
19) Zenith Bank
Website: www.zenithbank.com
They are a financial provider with large capacity and was formed in 1990. They offer many banking services. Zenith Bank was made a public limited company after a successful IPO.
The shares of the bank are traded on London Stock Exchange ( LSE). They are headquarters in Lagos, Nigeria and they have more than 500 branches. Zenith Bank operates in Nigeria including Anglophone West Africa.
20) Jaiz Bank
Website: jaizbankplc.com
This is a non interest bank. They have many shareholders across the country.
See the: Top 20 Banks In Nigeria you Can Bank with Without Problems
List of Merchant Banks in NIgeria
21) FBN Merchant Bank
Website: fbnquest.com
This is one of the most dependable and strongest financial service provider in sub-Saharan Africa. This bank is focused on the client and they are committed to getting innovative solutions for wide client base of small and medium enterprises, corporations, financial institutions.
In the year 2014, the company acquired up to 100% equity and secured the approval to begin their merchant banking operations. They are involved in equity capital markets, debt solutions, fixed income, the management of wealth and treasury, corporate banking, financial advisory etc.
22) FSDH Merchant Bank
Website: fsdhgroup.com
They are among the first banks that was awarded license in Nigeria. They offer merchant services.
23) Coronation Merchant Bank
Website: www.coronationmb.com
This bank is a merchant bank that offer many financial services. Their history spans across many decades. This bank was formed in 1993 as Associated Discount House Limited.
The bank was licensed by the Central Bank of Nigeria in order to offer liquidity for debt notes and instruments for money marketing. A leadership emerged in 2011 that led to the beginning of this bank and they got a merchant banking license in 2015.
24) Rand Merchant Bank
Website: www.rmb.com.ng
They are a leading African investment and corporate bank. The bank was listed on the Namibian Stock Exchange and is one of the largest institutions in South Africa and they offer insurance and investment, banking, commercial, corporate and public sector customers.
The Rand Merchant Group operates in many countries including Lesotho, Zambia.
25) Nova Merchant Bank
Website: www.novambl.com
They are newly licensed and offer many services. This merchant bank is engaged in many services and this include the following:
a) Whole sale banking
b) Advisory services
c) Investment banking
d) Securities and trust
e) Wealth management
f) Asset management
See Also: Top 6 Challenges Facing Banks in Nigeria
International Banks in Nigeria
26) Deutsche Bank
Website: www.db.com
This is a foreign bank representative. This bank has a global network. They operate in regions like Asia Pacific region, Latin America, Central and Eastern Europe.
The history of the dates back to 1961 when the management board set up its Frankfurt headquarters of which it became the oldest professional firm in the German financial industry. 12600 files were returned to the bank after the fall of the Berlin Wall in 1989. The bank has a representative in Nigeria.
27) JP Morgan
Website: www.jpmorgan.com
They are also a foreign bank representative in Nigeria. This is an American multinational firm that has their headquarters in New York City and it is the largest bank in America and the sixth largest bank on the planet.
The bank was founded on December 2, 2000 and they are considered to be a custodian bank. They were operating as Morgan Guaranty Trust until 1980s when they became branded.
28) Barclays Bank
Website: https//www.jpmorgan.com
They are a foreign bank representative in Nigeria. Barclays whose headquarters is in the UK offer many services which include personal loans, current accounts, cashback, personal loan, credit cards, overdrafts etc. They also offer insurance services like home insurance, life and travel insurance and phone & gadget insurance including mortgage services.
Click here to see the latest
Jobs opportunities in Nigeria
.
Click here to Join
Recharge and Get Paid
Click here to Read Latest School News in Nigeria
Copyright Warning!
We work really hard and put a lot of effort and resources into our content, providing our readers with plagiarism-free articles, original and high-quality texts. Contents on this website may not be copied, republished, reproduced, redistributed either in whole or in part without due permission or acknowledgement.
Proper acknowledgement include, but not limited to (a) Proper referencing in the case of usage in research, magazine, brochure, or academic purposes, (b)"FAIR USE" in the case of re-publication on online media. About possible consequences you can read here: What are the consequences of copyright infringement? In an effort to protect our intellectual properties, we may report your website to Google without prior notice and your website be removed from search engines and you may receive a strike. All contents are protected by the Digital Millennium Copyright Act 1996 (DMCA).