Few years after the emergence of the Cinema of Nigeria which is informally referred to as "Nollywood", there have been several institutions, companies and groups set up with the sole aim of grooming both young and old aspiring individuals who possess the passion and skills that is prerequisite in becoming a successful Nollywood actor or actress.
These institutions are present in several states across the country while majority of the popular ones are located in major industrial cities such as Lagos and Abuja.
👉 Relocate to Canada Today!
Live, Study and Work in Canada.
No Payment is Required! Hurry Now click here to Apply >>
Immigrate to Canada
Another interesting fact about these movie acting schools is that most of them are owned and run by pioneer and popular Nollywood actors and actresses as will be seen in this article.
Read Also: 6 Steps To Start Acting Movies In Nigeria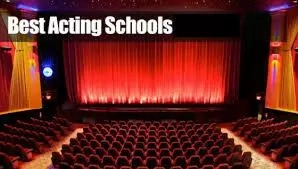 Without further ado, allow me to unveil the list of 15 best movie acting schools in Nigeria:
1. Del-York Creative Academy
Del-York Creative Academy (DCA) is one among the various movies acting schools in Nigeria. It is a capacity building institution for the film, media, technology and marketing communications industry.
Del-York Creative Academy brings international expert from Hollywood to Nigeria to provide African creative with a comprehensive training for working in the global creative industry. DCA works in partnership with the New York Film Academy which was established by Linus Idahosa.
Depending on the term time, the campus moves camp from Lagos to Abuja.
Led by instructors from Hollywood, the creative academy offers courses in digital film making, directing, acting for film, producing, 3D animation, editing, broadcast journalism, cinematography, digital photography, screenwriting graphics & special effects, music video production, set design, costume design and make up.
Alumni from academy include: filmmaker James Omoke, music video director Adasa Cookeygam, Nollywood actress Tamara Eteimo and hip-hop group Show Dem Camp. Others include Toyin Oyemalade, Tamvara Eteimo etc.
👉 Relocate to Canada Today!
Live, Study and Work in Canada.
No Payment is Required! Hurry Now click here to Apply >>
Immigrate to Canada
Contact details:
Website: www.delyorkcreative.academy
Student enquiries: [email protected]
Read Also: Film Production Companies in Nigeria
2. Lufodo Academy of Performing Arts (LAPA)
Lufodo Academy of Performing Arts (LAPA) is an accredited acting and performing arts institution stationed in Lagos, Nigeria, which delivers world-class, hands-on training in acting and performance disciplines.
LAPA delivers teaching and practical based training of international quality and capacity, sufficient to attract international ratings and accreditation. LAPA was founded by Joke Silva and Olu Jacobs and is accredited by the National Board of Technical Education of Nigeria (NBTE)
Since Nollywood has become the third largest movie industry in the world, after Hollywood and Bollywood, and Nigeria having the most active media sector in Africa, with over a hundred radio and T.V stations, other countries with emerging motion picture industries prefer the Nollywood model as a template.
There is an urgent need to increase the quality of talent available and improve on the standard of production. It is to attain these high production values that an institution like LAPA has come into existence.
LAPA offers Diploma and Certificate training programmes covering all facets of Acting, Directing, Scriptwriting, Critique, Cinematography, Set Design, Make-up, Costume Design and Dance/Movement for stage, radio and camera presentations.
Their courses have been carefully integrated so that all aspects of the creative intellectual, physical, verbal and nonverbal dimensions of acting are covered.
LAPA consider diversity to be enriching and a vital part of what makes us one of the leaders in providing vocational training. LAPA encourages the opportunity for self-development regardless of age, background, disability, gender, nationality, political persuasion, race, tribe, or religious belief. They also welcome applications from disabled applicants and encourage them to disclose relevant information regarding any disability when completing their application form, to enable them to provide additional support to them.
Notable alumi of the academy include Abiodun Kassim, Omoye 'Brownie' Uzamere, Ayobami Ajike and Orji Ibe.
Contact details:
Website: www.lapa.edu.ng
Email: [email protected]
3. The Royal Arts Academy (RAA)
The Royal Arts Academy (RAA), was established in June 2010 to educate and equip students for the growing entertainment industry and life opportunities in Nigeria and Africa at large.
The Academy seeks to provide continuing education through the Arts and training in Acting, directing, dance and children's theatre. In the emerging and vibrant Nigerian entertainment industry, it has become necessary to improve and develop skills in order to meet the international standards of filmmaking.
Royal Arts will contribute to the transformation, development and growth of Nigeria and the African continent as a whole by offering first class training to students who would go on to produce excellent films that would place Nollywood at par with the international community. This tanning is provided by industry professionals within and outside the country.
At Royal Arts Academy, we are committed to enabling all our students to profit from a culture of learning, aligned with our teaching ethos, We aim to support students so they can achieve their full academic potential, while also equipping them for the demands of continuous learning and self-reliance. We want to learn at Royal Art Academy to be challenging, rewarding and fun
Since its establishment, RAA has trained well over 200 students. Many of them are actively engaged in the entertainment industry, while others have moved on to do other businesses. Our faculty comprises sound and competent academics in the courses we offer. The Academy is located at No 4 Adebisi Close, Off Ogunlana Drive, Suru-Lere, Lagos, Nigeria.
Contact details:
Phone: +(234)802-352-7159
Email: [email protected]
Address: 4 Adebisi Close, Off Ajao, Off Ogunlana Drive, Surulere, Lagos, Nigeria
Read Also: How to start a movie production business in Nigeria
4. PEFTI Film Institute
Located in Ajao Estate, Isolo, Lagos, PEFTI was found by TV drama series producer Wale Adenuga.
The school offers diplomas and short courses in music, acting, script writing, production and editing.
Courses Offered: Diploma (2 Years), Diploma (3 Years+), Short Beginner Courses, Short Professional Courses, Other,
Camera Formats Used: MiniDV, Pro DV (DVCAM/DVCPRO), HDV, Pro HD (HDCAM/XDCAM), Digital Betacam, Film (Super 8mm), Film (35mm), Analogue (VHS/SVHS/Hi8), Other,
Post-Production Systems Used: Apple Final Cut Pro, Adobe Premiere Pro, Avid,
Address: 6 Rasmon street, off Osolo Way,
By 7/8 bus-top AirPort Road,
Ajao Estate
Isolo, Lagos, Nigeria
Tel. +234 8116305684
Website: Web. pefti.tv
5. HD Film Academy
The academy based in Abuja offers short term, long term and weekend courses. The academy offers a wide range of programmes in different areas of filmmaking.
That's the short list of film schools in Nigeria in case you're wondering where to begin your thespian career.
6. Disciples Film and Television Institute
Disciples Film and Television Institute is a redefined acting school in Lagos provides drama, acting education, film courses, opera, make-up and film directing services in Lagos.
It is located at 37, Arobaba Street, Idimu Egbeda, Alimosho, Lagos Nigeria.
0802 830 6534, 0805 291 3747, 0803 525 8156
7. J-World Music & Film Academy
With J-World academy, the participant learns music and film production, multimedia, instruments and others. J-World academy owns a hostel, which allows the participants to stay for a year or more.
It is located at Road 16, Plot 18, Ikota Villa Estate, Lekki, Lagos, Nigeria.
0806 315 4192, 0907 209 7976
8. Yul Edochie Academy
Yul Edochie Academy is a subsidiary of Yul Edochie Arts World, a reputable and redefined academy for acting, and a training ground for actors/actresses with visions of training the next generation of actors.
It is located at Dkk Plaza, KM 46 Lekki-Epe Express, Farms Bustop Beside Splash Bar, Ajah, Lagos Nigeria
Phone no. 0903 830 0784, 0701 277 5557, 0903 735 9580.
9. Brilliant Films Academy
Brilliant Films Academy is one of the beautiful film academy sited in Lagos providing video shooting & photography, film editing, pictures editing, script writing, films productions and lots more.
It is located at No 87, Ipaja Road, Agege, Lagos Nigeria. 0703 760 1449
Read Also: Tonto Dike Net Worth, Biography, Acting Career, Marriage, Endorsements and Awards
10. Film for Teens Africa Academy
Film for Teens Africa Academy is one of the best acting schools in Lagos undertaking cinematography, script writing, video editing, photography, make up, 3D animation and lots more.
Film for Teens Africa Academy is located at, Ketu Alapere, Lagos Nigeria. 0803 478 0819
11. Purpose Academy of Film and Photography
Purpose Academy of Film and Photography is a professional managed acting school creating solid foundation in the media and creative arts with visions of breeding a crop of world class film makers.
Purpose Academy of Film and Photography is located at, Lagos, Nigeria. 0813 373 5507
12. Reach World Art Academy
Reach World Art Academy provides acting education in all round entertainment ranging from music, dance, acting, standup comedy, MC, poet and lots more.
It is located at Kilmore Schools at st.Rose of Lima cath. church Amukoko Roundabout, Gaskiya, Lagos Nigeria0706 390 6924, 0809 611 8676, 0903 736 6251
13. Rising Phoenix Entertainment
Film production house, with studio space for rent. Acting classes at weekends, and week days at your own pace. We work with your schedule.
It is located at 10A Lanre Olumide street, Idado Estate. Lekki-Epe expressway, Lekki, Lagos Nigeria
Phone no. 0806 495 8531, 0809 210 0019, 0803 469 2890
14. Scene One School of Drama
Scene One School of Drama offers a training system that combines solid academic experience on introduction to drama, traditional and contemporary dance, music, etiquette and manners and lots more.
Scene One School of Drama is located at, lkeja, Lagos Nigeria
Phone no. 0909 139 1147, 0909 139 1146
Read Also: Top 10 Nollywood Directors
15. Empire Film Academy
Address and Phone number(s):
No 29, Nkemba Street, Off Abak Road, Uyo, Akwa Ibom State Nigeria
0803 619 5350, 0909 117 6072, 0810 136 2477
Empire Film Academy is a training center for the aspiring individuals & those who want to improve in their acting skills, & offers programmes in acting, makeup, directing, film editing, photography, script writing, cinematography, TV & radio presentation.
👇👇👇👇👇
Immigrate to Canada Via Job Offer!
Get latest Jobs in Canada for foreigners with visa sponsorship 2023 and how to apply. Don't miss this opportunity that can help you relocate to Canada with your family.
👇👇👇👇👇
👍Advertise your business on InfoGuideNigeria.com!
From just
N9,999 per month
, you can advertise your products and services to over
1,500,000 monthly
users on our website.
Click here to read more
.
======
🤑 Make Money now!
👉 Make money writing for us. Apply for
Freelance writing jobs in Nigeria
.
👉 Make Money as InfoGuideNigeria Advertising Agents,
read more here