Economy
10 Causes of Hunger in Nigeria
The saying "an average Nigerian lives below a dollar per day" is nothing new. In fact, it is so common that Nigerians with no knowledge of the stock market are heard saying these words.
Life isn't easy in any part of the world and Nigeria is no exception but we Nigerians have a way of magnifying things (both good and bad) beyond they actually are and this resulted in a lot of problems.
👉 Relocate to Canada Today!
Live, Study and Work in Canada.
No Payment is Required! Hurry Now click here to Apply >>
Immigrate to Canada
These problems do not just sprout out of nowhere, they are planted, watered and groomed by a lot of causative factors. Hunger is defined as an uneasy sensation usually occasioned by the want or craving for food. In other words, hunger is the need or craving for food.
Read Also: 15 Causes of Poverty in Nigeria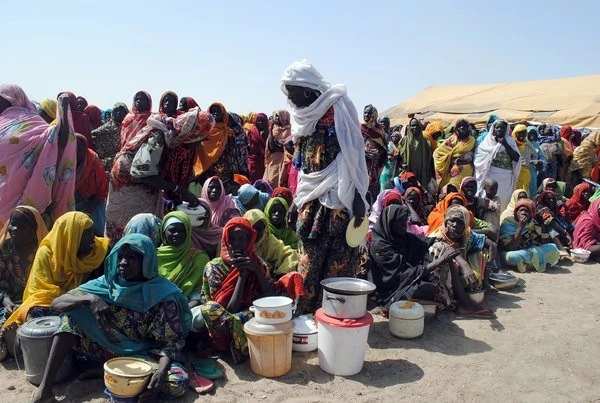 The hunger in this this case isn't the craving for food but the situations that the hunger in question cannot be quenched. Some of the causes of hunger in Nigeria are stated below.
Causes of Hunger in Nigeria:
Lack of Food
This is the undisputed cause of hunger in any part of the world and Nigeria is no different. Ask a beggar on the street why he is hungry and he'll tell you that it is because he hasn't eaten. It is that simple.
Lack of food is though a cause of hunger but it is itself caused by other factors which are in one way or the other causes hunger.
Poverty
Recent articles usually write about poverty alongside hunger, they are more inseparable than less. One thing that is very common in every poverty stricken environment besides sickness is hunger. For the records, poverty is a state of being poor, being in want, need or in a state of scarcity.
Just like lack of food, poverty is not a end cause. In other words, it is caused by a number of factors which also constitute causes of hunger indirectly.
Lack of Basic Amenities
One of the many characteristics of any poverty stricken place is the absence of basic life supporting amenities such as good roads, electricity and health care amongst others. With lack of basic amenities comes poverty and with poverty comes hunger.
👉 Relocate to Canada Today!
Live, Study and Work in Canada.
No Payment is Required! Hurry Now click here to Apply >>
Immigrate to Canada
Lack of a Means of Livelihood
No man was born into the world with money in his hands. You have to work for it unless your father is very rich to provide you with it. Even at that, money needs to be given to you.
In other words, you have to have a means of getting money either by working for it or by getting it from your rich father. When you don't have any of the above means then you are in trouble because YOU WILL STARVE.
Read Also: How to start a food supply business in Nigeria
Lack of Jobs
It is one thing to be ready to work, it is a totally different thing to get work to do in other to earn a living. An average university graduate has a thirty percent (30%) chance of getting a job, it makes me wonder what the country has in stock for individuals who didn't go to school.
Lack of Any Form of Education
This is the lack of information or should I say education. Education in this sense isn't the one that is entirely formal. No, education in this case is the education that involves equipping the individual with necessary skills he needs to survive on his own.
Lack of such education indicates that the individual will have no service to offer and as such he will get no money or valuable in return. We all know that the end point of this is HUNGER.
Frivolous Spending
This is the act of spending more money than an individual earns. In other words, in this case expenditure is more than the income. When this is the case it won't be long before the individual runs out of money and be left to face the result of his frivolous spending. The result is poverty, I need not say what the result of poverty is. Or do I?
Poor or Absence of Budgeting
One of the causes of frivolous spending is the lack or total absence of budgeting and budgeting is the ability to make a detailed plan on how to spend ones fund or money. When an individual doesn't plan how to his money, he is prone to impulsive buying.
Impulsive Buying
When an individual eats his money he doesn't chew the money, no, he spend them acquiring things for himself which brings us back to our ninth cause of hunger.
Impulsive buying is also called unplanned buying and it is the acts on buying things one didn't plan for, doesn't need but one buys them because one likes such an item.
Note that when an individual buys an item based on impulse, it is usually an item can he can do without but decided to buy it probably because of the seller's ability to coax him to buy it or because he fancies it or any flimsy reason. Impulsive buying is very likely to put one into debt.
When such is the case, the individual in question usually seeks a quick exit from his predicament and this is where borrowing comes into the script.
Read Also: How to Stop Food Waste in Nigeria
Borrowing
This is the act of getting money from another individual with a promise to pay back. This may sometimes involve one giving up one of his belonging as a collateral and a percentage of the principal sum which will be paid as an interest on the principal cash.
This may be a quick solution to the problem but it may also be a time bomb especially if it used to pay off debt rather than being invested.
This is because most individuals who borrow money to pay off debt usually do it with plans that they will repay the loan with a money they are expecting but they don't have.
By the doing this, they have already spent money they don't have and when such money comes they will use it to repay the loan only to take another loan and the poverty cycle continues.
Solutions to Causes of Hunger in Nigeria
Although hunger is the craving for food and it cannot be avoided but by taking the following measures, Nigerians can avoid situations that will put them in a state of hunger that cannot be quenched. Some of the measures include:
Means of Livelihood
Individuals need to get something doing, something legitimate that will put food on their table. Individual need to be gainfully employed so that they can earn money that can be used to purchase food when the craving for food arises.
Education
Individuals need to learn or equip themselves with information that will make them employable. Besides information, individuals should also equip themselves with skills that come handy when there is need to offer services that demand such skills.
Basic Amenities
The government should make efforts to provide the basic amenities to poverty stricken area rather than limiting such benefits to cities to buy favors and promote their political ambitions.
Self-Reliance
Nigerians shouldn't always run to the government for everything, they should do their best to provide themselves with the basic things they need.
Read Also: 6 Factors responsible for high cost of food items in Nigeria and recommendations
Instead of waiting for the government to come construct roads for them, communities with valuable natural resources should not just collect money from such companies but reach agreement with such companies to provide them with basic amenities such as road, school, health centers, etc
Budgeting
Individuals should also ensure they plan how to spend their money. Not just that, they should also ensure that they spend their money based of eighty percent of their plan as planning without execution is useless.
Avoid Impulsive Buying
During the course of budgeting individual should be prudent when listing out what they want to acquire and ensure that what have been listed is what they actually need (what they can't do without) not just something that merely catches their fancy.
Planned Borrowing
Individuals should plan very well and consider their option the need for borrowing such a loan, the interest, the collateral, etc before borrow such a loan. Borrowing is one of the ways of getting oneself into the vicious cycle of poverty if not handled properly.
Saving
Individuals should inculcate the habit of saving. Nigerians should learn to keep some money aside for some unforeseen circumstances. Nigerians shouldn't always return back to level one before the end of the month when they will receive their income so that they will not be plunged into a state of poverty as a result of unforeseen circumstances.
Avoidance of Bad Company
It is very rarely, virtually impossible to see one having a group of friends who spend frivolously but spend prudently. There is a saying, a goat that moves about with a pig should be ready to eat dungs and wastes. It is very important to stick to individuals who spend their money wisely.
Read Also: How to Start Garri Processing Business in Nigeria
Avoid Show Off
One way people spend their money aimlessly is when they spend it in a bid to project what they are not. Individual sometimes do this to be loved or respected while in truth no one really loves you because you spend lavishly because such love and respect ceases when the money isn't flowing again and the individual is plunged into poverty as most people who spend lavishly don't plan or reason when they do so.
👇👇👇👇👇
Immigrate to Canada Via Job Offer!
Get latest Jobs in Canada for foreigners with visa sponsorship 2023 and how to apply. Don't miss this opportunity that can help you relocate to Canada with your family.
👇👇👇👇👇
👍Advertise your business on InfoGuideNigeria.com!
From just
N9,999 per month
, you can advertise your products and services to over
1,500,000 monthly
users on our website.
Click here to read more
.
======
🤑 Make Money now!
👉 Make money writing for us. Apply for
Freelance writing jobs in Nigeria
.
👉 Make Money as InfoGuideNigeria Advertising Agents,
read more here