Politics
History of Vote Buying in Nigeria
History of Vote Buying in Nigeria
Here in this post, we are going to down memory lane and investigate the history Of Vote Buying In Nigeria. We hope you learn a thing or two from this article.
My focus in this article, is to take you through the history of vote buying in Nigeria, but before then, I want you to know that in every election cycle in this country since independence, the challenge has always been on how to tackle the issues that have to do with  election management, particularly in the area of ensuring that the Independent National Electoral Commission INEC lives up to expectation.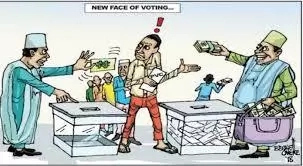 Usually, the focus is always on how to address some institutional failures, for example, the ineffective resource management, and poor preparations, and collusion among politicians, including election officials to cheat plus electoral violence.
Other challenges that have always been some issues of concern in every election cycle include the acts of intimidation by contending parties and political groups, as well as, the use of security agencies while in election duties.
Although, as I said earlier, the focus usually has always been on institutional structures, not much has actually been said about the politicians and the electorates, the voters, who, for the most part, do cast an image of being the victim of inefficiencies, especially during the electoral process.
Having said that, since Nigeria returned to civil rule in 1999 after that long period of dictatorship by the military regime, the activities of the Independent National Electoral Commission INEC, which is in charge of election processes in the country has always been mired by controversies.
In consequent, the Nigerian government has always at the forefront of deploying energy as well as, deploying resources for the purpose of addressing the issue of election management, and electoral violence.
More so, in an effort to addressing other logistic challenges of the Independent National Electoral Commission INEC, the government has to make sure that it mobilizes the security agencies for the purpose of securing the election environment.
The government, do even go some lengths to restricts movement on election hours, for the sake of ensuring sanctity and integrity of the process, but yet, in most cases, this effort usually turned out a failed attempt, as the election results are more often contested in the court of law.
Vote Buying History
There is yet another challenge for the Nigerian electoral process, and it is called, 'vote buying'. A process, whereby, the voters make their votes to become commodities of trade.
The electorates will confidently strike deals with any political party agents, sometimes at the polling units, who are willing to pay the highest price for the votes, even before the very presence of the law enforcement officers. But can I shock you?
See, hear me and hear me well, vote buying is never a new challenge for the Nigerian electoral process, in fact, vote buying had always been there, I mean, it has been part of the country's political process. Vote buying is as old as Nigeria itself.
In those days, political parties usually bribed voters with all manner of gifts, gifts such as, food items and sometimes, they will be bribed with clothing materials during electioneering campaigns.
The common thing that happened, even to the day of the election is vote buying. This will happen at the party primary elections and also happened at party conventions, where the delegates will be bribed there at the venue of the event so that they can vote for them.
However, the truth is that the issue of vote buying and electorates inducement is becoming so prevalent nowadays than then when Nigeria first gained independence.
This, however, has posed grave danger, to the Nigerian electoral process, as well as, to the Nigerian democracy at large.
This goes to say that choosing political leaders in Nigeria will no more be based on the political party manifestos but based on the highest bidder on election hours, irrespective whether or not the leaders chosen are incompetent.
The reason vote buying is so prevalent in the Nigerian election today is that the Independent National Electoral Commission INEC has actually failed in its responsibility of ensuring that, such things do not take place during elections.
That out of the way, could you imagine how Nigerian politicians will go to the houses of voters in order to bribe them and in most cases, will administered oaths on the voters so as to get their votes during elections.
And even voters are willing to sell their votes to any party agents, who are willing to pay so much, even at the polling units.
Some people may even talk about the law enforcement agent's predicament over their failure to ensure that these vote buyers and vote sellers are arrested, but the problem is, peradventure the law enforcement officers arrest these people, politicians may accuse the law enforcement officers of trying to intimidate them and the people.
But why on earth should Nigeria encourage vote buying? However, many have reasoned over such desire by Nigerian voters to sell their votes to politicians, they say it is caused by poverty and that, it is also caused by a lack of trust between the voters and the politicians who buy their votes.
In my opinion, irrespective of whatsoever might have attributed to voting to buy in Nigeria, vote buying is a crime. You cannot say that the reason the electorates are selling their votes to politicians is that the voters have lost trust in government.
Even at that, there is a limit to which, the Nigerian electorates can sell their votes to politicians because in a situation where the Nigerians have trust in government, selling of votes for money, and voting against their will and conscience would have been difficult for them.
But I am also on the opinion that the Nigerian government from federal and states and local government areas should, has a matter of importance, endeavour to pay their civil servants regularly, their salaries and all their entitlements, including retirees, as well as create jobs for the teeming youths of this country, then selling off their votes will stop during elections, and even if politicians bribe them, they will collect their money and still vote for their preferred candidates.
Conclusion
Vote buying had always been in the country right from when Nigeria gained independence, therefore, vote buying during elections is as old as Nigeria as a country. It is only prevalent today because there is too much hunger in the land.
Make money writing for us. Apply for
Freelance writing jobs in NIgeria
.
.
Copyright Warning!
Contents on this website may not be republished, reproduced, redistributed either in whole or in part without due permission or acknowledgment.
.
Proper acknowledgment includes, but not limited to (a) LINK BACK TO THE ARTICLE in the case of re-publication on online media, (b) Proper referencing in the case of usage in research, magazine, brochure, or academic purposes,.
.
All contents are protected by the Digital Millennium Copyright Act 1996 (DMCA).
.
We publish all contents with good intentions. If you own this content & believe your copyright was violated or infringed, please contact us at [infoguidenigeria@gmail.com] to file a complaint and we will take necessary actions immediately.