Seminar has been widely acclaimed to be one of the most potent business marketing strategies. I could remember attaining a seminar through a friend invitation, and the seminar presentation was very powerful, appealing almost to the minds of every participant at the seminar.
Immediately, after the seminar, few minutes later, what I saw shocked me, I mean long queue just to buy some of the materials brought in by the gentleman who made the seminar presentation, and I concluded that seminar indeed is the mix of sales instrument.
👉 Relocate to Canada Today!
Live, Study and Work in Canada.
No Payment is Required! Hurry Now click here to Apply >>
Immigrate to Canada
Seminar will avail you the opportunity to speak to a large number of persons with efforts than if you were to speak to just one individual. However, in this article, we will be exploring on how to use seminar to promote your business.
Read More: 10 Ways to Promote Your Business in Nigeria
Why Using Seminar to Promote your Business?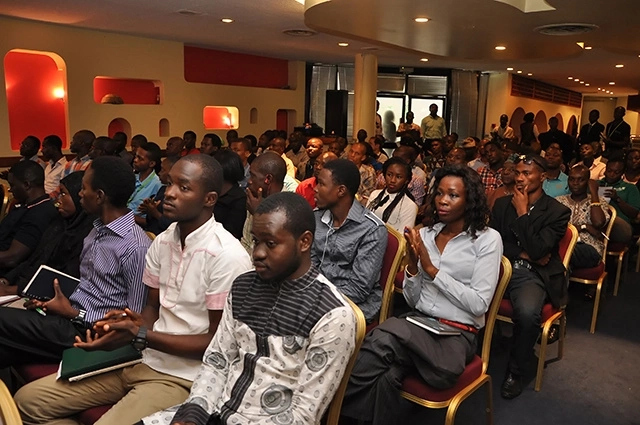 However, some people are of the opinion that using seminar to promote your business would not be effective, given the fact that the presenter's attention is going to be shared among the members of the audience.
According to them, having one to one sales presentation is more effective. But experience has shown that the reverse is the case, and I will prove it.
A well planned seminar presentation more often than not serves two important purposes, and purposes served by the seminar presentation make seminar more effective in promoting your business than one to one presentation.
Read More: Top 10 Ideas On How To Advertise Your Business In Nigeria
Firstly, when you use seminar to promote your business, as a presenter, what is in the minds of the audience is that you are an expert and they have gathered to hear you speak.
Secondly, you are likely to pass your information to the audience in more convincing manner, which is less invasive than you would have done, while passing the information on one on one basis.
👉 Relocate to Canada Today!
Live, Study and Work in Canada.
No Payment is Required! Hurry Now click here to Apply >>
Immigrate to Canada
Seminar As Sales Process
You should understand that you can use seminar to promote your sales, therefore, while planning for seminar, you have to take into consideration how well your seminar fits in into your sales objective.
Be that as it were, you should always have at least these three things in your mind anytime you are organizing business seminar.
You can either build new relationship through your seminar or to vitalize the existing relationships, and you should not forget that you are dealing with your customers and sometimes with your would-be customers, thirdly, if your business or what you have at the back of your mind is to promote the seminar, then your seminar can be the product you are selling.
What Products are You Selling?
You should have a specific product you intend to sell, and work towards achieving the goal of selling your product through seminar, and that should be a particular product not so many products at a time. By this, you are on the way of making reasonable sales at the end of your seminar.
Read More: 10 Problems of Nigeria Managers and Possible Solutions
You Can Charge/You Can Equally Not Charge
The truth of the matter remains that, you want to use seminar to promote your business, which is quite alright! Hence, since your aim is to make sales at the end of the seminar, you may likely not charge because the likelihood is that the attendance may drop by some percentage.
In contrary, this is not the case, since you are in business and you want to make profit, you can always charge your audience some fees.
This is the logic, as a seminar presenter, you are duty bound to work hard in ensuring that you present valuable presentation, such that will appeal to your audience, in a way that the money they paid to attain the seminar, and the money they buy your materials at the end of the seminar will not mean anything to them, but of valuable experience.
Read More: 5 Easier and Cheaper Ways to Promote your Business
Where Should You Host Seminar/How Long Should it Last?
A good seminar is that seminar that is well planned, where you should take into consideration where to host your seminar, what time to host your seminar and time duration.
To me, two sessions are conducive enough to host your seminar and achieve maximally your objective, which is breakfast seminar session in the morning and diner session in the evening, and always ensure that your seminar is hosted in the best event places or best hotels in the town.
Reason is obvious; doing it that way is a worthwhile investment, which will help build your credibility and reputation. And more importantly, your seminar time duration should be between one and a half or two hours.
Seminar Topic Should be Mind Captivating
The topic seminar should catch the interest of the audience, such topic should either promise to answer questions in the mind of the participants or proffer solutions to their problems, as well as provide benefits to your audience.
For example, topic of this nature actually sales, that is; "the emergence of online business fraudsters and how to avoid them".
Content structure
Structuring your content in a way that will catch the attention of your audience is a success half won. Your content however, should promise to benefits your audience, answer questions and solve problems to your audience.
Your seminar should not be theoretical , you should be able to show your audience how to do it themselves. Once this is done, you can then summarize your important points and conclude by assuring them that such problems they came with is over.
Read More: 8 Steps to do Market Survey for New Business
Allow Time for Questions
You should plan for question time; this will help you, while delivering your strong point. How do you go about this, it is by asking yourself some important questions. Such questions like, 'am I confident enough to entertain questions from the audience'?
If your answer is no, then inform your audience that, because of want of time, there would be no time for question, but you may drop your address, and invite those with question to visit you in your office at a more conducive day and time.
👇👇👇👇👇
Immigrate to Canada Via Job Offer!
Get latest Jobs in Canada for foreigners with visa sponsorship 2023 and how to apply. Don't miss this opportunity that can help you relocate to Canada with your family.
👇👇👇👇👇