Agriculture
How To Start Onions Farming In Nigeria; A Complete Guide
Onions (Allium cepa) is a vegetable we can never do without here in Nigeria. It is eaten raw and mostly used on a daily as a food condiment in every household.
This shows that it is a crop whose demand can never end. According to the 2015 FAO statistical report on highest onion producing countries, Nigeria with 621,000 tons annual production ranked 24th in the world and 4th in Africa behind Egypt, Algeria and Morocco.
The bulk of onions produced within the country is consumed locally and even with this, we still occasionally feel the impact of onion scarcity.
Read Also: Steps To Start Garden Egg Farming Business In Nigeria And Tips To Succeed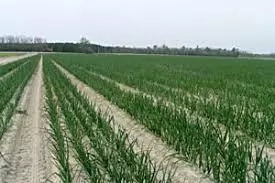 This shows that the market is large enough to accommodate new investors. Onion is a very unique vegetable considering it's ease of cultivation, widespread uses when processed and excellent health and financial benefits.
In Nigeria, there is an all year round demand of onion, which has made onion farming a top agribusiness choice to venture into as it is sure to yield a constant stream of recurrent revenue.
The high demand of onions in Nigeria stems from it's use as an indispensable food condiment for both the rich and the poor. Onion is a key ingredient for almost every Nigerian food.
Aside the use of fresh onions as a food ingredient, it can also be processed to make onion paste, dehydrated onion flakes, onion powder, onion oil, onion vinegar, onion sauce, pickled onion, onion wine, beverages and more. Onions can be used as an ingredient in the industrial process of manufacturing moth repellants.
Onions provides the body with numerous health benefits since it contains essential vitamins, minerals and nutrients such as carbohydrates, protein, vitamins (Thiamine, Riboflavin, Niacin, Pantothenic acid, Folate, Vitamin C) and minerals such as calcium, Iron, Magnesium, Manganese, Phosphorus, Potassium and Zinc.
There are majorly two types of onions, the bulb onion and the spring onions. The bulb onion is much more popular in Nigeria.
The spring onions are mainly used for salads, fried rice and occasionally as a soup seasoning. The bulb onion has three major variety, the red onion, the yellow onion and the white onion.
The red onion is the most popular in Nigeria. It is mostly cultivated because of its longer shelf life and its short planting to harvest duration.
Onion farming is basically cultivated in commercial quantity in northern Nigeria, but that doesn't mean it can't be grown in any other part of the country so the door is always open for new investors.
Northern onion farmers have been doing their best to constantly increase production so as to address local demand, but even the production of about 621,000 tonnes annually hasn't completely satisfied local demands, hence there is currently no form of export activity for this crop.
This shows commercial onion (Red bulb onion) production market is not saturated and hence a sector where investment can be made as local production has been established to be insufficient.
Therefore, I have decided to put up this post as a guide to prospective investors. Below are the important factors to be considered before starting your onion farm.
Read Also: 8 Steps To Start Commercial Orange Farming Business In Nigeria
1. Land
A hectare or two is advised for starters. The land must be a fertile land. Fertility can be easily determined by the thickness of the vegetation on the land.
The soil should be a sandy loam soil. The soil should also be one that is easily drained. The ideal pH for onion is 5.5 – 6.5. The selected site must be low in sulfur concentration.
2. Land Preparation
This is the process of preparing land for a new farm operation, it involves clearing bushes, removing stumps, trees, stones, rocks and every other obstacle that may reduce the size of crop producing land.
This can be done with the help of manual labour or mechanized labour, although the choice of labour depends on the size of the land. Land preparation also involves application of manure to enhance land fertility.
In onion cultivation, the land should be completely weed free and ploughed. Farm manure should be applied while ploughing. Furrows and ridges should also be formed once planting is about to commence.
Read Also: Cassava Farming Business; How To Start And Be Successful
3. Planting Operations
The planting operations in onion farming involves furrows and ridges or flat bed preparation. The flat bed preparation is usually adopted by most commercial farmers as it can accommodate more plants.
After preparing the land, your young onions are planted. There are two major methods of planting, it can either be with seeds or setts there are different seed varieties and some hybrid varieties available as well, so it is important they are obtained from a reputable source.
Planting should be done around November or December. After planting, the crop takes about 3 to 4 months to reach maturity. Spacing should be 10cm apart.
4. Plant Care
The farm must be kept free of weeds as onion are not able to cope with competition. A regular weed removal schedule should be adopted so as to enhance yield as weed competition is known to reduce yield.
The plants should be regularly watered as onion plants are not able to absorb water from deep within the soil, so it is necessary to always keep the top soil moist.
A drip irrigation system can be installed, but the local irrigation methods can also be used as long as the soil is not flooded, because onions do not thrive in flooded and poorly drained soil. After irrigation, mulching can be used to conserve water and impede weed growth.
Read Also: Fish Farming; How To Start The Business In Nigeria
5. Harvest
Onions take 3- 4 months to reach maturity and can be harvested once the leaves begin to dry off naturally. They are harvested by pulling out the bulb and trimming off the roots and leaves.
6. Storage
After harvesting the onion bulbs, it is very necessary to sun dry them thoroughly before it is stored in a well aerated and perfectly constructed silo or bagged for transportation to the market. Drying is necessary to remove as much moisture as possible so as to increase the shelf life.
7. Marketing
Since onion is a crop that is always in demand, finding buyers shouldn't be a problem. The product can be transported to any big market nearby and supplied to wholesalers and retailers.
Conclusion
Onion farming is an agribusiness that can provide a sure source of recurring monetary gains if properly planned and executed.
This is because the market demand for onion is never ending. Although, it is important to note that a 50kg bag of onions can sell at ridiculously low prices such as N1,500 to N4000 per 50kg bag during periods of plenty (January to March).
This is normally how it sells at such period in communities in Kano, Kaduna, Jigawa, Sokoto, Plateau, Bauchi and Kebbi states where it is produced massively because its the harvest season.
Read Also: 7 Ways To Sell Farm Produce In Nigeria
Once it is planting season, it becomes scarce and prices soar, so it is necessary to shift your planting date a bit later or have adequate storage facilities to enable you have enough products to be supplied during its scarcity or rather acquire a transport facility to help facilitate the movement of your products to urban centers where it is normally sold for as high as N10,000 – N20,000 during the season of plenty and even as high as N25,000 – N35,000 during its off season.
This post can be helpful to somebody else, please share it on Facebook, Whatsapp, Telegram and Twitter. There are buttons below for this (easy to use too)!
Copyright Warning!
Contents on this website may not be republished, reproduced, redistributed either in whole or in part without due permission or acknowledgment.

.
Proper acknowledgment includes, but not limited to (a) LINK BACK TO THE ARTICLE in the case of re-publication on online media, (b) Proper referencing in the case of usage in research, magazine, brochure, or academic purposes,.

.
All contents are protected by the Digital Millennium Copyright Act 1996 (DMCA).

.
We publish all contents with good intentions. If you own this content & believe your copyright was violated or infringed, please contact us at [infoguidenigeria@gmail.com] to file a complaint and we will take necessary actions immediately.
🤑 Start making money from home today!
👉 Get correct FREE TIPS and Guides on how to make money from home today. Click here to start
.
👍Advertise your business here!
With over 1M unique users per month across all channels, we have a large audience for you to showcase your products and services. Simply get in touch via 👉 marketing@Infoguidenigeria.com.
🤑 Make Money now!
👉 Make money writing for us. Apply for Freelance writing jobs in Nigeria.
👉 Make Money as InfoGuideNigeria Advertising Agents, read more here
.