This is a detailed post on how to start cassava farming business in Nigeria.
Cassava is a tuber crop that is more or less a staple food in Nigeria. The good news about this crop is that it grows well in most part of the country.
Cassava and cassava related products are among the most consumed food products in Nigeria. This is because almost every individual in Nigeria depend on one cassava product or another for sustenance. Foods gotten from processing cassava include: garri, fufu, amala, starch, abacha, cassava flour and so on.
Read Also: Prices Of Agricultural Machinery In Nigeria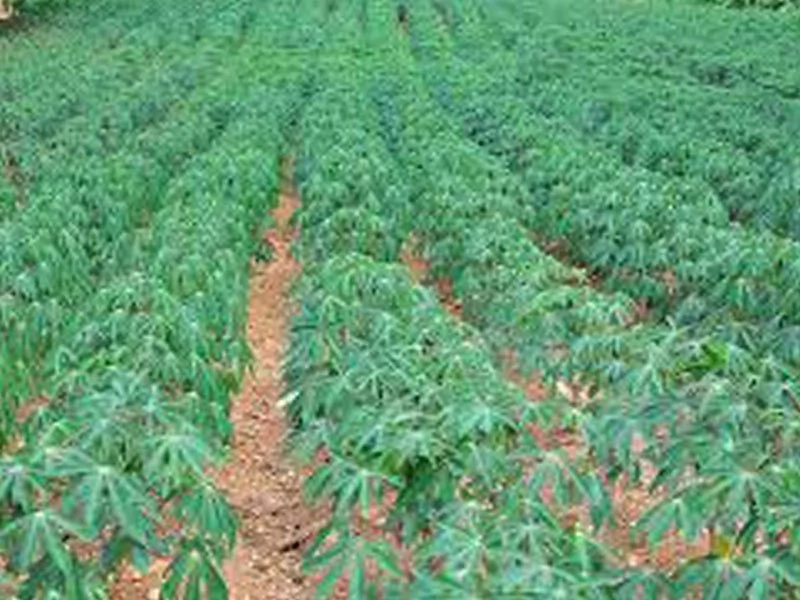 Nigeria is the largest producer of cassava. Yet, there is still huge under-supply of cassava in Nigeria. And neighbouring African countries where it is consumed.
Given this high demand for cassava and its related products. You would agree with me that cassava farming is a gold mine waiting to be explored.
Read Also: How To Export Agricultural Produce In Nigeria
Merits of engaging in cassava farming business include:
1. Not Capital Intensive: Unlike some crop farming ventures that require huge capital outlay to start. Like rice farming.
Starting a commercial cassava farming business do not require millions. Another good news about cassava farming is that it can be started on a large scale. Or on a small scale. And if you have a land with a good soil type, almost half of the starting cost has been taken care of.
2. Low Management Cost: In some farming ventures, the cost of managing and maintaining the farm is sometimes higher than the initial capital investment.
But, in cassava farming, the cost of managing the farm after planting is minimal. And require less stress. This makes it a good investment option. Because net profit after deducting expenses is usually high.
3. High Demand: The demand for cassava and cassava related foods is very high in Nigeria. Almost every family depend on cassava. Or its by-product for sustenance.
In fact, in Nigeria, you hardly see a person who doesn't eat either garri, amala, alibo (achicha), fufu, or even cassava flour bread.
So, the demand for cassava either for immediate consumption or processing into another product is very high. Making cassava farming business a lucrative venture.
4. High Return on Investment: With the right variety and good planting/management practices. A hectare of cassava farmland, produces about 25 tonnes of cassava.
A ton of cassava is sold for between N16,000 to N18,000 in the southern part of the country. Thus, at an average price of N17,000 per ton, 25 tonnes will amount to N425,000.
So, if you are farming about 10 hectares, you know what that means. The cassava tuber can also be processed into different products like garri, cassava flour, cassava chips etc. Which are sold at higher prices. And can be exported to earn foreign exchange.
5. Need No Formal Education: From time immemorial, Nigerians have been known to be good cassava farmers. So, in as much as It is very important that you have a background knowledge of what it takes to start cassava farming business. And how to run it successfully.
As well as carry out an extensive research on the best farming practices. To ensure high yield and quick return on your investment. You don't need a degree in crop science or crop related course to engage in a successful cassava farming business.
6. Finally, unlike some other farming businesses that require immediate harvest at maturity. Cassava have longer period of harvest since it is a perennial crop. It can stay for up to 11 months on the ground after maturity.
Read Also: Cashew Nut Trade In Nigeria
Requirements For Cassava Farming
1. Business Plan: Like I always advice you, the first requirement to succeed in any business venture is a bankable and realistic business plan.
This should be done after conducting thorough market research. And rigorous feasibility study. To ascertain the viability of the business.
This would enable you identify the market size, capital requirement, your competitors, threats to your survival in the market, and so on.
A good business plan will also serve as a guide to keeping to the vision of the business. Ad striving to achieve the stated goals.
2. Suitable Land: land is the single most important asset in cassava farming business. The acquisition of land requires substantial amount of money.
And it is also the soil type that determines the productivity of the cassava stems planted. And the overall profitability of your cassava farming venture.
Thus, it is necessary that you consider the following while choosing a land for your cassava farming business:
a. Soil type: Cassava grow well in Sandy loamy soil. This is because it drains water easily. So, know this while choosing your farm site.
b. Soil fertility: It is equally necessary that you carry out soil tests to ascertain the suitability of your intended farm's soil for cassava farming. This you can do by employing the services of a soil scientist. Or taking a sample of the soil to the IITA for examination.
c. Accessibility: The farm site should also be close to the road. Or at least motorable so as to ensure easy transportation to the market.
2.Choosing a Good Variety: In cassava farming, the the soil type contribute greatly to the survival and growth of the plant.
However, it is the variety of cassava planted that determines the size of the yield. And the profit is determined by the size of the yield. That is why at harvest, some cassava might be as tiny as a broom stick.
While others come out as big as yam tubers. Thus, it is very important that you select a good variety for your farm. So as to expect bountiful harvest.
In Nigeria, the varieties recommended for commercial cassava farming include: TMS 92/0326, TMS 4(2) 1425, TMS 30572, NR 8082, NR8083, TMS 81/00110.
3. Fertilizer: These are chemical additives to improve the fertility of the soil and support good yield. Ideally, NPK fertilizer is the most preferabe type of fertilizer for cassava farming. This is applied some weeks after planting your crop.
4. Herbicide and Lime: These two are used before and during the process of land preparation. Herbicide is used for weed control some weeks before preparing the land. While lime is applied to decrease the acidity of the soil during land preparation.
5. Farming Machine: Other farming machines such as stem cutters, planters, tractors, power tillers, harvesters and so on may also be purchased depending on your capital. But, if you are starting out with a little capital, you may rent or lease the most important ones like the power tillers.
Read Also: How To Start Beans Farming In Nigeria
Processes Involved In Cassava Farming
1. Land Clearing/Application of Herbicide: The first step in cassava farming is the land clearing process which involves the use of total herbicides.
The first weeding of the farmland is about 10 days before preparing the land for cultivation. To minimize cost and the use of labour, total herbicides are applied. At the rate of 4.5 litres per hectare.
2. Land Preparation (Tiling): This involves tilling the soil either manually or mechanically. However, in commercial cassava farming, mechanical land preparation using tillers is advisable. As this quickens the land preparation process and saves cost of employing labour for days.
3. Application of Lime: The next step in commercial cassava farming is to apply lime to the soil to reduce the acidity of the soil. This is done at the rate of 250kg per hectare.
4. Cassava Cultivation: In Nigeria, the planting of the cassava stem usually begin by April and last till October of the same year.
On the average, about 60 bundles of the cassava stem is needed as planting material to cover a hectare of farmland. This stems are cut into different pieces of 25cm long per piece. And planted at a space of 1metre by 1metre (1mx1m).
To achieve this particular process, you need at least between 4 to 5 workers. Depending on how fast you want the job done.
5. Post-Planting Weed Control
It is more advisable to carry out weed control about 10 weeks to land preparation using total herbicide. However, if for some reasons you failed to do this, then you are advised to augment for the error using selective herbicide about 5 weeks after planting. Preferably, Primextra herbicide is used at the rate of 5 litres per hectare of farmland.
6. Fertilizer Application: Fertilizers are applied to improve soil nutrients and consequently increase yield. This is done about 8 weeks after the planting.
Application is usually by ring method. At 6cm thick per ring and 10cm away from the plant. You may also adopt brocasting method in the application of fertilizer.
But most importantly, avoid spraying the fertilizer on the plant stem or leaves.
The Cassava Harvesting Process
With good farming practices and management. One hectare of farmland can yield between 20 to 25 tonnes of cassava roots.
When you do the math using the formula I gave earlier, you would know the expected income. Depending on the size of your farmland.
Marketing The Product
Before starting the cassava farming business, you must have identified with your potential customers. So, at this period, you are to contact them and inform them of the availability of your product.
Ensure that the road leading to your farm is Motorable. This would reduce the transport cost of moving your product to the market. As well as make it easy for intending customers to visit your farm.
You may as well process the harvested cassava tubers into other products like garri, cassava flour, cassava chips, and so on. These have the potentials of being exported. And generates more profits.
Read Also: How Profitable Is Fish Farming Business ?
Start Cassava Farming Today
Join In Eradicating Hunger And Poverty In Our Nation.
Help Others As I Have Helped You By Sharing This Post.
Drop Your Comment And Questions And I Would Be Glad To Furnish You With Enlightened Replies.
See You At The Top!!!
🤑 Start making money from home today!
👉 Get correct FREE TIPS and Guides on how to make money from home today. Click here to start
.
👍Showcase your business here!
With over 1M unique users per month across all channels, we have a large audience for you to showcase your products and services. Simply get in touch via 👉 marketing@Infoguidenigeria.com.
🤑 Make Money now!
👉 Make money writing for us. Apply for Freelance writing jobs in Nigeria.
👉 Make Money as InfoGuideNigeria Advertising Agents, read more here
.
This post can be helpful to somebody else, please share it on Facebook, Whatsapp, Telegram and Twitter. There are buttons below for this (easy to use too)!
Copyright Warning!
Contents on this website may not be republished, reproduced, redistributed either in whole or in part without due permission or acknowledgment.
.
Proper acknowledgment includes, but not limited to (a) LINK BACK TO THE ARTICLE in the case of re-publication on online media, (b) Proper referencing in the case of usage in research, magazine, brochure, or academic purposes,.
.
All contents are protected by the Digital Millennium Copyright Act 1996 (DMCA).
.
We publish all contents with good intentions. If you own this content & believe your copyright was violated or infringed, please contact us at [infoguidenigeria@gmail.com] to file a complaint and we will take necessary actions immediately.