In this article, I will explain to you step by step on how to set up a successful VTU business. For those who do not know, the VTU business (also known as Virtual Top Up) is a business where by you act as a vendor and top up people airtime without them haven to buy a recharge card.
The well-known method of recharging your phone is by buying a scratch card or paper, loading the number into your sim with a USSD code.
The VTU way involves a vendor (YOU) digitally crediting the phone directly. There's no hassles over card or USSD code. The customer will receive a direct alert telling him his phone has been recharged.
If you don't have the funds and recourses to start your own VTU business, you can join Recharge and Get Paid VTU. It's a multilevel marketing company in Nigeria that allows you to make some money when you do telecom transactions on their platform.
With Recharge and Get Paid, you will also make more money when you refer other people to join.
Click here to learn more about Recharge and Get Paid registration.
How to Register on Recharge and Get Paid VTU Nigeria
Step 1: Copy this referral ID: 👉 pina4
You will need it right now. 
Step 2: Visit https://rechargeandgetpaid.com/register.php
Step 3: Type in or paste the referral ID 👉 pina4
as shown in the picture below;
Step 4: Complete the form with your name and other details; your first name, last name, email, phone number, your username, and password and click on the "NEXT" button.
Step 5: Login with your newly registered Username and Password and continue to fill the next form.
Step 6: Select Membership Registration Package.
See each package and their benefits below;
📙Basic = ₦5,000 – You get ₦1000 bonus + 20PV. You earn up to 5th level deep.
📘Bronze = ₦10,000 – You get ₦2000 bonus + 40PV. You earn up to 6th level deep.
📗Silver = ₦20,000 – You get ₦4000 bonus + 80PV. You earn up to 7th level deep.
📕Gold = ₦30,000 – You get ₦6000 bonus + 120PV. You earn up to 8th level deep.
📔Diamond = ₦40,000 – You get ₦8000 bonus + 160PV. You earn up to 9th level deep.
📓Platinum = ₦50,000 – You get ₦10,000 bonus + 200PV. You earn up to 10th level deep.
📓Executive Platinum = ₦100,000 – You get ₦20,000 bonus + 400PV. You earn up to 10th level deep.
Step 7: Choose the payment gateway.
NOTE:
There are two payment options:
E-wallet and Paystack. I recommend you choose PAYSTACK to pay with your ATM card. It's quite easy. It's only existing RAGP members that have and can use E-WALLET to pay. When you pay, your eWallet will be activated. Click the "Next" button.
Step 8: Supply your bank details: This is the account you will use to withdraw money from your Recharge and Get Paid account.  Click the "Next" button.
Step 9: You are on the payment page now. Click on "Pay via PayStak" button.
Step 10: You are on the PayStack secure payment page. Supply your ATM card details and click the "Pay" button.
You are done!
Wealthcome to the Business! 
If you have difficulties in registering or payment, kindly chat with me via WhatsApp 08026529647. I will help you instantly.
My name is Ifiokobong Ibanga, the founder of  InfoGuideNigeria.com, MakeMoneyOnline.com.ng, myPastQuestion.com and many other online businesses.
I am not the owner of Recharge and Get Paid, but a member who has benefited from this business for over 8 months now.
As a blogger and digital marketer, I consume a lot of internet data and recharge cards. This business, Recharge and Get Paid help me to save a lot of money by paying me every time I buy recharge card, subscribe for data and so on…
My duty here is to explain "Recharge and Get Paid" Business to you using simple English. After reading this page, you will fully understand what RAGP is all about.
I am also available if you have any question about this business. I organize seminars on Recharge and Get Paid and other internet business opportunities every Saturdays at NOVA Cybercafe, No, 45 Ikot Ekpene Road, Uyo. Akwa Ibom State.
You can also join my Recharge and Get Paid WhatsApp group chat. Join online presentations, ask, questions, and meet new friends.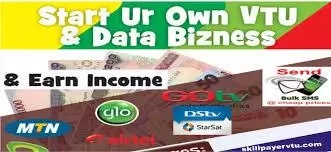 How Profitable Is The VTU Business
In Nigeria today, there are over 150 million active sim cards. And the average sim card user recharges about N2000 per month. That is a whooping N260 billion spent on airtime nationwide in a month.
You can dispense for as low as N50 to as high as N1,000,000. You get 5% profit on all your VTU recharge. Hence, you are getting your slice of the N260 billion industry.
Key Players In The VTU Business
There are many medium to large scale enterprises into the Virtual Top Up business. Such as;
a. Presfeny Communications – Cement, Ikeja, Lagos.
b. Love World Limited – Four Corner, Ikom, Cross River.
c. Richvision Limited – Awolowo Way, Ikeja, Lagos.
d. Feybay Solutions Provider – Ogba, Lagos Mainland, Lagos.
e. Ayokunle Enterprises Limited – Abere, Ede North, Osun.
Read Also: Airtel Nigeria Salary Structure | How Much Airtel Pay their Staff
Exciting Opportunities In The Vtu Business
For one to be very successful in the VTU business in Nigeria, one has to place one's business location near a promising and lively area.
You can add your loyal customers to your social media platforms, especially Whatsapp. This will enable them be able to contact you online in case of emergency recharge.
As a VTU vendor, this is where you come in, you don't have to stress. Traditional card vendors are going out of vogue and VTU is the in thing now.
Major telecommunication lines such as; MTN, GLO, Airtel and Etisalat are doing it now. Even banks such as GTB, UBA, and Zenith bank amongst others have their own VTU.
If situated in a good location where there are busy workers, you can be raking in six (6) figures in profit per month.
You can also create a team of distributors or resellers who will be making money on your behalf while you do other things.
Knowledge And Experience You May Need
In Nigeria, you do not need to learn much about the business. All you need to do aside learning about the steps online is taking a bit of apprenticeship, and attending the network carriers' seminars about it. Also you may need to know a bit about data subscriptions and other subscription code.
Read Also: 6 Best MTN Prepaid Plans In Nigeria And Migration Codes
Raw Materials Needed To Start The VTU Business
Here are the list of materials and tools you will need to start a good VTU business.
a. A shop; this will serve as the physical location of your business aside your social media accounts.
b. SIM cards from each network loaded with substantial amount of money.
c. 2 or more phones to house those sim cards.
d. A metal showcase; this is where you'll display your other network related products that are for sale.
e. A metal security door; to secure your products after you close.
Read Also: Tips To Avoid Unnecessary Deduction On Your MTN, Glo, Airtel Or 9mobile Line
Technology Needed
A well-designed website is advised because it will make people know you are legitimate and might help attract online customers.
Aside that, a laptop and good phones is needed. In them, you can install the applications used by various networks for top up.
Location In Nigeria For Vtu Business
The commercial capitals of the country aside Lagos include, Ibadan, Abuja, and Port Harcourt etc. Hence these cities should be the preferred locations for your business.
Also, students are ferocious consumer of airtimes. They use it for data and calls. Hence having your shops near a school campus will be a huge boost.
Amount Of Funding Needed To Run The Business
There are various ways to start a VTU business. If you have a good phone and have acquired the needed SIMs, the amount you need to put into the business before you start making profit should be somewhere between 5,000 – 10,000 only.
You can get funding by getting loans from friends and relatives. Cooperative societies can also help out if you are lucky to be a member of a reasonable one.
Registration And Licensing
Not much registration is needed since this is a small to medium scale one man business. However, one will still need to register with the Cooperate Affairs Commission (CAC) if you want to grow bigger.
Follow the necessary procedures on network carriers' web pages to know more about their terms and conditions before registering as their VTU vendor.
Packaging And Promotional Tips
A good word of mouth is the best way to promote this business. However, Facebook adverts targeted at people around your vicinity won't be bad.
A WhatsApp page made up of your customers can also help keep you in their mind anytime they need emergency recharges.
Company Structure And Staffing
You can single handedly control the business or employ people under you as distributors and retailers. This people will help you make money while you are asleep. However, they have to be trustworthy and hardworking.
Read Also: How To Check 9mobile Bonus Balance
How to Start VTU Business in Nigeria with Just N5,000
Now you can see from the explanations and requirements above that its possible for you to start your own VTU businesses. But the problem is that it requires a lot of investment capital and human resource.
To start a VTU business successfully in Nigeria, you need a lot of consultation, licensing and paperwork. This takes so much time, money and energy. Most time, you may need to hire a consultant to help you with various steps of the process.
However, there is good news. You can start your own VTU business with just N5,000. It's called "Recharge and Get Paid" The company has done all the hard work for you.
All you need to do, it to register, activate your account and start your business.
You might want to ask, what is Recharge and Get Paid and how does it work? >> Click here to Read more <<.
Conclusion
Soon enough, the issue of manual recharges will go out of vogue. And since the population of our country is ever increasing, you are bound to keep making money from the 5% profits in the VTU business as long as you stay creative with your approaches and stay in a busy urban hub.
⚽ Start winning football betting today!
👉 Get correct FREE GG and Over 2.5 football prediction tips. Click here to join
.
👍Showcase your business here!
With over 1M unique users per month across all channels, we have a large audience for you to showcase your products and services. Simply get in touch via 👉 marketing@Infoguidenigeria.com.
🤑 Make Money now!
👉 Make money writing for us. Apply for Freelance writing jobs in Nigeria.
👉 Make Money as InfoGuideNigeria Advertising Agents, read more here
✍️ Be Our Guest Publisher!
Do you have a press release, breaking news,  or any other helpful information to share with our growing readers? If yes, send your article to 👉 infoguidepr@gmail.com.
We will be glad to publish it if the information is useful to our audience.
.
This post can be helpful to somebody else, please share it on Facebook, Whatsapp, Telegram and Twitter. There are buttons below for this (easy to use too)!
Copyright Warning!
Contents on this website may not be republished, reproduced, redistributed either in whole or in part without due permission or acknowledgment.
.
Proper acknowledgment includes, but not limited to (a) LINK BACK TO THE ARTICLE in the case of re-publication on online media, (b) Proper referencing in the case of usage in research, magazine, brochure, or academic purposes,.
.
All contents are protected by the Digital Millennium Copyright Act 1996 (DMCA).
.
We publish all contents with good intentions. If you own this content & believe your copyright was violated or infringed, please contact us at [infoguidenigeria@gmail.com] to file a complaint and we will take necessary actions immediately.