Nigerian egg fried rice is much more similar to the popular fried rice but with a little twist which is the addition of fried scrambled eggs.
This makes the fried rice taste more delicious and unique. The ingredients remains the common vegetables like carrot, green peas, green beans, green pepper, yellow corn, cow liver, spring onions, white onions and fried rice spice. Nigerian egg fried rice can be served alongside beef, goat meat, fish or turkey.
The egg fried rice might not be commonly served or eaten in parties but can be prepared by eateries on special request by customers. And can also be prepared at home.
Read Also: How To Make Nigerian Jollof Rice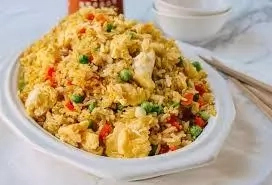 The Nigerian egg fried rice is gradually becoming popular in many homes in Nigeria and people who are used to eating the usual fried rice naturally crave the unique taste the egg fried rice will give. In this article I will explain how the Nigerian egg fried rice can be prepared.
 Ingredients for Nigerian egg fried rice (for 6 servings)
a. 4 Eggs
b. 6 cups of rice
c. Liver
d. Carrot
e. Green beans
f. Green pepper
g. Sweet corn
h. Spring onions
i. White onions
j. White pepper powder / garlic powder
k. Turkey/ chicken/ beef
l. Vegetable oil
m. Spices (seasoning cubes, salt, curry, thyme, turmeric powder)
Read Also: How To Make Nigerian Coconut Rice
Method of preparation of the ingredients
1. Boil the turkey and the liver by adding sliced onions, little curry, thyme, seasoning cubes, salt to taste with moderate water. 5 seasoning cubes with moderate water will be enough to cook an average sized turkey (Meat stock will later be used in preparing the rice).
2. Fry the turkey with vegetable oil or roast the turkey in the electric oven.
3. Measure the 6 cups of rice, wash with cold water and pour the rice into the boiling water in a pot already on fire.
4. Wash the vegetables with little salt and water then set aside.
5. Soak the green peas and sweet corn with hot water for about 5 minutes to allow to soften a bit.
6. Cut the green beans into small sizes and set aside in a different bowl.
7. Dice the carrot and set aside
8. Remove the seeds from the green pepper and cut the green pepper into small sizes and set aside.
9. Slice the spring onions and the white onions into a different bowl and set aside.
10. Cut the cooked liver into tiny cubes and keep aside in a small bowl.
11. Parboil the rice on the fire with a sieve and set aside. Make sure the rice is about 90% done. (This is because the meat stock will be used with the vegetables sauce to cook the rice).
12. Pour vegetable oil into a clean pot and add the sliced onions, then the white pepper, green pepper, diced liver, green peas, green beans, curry, thyme, lastly the carrot, seasoning cubes and salt to taste. (be careful not to over fry the vegetables to avoid them getting burnt, also because they will still get cooked with the boiled rice)
13. Fry the eggs and scramble it into lumps with little seasoning like turmeric powder, little salt and seasoning cubes and add it into a different bowl,
 How to prepare the egg fried rice:
a. Pour the meat stock into a clean pot on fire and pour into it the parboiled rice. You can add little water into the pot until the same level of water and rice is attained in the pot, when the rice is almost perfectly done and the water dried out, stir and set it aside in a clean bowl.
b. Pour the cooked rice into the fried vegetables stir and allow to cook.
c. Add little seasoning into the rice if the spices are not enough.
d. It is important to not allow the carrot to overcook as a partially cooked carrot is preferable for the fried rice.
e. Add the scrambled egg back into the rice then stir and allow to cook.
f. Your egg fried rice is done and ready to be served with the turkey or any other meat of choice.
Another way the egg fried rice is prepared is by using a day old rice and adding it to the egg and vegetable sauce already frying in the pan or pot then adding the cooked rice which should not be too soft or contain too much water for the egg sauce.
The most important thing to note is that the rice should not be too soft and this is because you need it to be soft but dry enough in order to allow you stir fry the rice alongside the vegetable and egg sauce.
Read Also: How To Make Nigerian Stew
 Key points
The meat stock is used to cook the parboiled rice to allow it get done, but not too done, so as to make it easy to stir fry the rice with the vegetables and egg sauce.
The egg and vegetable sauce is fried together then the already cooked rice in meat stock is added in portions to the vegetable sauce frying on the fire to allow the sauce simmer into the cooked rice while it is frying.
If you are not using a day old rice then make sure your rice is parboiled at a stage when the rice is almost perfect for eating, because if the rice is not properly cooked, after it is stir fried the rice will still feel hard to chew, which will not allow you enjoy your meal, as the stir frying process is only going to allow the ingredients and spices simmer into the rice.
 Benefits of eating egg fried rice
a. The egg and the meat as contained in the fried rice is a very rich source of protein. Meat is a good source of vitamin B12 and iron, and a diet rich in iron will help prevent iron deficiency anaemia
b. The rice is a rich source of carbohydrate and especially brown rice and other whole grain cereals have beneficial effect on the heart health.
Read Also: 10 Best Rice Cookers in Nigeria and Prices
c. The vegetable i.e the carrot, green beans, green peas etc are a rich source of vitamins which are vital for health and maintenance of the body also people who eat more vegetables are likely to have a reduced risk of some chronic diseases.
d. Hence the egg fried rice is a balanced diet isn't it?
.
👍Showcase your business here!
With over 1M unique users per month across all channels, we have a large audience for you to showcase your products and services. Simply get in touch via 👉 marketing@Infoguidenigeria.com.
🤑 Make Money now!
👉 Make money writing for us. Apply for Freelance writing jobs in Nigeria.
👉 Make Money as InfoGuideNigeria Advertising Agents, read more here
✍️ Be Our Guest Publisher!
Do you have a press release, breaking news,  or any other helpful information to share with our growing readers? If yes, send your article to 👉 infoguidepr@gmail.com.
We will be glad to publish it if the information is useful to our audience.
.
This post can be helpful to somebody else, please share it on Facebook, Whatsapp, Telegram and Twitter. There are buttons below for this (easy to use too)!
Copyright Warning!
Contents on this website may not be republished, reproduced, redistributed either in whole or in part without due permission or acknowledgment.
.
Proper acknowledgment includes, but not limited to (a) LINK BACK TO THE ARTICLE in the case of re-publication on online media, (b) Proper referencing in the case of usage in research, magazine, brochure, or academic purposes,.
.
All contents are protected by the Digital Millennium Copyright Act 1996 (DMCA).
.
We publish all contents with good intentions. If you own this content & believe your copyright was violated or infringed, please contact us at [infoguidenigeria@gmail.com] to file a complaint and we will take necessary actions immediately.