How to make Nigerian Smoothie
Hmmm! Yummy! That's everyone's reaction on tasting smoothies. I love my smoothies with ice cubes on a sunny, hot day.
Smoothie is not as popular in Nigeria as it is in the United States where it originated around the 1930s.
However its use is becoming common in households and few people have begun commercializing the Nigerian Smoothie.
A smoothie (occasionally spelled smoothee or smoothy) is a thick, cold beverage made from pureed raw fruit and/or vegetables blended with ice cream or frozen yogurt along with other ingredients such as water, crushed ice, fruit juice, sweeteners (e.g. honey, sugar, syrup), dairy products (e.g. milk, yogurt),milk, nuts, nut butter, seeds, tea, chocolate, herbal supplements, or nutritional supplements.
Read Also: How to Make Smoothie in Nigeria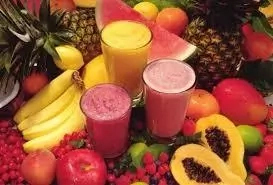 The Nigerian Smoothie is a rich blend of choice fruits and vegetables and other ingredients locally available and acceptable in Nigeria.
The Nigerian smoothie is not just a lovely, soothing drink but also offers a wide range of health benefits. Its value in health and nutrition includes the following:
1. It is used in achieving healthy weight loss
2. It is used to alleviate symptoms of arthritis
3. Smoothies made with natural foods and herbs is used to treat depression
4. It is an energy booster, etc
I recommend you make smoothies a regular part of your daily diet. Kids in particular who may dislike certain fruit and vegetables love it in the form of smoothies.
Smoothies are good for the body; are delicious, strengthens immune system, is soothing for deep sleep, detoxifies the body, and provides daily allowance of fruits and vegetables. Why don't you give smoothies a try!
Basic steps in Smoothie making
This is just a basic guide to making smoothie
a. First choose your smoothie recipe: the recipe you choose will depend on the purpose
Are you on a special diet, maybe you want to lose weight?
Do you want a delicious snack, or desert recipe?
Do you want a protein shake for a convalescent, etc
b. Add your liquid to the blender (about 2 cups). The quantity of liquid you add will depend on the consistency you prefer for your smoothie.
Some like it thick, others prefer a lighter consistency. The more liquid you add, the more watery your smoothie will be. For your Nigerian smoothie, you can use fresh fruit juice, coconut water, tea, raw milk and water.
c. Add your base: this is the body of your smoothie or what makes your smoothie creamy. Good base for your smoothie can be: banana, avocado, mango, nuts (such as almonds), yogurt and apple.
d. Add your fruits and vegetables: be creative at this point, explore with various fruits and vegetable combinations. I prefer fresh fruits rather than frozen fruits.
Add your other options: at this stage add whatever you feel will satisfy your taste and nutrition. You can add salt, e. sweetener, spices honey, coconut oil, etc
Read Also: How To Make Nigerian Salad
Common mistakes in making smoothies
a. Too runny Smoothie: avoid this by using small amount of liquid and use smoothie thickening ingredients.
b. Not tasty: you can add more sweetener, maybe honey or date syrup
c. Not blending well: don't fill the blender jar to the brim. You can blend in batches.
d. Too frothy: you should use less liquid and don't blend for too long. Blend on lowest speed until all the ingredients is liquified.
When it comes to Smoothie ingredients, explore, be creative, have fun trying them out.  The ingredients you need depends on your taste, desires, season and availability, So we shall look at a few recipes for Nigerian smoothie.
Nigeria Mango Smoothie
Ingredients:
a. 3 large ripe mangoes
b. 1 medium size orange
c. 1 ripe banana
d. Sugar/honey (to taste)
e. Cinnamon (optional)
Read Also: Advantages Of Eating Fruits
Procedure:
a. Peel the mango and the banana, and then chop them into  cubes
b. Pour into the blender and blend till it is very smooth.
c. After it's really smooth, put your sieve over a bowl and empty the contents into the sieve.
d. Using the spatula, press the contents of the sieve to get out as much liquid as possible.
e. Peel the orange and extract the juice.  (You can use a juice extractor).
f. Add 1-2 cups of water to the mango smoothie.
g. Add the orange juice to the mixture and add sugar/honey and cinnamon to taste.
h. Leave in the fridge for 15 minutes and serve chilled.
Nigerian Strawberry Smoothie
Ingredients:
a. 1 dozen of strawberries
b. ½ tablespoon of Sugar/1 tablespoon honey
c. ¼ cup of lemon juice
Procedure:
Put the strawberries in a blender. Add the lemon juice and blend until the mixture turns out very smooth. Empty the contents into a sieve placed on a deep bowl. Use a kitchen spatula to press until you extract as much liquid as possible.
Add 1-2 cups of water to the mixture,  add sugar or honey and set in the fridge to around 15 min. Enjoy chilled.
Watermelon Smoothie
Ingredients
a. 1  ripe banana (peeled and cut into chunks)
b. 1 apple (cored and cut into chunks)
c. 2 cups watermelon (peeled and cut into chunks)
Optional: soy or almond milk. Remember that watermelon has enough water already so there may not be need for additional liquid.
Read Also: How to Start Fruits Selling Business in Nigeria
Procedure
Add the watermelon chunks into your blender and blend for about 10 seconds (This would release enough water for you to then add the harder fruits, so as not to spoil your blender)
Add the apple and banana chunks into the watermelon puree and blend for another 15seconds or until the blend looks nice and smooth. Turn off the blender, and stir the blend with a spoon.
Pour into a glass cup and enjoy!
For a greater taste, you may want to add  peanuts or cashew
Carrot and Mango Smoothie
Ingredients
a. 1 carrot
b. Slice of ripe mango
c. 1-2 tablespoons powdered milk
d. ¾ cup water
e. Honey/date syrup to taste
Procedure
a. Scrape carrot and cut into small chunks. Cut out the mango flesh and chop into small pieces.
b. Mix water and milk together.
c. Pour everything into a blender and blend until smooth.
d. Chill and serve.
Nigerian Pawpaw and Orange Smoothie
Ingredients
a. 2cups pawpaw (peeled and diced into chunks)
b. 1ripe banana (cut into chunks)
c. 1cup of freshly squeezed orange juice
d. Procedure
Add the chunks of pawpaw banana and orange juice. Blend until very smooth. Chill and serve. This recipe blends very well with peanuts or cashew nuts.
Coconut and pineapple Smoothie
Ingredients
a. 1 Coconut milk (this has to be freshly extracted. Avoid commercial coconut milk. It doesn't taste well and isn't quite healthy)
b. 1 ripe banana
c. 2 cups ripe pineapple ( chopped)
d. 1 tablespoon honey
Procedure
Pour the banana, pineapple chunks and the coconut milk together into the blender and blend until very smooth. Add the honey and serve with ice cubes if desired.
Avocado and Banana Smoothie
Ingredients
a. 1ripe avocado
b. 1ripe banana
c. Honey(to taste)
d. 2tablespoon almond seeds or powder
e. 1 cup cold water
f. Procedure:
g. Chop the banana and pour into the blender.
h. Peel the avocado, remove the seed and cut into smaller chunks. Add into the blender. Add the almond seeds or powder and water into the mixture. Blend until very smooth. Add more water according to your desired consistency.  Add the honey and enjoy.
Carrot and beet energizing smoothie
Ingredients
a. 3 carrots
b. 1 beet
c. 1 apple
d. 2 celery stalks
e. 1/2 large cucumber
f. 1/2 glass water
g. Procedure
h. Cut into large pieces and place in the blender with half a glass of water, to facilitate blending. Blend until very smooth.
i. If you like, you can also add a bit of ice
Read Also: 19 Ways to Achieve and Maintain a Healthy Life
Tips:
a. Wash all ingredients  properly with salt before making your smoothie.
b. When making Smoothie for children under one year, omit honey as it carries the risk of botulinum poisoning.
C. Smoothie recipes with watermelon tends to be watery because watermelon has enough water, so be careful when adding other liquid
There are endless lists of Smoothie recipes. So just experiment with your fruits. Add your vegetables for a healthier Smoothie.
Click here to see the latest
Study Abroad Scholarships and Guides
Click here to see the latest
Jobs opportunities in Nigeria
.
Click here to Join
Recharge and Get Paid
Click here to Read Latest School News in Nigeria
Copyright Warning!
We work really hard and put a lot of effort and resources into our content, providing our readers with plagiarism-free articles, original and high-quality texts. Contents on this website may not be copied, republished, reproduced, redistributed either in whole or in part without due permission or acknowledgement.
Proper acknowledgement include, but not limited to (a) Proper referencing in the case of usage in research, magazine, brochure, or academic purposes, (b)"FAIR USE" in the case of re-publication on online media. About possible consequences you can read here: What are the consequences of copyright infringement? In an effort to protect our intellectual properties, we may report your website to Google without prior notice and your website be removed from search engines and you may receive a strike. All contents are protected by the Digital Millennium Copyright Act 1996 (DMCA).