In this post, we will show you how to start networking business in Nigeria. Here, you will find the knowledge and tools needed to succeed in this business.
If you are searching for a business you can favourably engage in here in Nigeria, then your search is over. Networking business is one of the very lucrative businesses anyone can start in Nigeria yet its one that is greeted with many misconceptions and skepticisms.
But you know what I love about this business idea? Any one can start it! Yes, anyone at all can start a networking business.
Read Also: Why Network Marketing Business Fail In Nigeria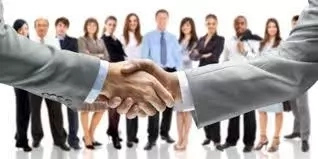 A networking business, also known as multi-level marketing (MLM), is basically about recruiting people to make sales with a compensation given for every sale made by the individual and his down-liners.
Sometimes, compensation may also be given for recruiting new members to join the network. While it is very easy to mistake it with a ponzi scheme, here are the two major differences between the both:
In a ponzi or pyramid scheme, the compensation is made from the registration or participation fees of new recruits only. While in a networking business compensations are made only when an actual sale is made.
In a ponzi or pyramid scheme the emphasis is on recruiting new people. While in a network marketing, the emphasis is on product and sale of product.
Read Also: How to Improve Small Scale Business in Nigeria
Genuine networking is sustainable and deals with tangible product(s) while a ponzi scheme on the other hand is unsustainable in the long run and deals only on recruition fees.
With that clarified, what we can deduce from the Ponzi scheme networking experience in Nigeria between 2015 and 2017 is that Nigeria has a huge potential for networking. And with the right strategy, you are in for some serious financial breakthrough in this business.
Networking business is one business that is often mystified and made to appear very complex and confusing for the average beginner.
No, you don't need a degree in marketing, and you certainly don't need to have your own production company for the product you intend to sell.
The networking business is a system. Almost anyone can be very successful in this business; all you need is passion and the sheer will to win. The basic steps you need to start a networking business anywhere in Nigeria are presented below:
1. Research
If you are reading this article, then you have taken the first step. The first step in any successful business is to do your study and make findings.
Do a proper research on the business to get a basic understanding of how the system works. Granted you do not need to have a specialized knowledge of marketing to be successful in the networking business, however you do need adequate information.
Find out what people in the business have been doing. Find out about the successful companies and what they are doing differently from the ones that failed. A good research will help you in the next steps you take.
Read Also: 7 Steps to Start a VTU Business in Nigeria
2. Choose a good product
This is where many have lost it in running a networking system. Marketing is not a crafty attempt to sell a valueless product.
Rather marketing aims at satisfying a perceived consumer need; this is the underlying factor beneath any successful marketing activity.
So you must pay pain taking attention in selecting your product. This is where you need the information you gathered in your research. In determining your product, you need to know your target market and what products will satisfy their needs.
It may not be a product that generally appeals to this class of people, but it's a product that they can be made interested in given the right information, example includes some health products.
3. Contact your supplier
The next step after choosing a product is to contact your supplier in a situation where you're not the producer of the product you wish to sell.
Here you need to know full details about the cost of the product and other expenses that could be incurred in the process of getting the product from the supplier to where you are. If it's a product with more than one producer, contact at least 3 of those before settling for the best deal.
You want to get the best quality at the lowest price possible. You may find it helpful to communicate to the producer what business you are trying to do with the product. That way you can get full support from them, even up to the tone of releasing goods without upfront payment.
4. Determine a compensation plan
Your compensation plan simply states how people are going to benefit in the network. It could be solely from their personal sales up the sales of their 5th down-line.
And the ideal way to is to keep reducing the percentage of gains that goes to them from sales as it goes down the line.
This will ensure that those in your system are motivated to work and not just sit at the top of the chain. Another compensation plan could be an incentive for recruiting new members.
This will make evangelists out of those in your network. Which ever compensation plan you come up with, you have to scrutinize it to make sure it does not open your business to exploitation.
You don't want a compensation plan that is so fantastic, but leaves you with zero profit. Anywhere from 20% to 30% cut from each sales is highest you should offer.
Read Also: 9 Steps To Start a Business in Nigeria with Small Capital
6. Draw up a prospect list
This is the list of all the people you want to talk to and recruit into your network. When composing this list, don't make assumptions of who and who is not going to be interested.
This is because, no matter how much a person may be earning, he or she maybe up for an extra source of income. If you check the composition of most networking groups, you will find that majority of the people engaged are gainfully employed in one field or another.
So go on and make your list of the people that come to your mind to talk to about your networking. You should start with a list of nothing less than 100 names.
This is because, not all the people on your list will eventually join your network. And among the 10% to 20% that join, you will find a handful that are not going to be dedicated and hardworking. So you want to make enough room on your list to accommodate as many of these as possible.
7. Plan your first presentation
This is the meeting where you bring all the people that have shown a form of interest or another together, and share the idea with them.
You let them know what your network is all about, the product you are selling, the compensation plan, and any information that they will need to know before joining.
You will take questions and give clarifications where necessary. But if for some reason you think you are not good in addressing a group of people in this manner, you get help with it. You could hire someone, or get a representative from your supplier to talk about the product.
8. Begin Recruiting
After you have made your presentation, don't wait for them to go home and think about it, start recruiting. Get them signed up and get the product(s) they need to distribute to them.
Recruit as many people as possible, and also encourage them to recruit down liners for themselves. For this, you will definitely need a website.
It doesn't have to be a full blown website; it could be a sign up page with enough information to elicit the trust of the new recruit.
If you are using a website to recruit, make sure to include a section or box to identify who their sponsor is. Recruiting is important because the size of your network determines the size of your purse.
The more you are in your network, the more sales you make, and thus the more you profit. Running a networking business with very few people will cause a strain on your compensation plan.
Read Also: 11 Steps To Start Your Own Business in Nigeria
Finally, this most important step is to take action now!
So far you have been on step one. Now that you have gathered the basic information you need to start your own networking business in Nigeria, it's time to actually start.
You will need to take actions towards these steps. And in networking business, the action never ends. If you snooze you lose!
You must keep making sales, keep recruiting, keep researching, and keep modifying your product to remain relevant in the long run. So it starts with action, grows with actions, and dies with action; when action dies, your business dies.
👍Advertise your business on InfoGuideNigeria.com!
From just N4,999 per month, you can advertise your products and services to over 1,500,000 users on our website. Click here to read more.
👇👇👇👇👇
Information is Power!
Don't miss any valuable information or opportunity that can change your life, business, and family positively and permanently.
👇👇👇👇👇
For Latest updates on News, Jobs & Business Ideas, and Opportunities.
Copyright Warning!
Contents on this website may not be republished, reproduced, or redistributed either in whole or in part without due permission or acknowledgment.
.
Proper acknowledgment includes, but not limited to (a) LINK BACK TO THE ARTICLE in the case of re-publication on online media, (b) Proper referencing in the case of usage in research, magazine, brochure, or academic purposes,.
.
All contents are protected by the Digital Millennium Copyright Act 1996 (DMCA).
.
The images, except where otherwise indicated, are taken directly from the web, if some images were inserted by mistake violating the copyright, please contact the administrator for immediate removal.
.
We publish all content with good intentions. If you own this content & believe your copyright was violated or infringed, please contact us  for immediate removal.
🤑 Start Making Money from home today!
👉 Get the correct
FREE FOOTBALL PREDICTION
TIPS
and
Guides
today.
Click here