Mining is the extraction of valuable minerals or other geological materials from the earth. The geological survey agency of Nigeria and the ministry of mines and steel development have reported the occurrence of more than 34 minerals in over 450 locations spread across the entire country, which are in various stages of development.
The mining of the various mineral resources in Nigeria will go a long way to reduce the over-dependence on petroleum; in addition to the reduction of over-dependence on petroleum, there will also be a reduction in unemployment rate, increased economic growth and development.
There are numerous mining companies in Nigeria, these companies are facing some setbacks in carrying out their full operations. Several kaolin processing and other industrial mineral processing companies can be seen in Plateau State, such as Kavitex, monumental kaolin and the Global industrial raw materials company, while Baryte and Bentonite are processed in Nasarawa and Edo States amongst others.
Read Also: 25 Popular Mining Companies in Nigeria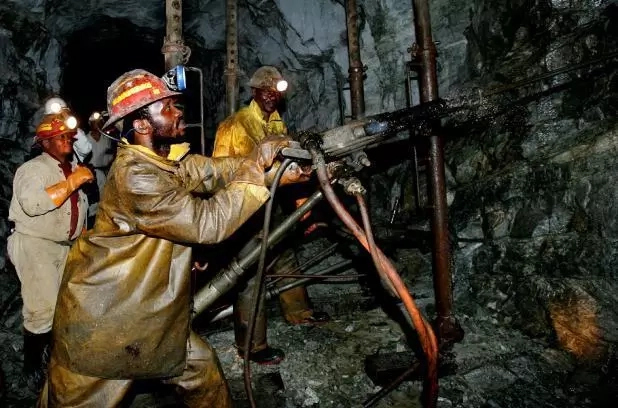 While the enormous Mineral deposits portray potentials for industrial and technological development, the manner in which the resources are exploited portrays great danger for the communities where the resources are found.
In Zamfara, North Western Nigeria where active mining of gold, lead and other minerals is going on, the indiscriminate manner in which the activity is carried out has led to the death of about 300 people as a result of lead poisoning of shallow water sources and soils.
In the same vein, on the Jos Plateau, North Central Nigeria where mining of cassiterite and columbite took place, a total of 2,015 disturbances are recorded in the form of abandoned mine ponds, mine dumps and lotto's, just as over 3000 oil spillage are recorded in the Niger Delta within a period of 4 years, resulting in the destruction of over 6000 fish farms.
Problems of Mining in Nigeria
1. Inadequate Infrastructure
For mining companies to run smoothly and efficiently, the basic amenities and infrastructures must be available in a reliable form.
Good roads are required for the safe and easy transportation of extracted minerals and also for the ease of movement of the heavy duty company vehicles and equipment.
Water is also required to run the mining process efficiently. Automated processes and clerical works require the presence of electricity. The epileptic condition of electricity in nigeria is one of those factors which is hindering the industrial sector, it is also a problem in the mining sector too.
2. Insufficient Funding
Lack of capital is one of the factor which is hindering the small-scale and artisanal miners. These small scale and artisanal miners lack the required amount of capital to procure the necessary equipmnts required for a successful mining process.
The use of crude implements such as spade and hoe as what witnessed among the artisanal miners  at a Cassiterite mining site in Barkin Ladi, Plateau State, will not yield much products compared with the input effort.
In search of solution for this situation, a number of projects have drawn funding from offshore sources, while others have sought capital from a few Nigerian banks.
We have commenced constructive engagement with the Central Bank of Nigeria (CBN) and with commercial lenders to help them create the teams to sharpen commercial options for Nigerian miners.
Read Also: List of Mineral Resources in Nigeria
3. High Risk and health hazard
Mining is a process involving a greater amount of risk; over the years, there have been cases and records of mine explosions. The high riskiness of mining in Nigeria is due to the fact that the mineral Sector in Nigeria is mainly driven by the artisanal and small scale miners who embark on low technology and crude/traditional methods in their activities.
They are exposed to high risk from dangerous metals such as lead and radioactive waste. Cases of transcend of the limit considered healthy has been recorded in some mining locations in Nigeria.
Manganese value of 0.9mg/l which is higher than the WHO (2006) highest desirable level of 0.05 has been recorded in abandoned mine ponds of the Jos Plateau, while chromium values of 0.1mg/l and 0.12mg/l which exceeds the maximum admissible concentration of 0.05mg/l were also recorded.
Mining methods like lotto has resulted in several deaths as a result of collapse or accidental falling of human beings and animals into abandoned lotto.
It has also been reported that Nigeria recorded a total of 3,203 oil spillages between the years 2006 and 2010, 23% of which was caused by equipment failure, operational/maintenance error and corrosion, while 45% of the spill was attributed to sabotage and vandalism.
4. Insufficient Geological Data
There is still a heavy reliance of the Nigerian mining sector on the geological data obtained about 50 years ago despite the fact that some geosciences data have been made available.
The department in the mining sector responsible for the research and collation of geological data should be worked on.
A good and promising geological data can go a long way to aid the approval of a business plan or release of funds by the government. Also, mining licenses issued by the Cadastre Office should be able to serve as collateral for loans, if supported by reliable information on the quality and grade of deposits.
Read Also: Top 20 List Of Mining Companies in Nigeria and their Websites, Phone Numbers and Address
5. Lack of Well-Equipped Laboratory
Frequent research on mineral deposits found in the country will help uncover the various ways through which these minerals can be put to efficient use after extraction. It can also suggest the possible ways through which these minerals can be modified or optimum storage and handling conditions.
In order for these researches to be successfully carried out, the laboratories must be fully equipped and staffed. The basics amenities such as electricity and water supply must be reliable too. Nigeria lacks these well-equipped laboratories hence the struggles and low development rate of the mining sector
6. Low Productivity
For the amount of minerals extracted to be reasonable rather than measly, the extraction process must be merchandised rather than manual. The use of spades and other crude implements to excavate the ground as can be see with the lotto extraction method will not yield products in sufficient or comparable amount in relation to that done with advanced tools and machineries such as excavators and bulldozers.
7. Weak Regulation
Due to the weak regulations and exercise of authorities by appropriate governing bodies, the activities of the artisanal and small scale miners are proving difficult to syncopate by legislation.
Also, the ministry professionals saddled with the responsibility of monitoring their sharp practices are poorly equipped to face the menace.
Often times, these operators are armed and desperate. Weakness of the regulations is said to be as a result of the Governments consciousness of the need to allow locals earn their living wages through small scale exploitation of minerals to alleviate poverty.
Read Also: List of Solid Minerals in Nigeria and Where to Find Them
8. Illegal Artisanal Mining
In order to escape the payment of taxes and other royalties, some small scale and artisanal miners indulge in illegal mining. As of a matter of fact, most Nigeria's mining is conducted informally at levels as high as 80% of activity in some regions of the country which is not necessarily of Naira earnings.
The government needs to bring these miners into a legalized framework via making them real start-up miners and ensuring they pay government the right set of taxes and royalties.
9. Illegal Practices of Stakeholders
Still on illegalities, most gem stone producing mines are artisanal in nature as we have learnt and Won stones are not declared but are hidden to avoid royalty.
Such stones are smuggled out of the country to international markets without any value addition, and as such are valued lowly resulting in loses of lots of revenue by the Government and even the marketers themselves.
10. Policy inconsistency and inadequate legislation
Government policies in the Mineral sector over the years tend to be unstable as they come and go with the government of the day.
For example, the remarks in 2008 by the Minister for Mines and Steel Development to revoke and revalidate all exploration licenses (ELS) issued by the mining cadastre office are one such instance.
Read Also: List of Solid Minerals in Nigeria and their Locations
Such developments scare away operators and prospective investors due to uncertainty. Similarly, the minerals act of 1999 failed to cater for certain critical aspects of the solid minerals sector and left a lot of room for undue bureaucracy in mineral title administration.
It is hoped that the new minerals act signed into law in 2007 will ensure security of tenure; greater transparency in granting access, competitive fiscal terms and encourage an industry led by the private sector.
.
👍Showcase your business here!
With over 1M unique users per month across all channels, we have a large audience for you to showcase your products and services. Simply get in touch via 👉 marketing@Infoguidenigeria.com.
🤑 Make Money now!
👉 Make money writing for us. Apply for Freelance writing jobs in Nigeria.
👉 Make Money as InfoGuideNigeria Advertising Agents, read more here
✍️ Be Our Guest Publisher!
Do you have a press release, breaking news,  or any other helpful information to share with our growing readers? If yes, send your article to 👉 infoguidepr@gmail.com.
We will be glad to publish it if the information is useful to our audience.
.
This post can be helpful to somebody else, please share it on Facebook, Whatsapp, Telegram and Twitter. There are buttons below for this (easy to use too)!
Copyright Warning!
Contents on this website may not be republished, reproduced, redistributed either in whole or in part without due permission or acknowledgment.
.
Proper acknowledgment includes, but not limited to (a) LINK BACK TO THE ARTICLE in the case of re-publication on online media, (b) Proper referencing in the case of usage in research, magazine, brochure, or academic purposes,.
.
All contents are protected by the Digital Millennium Copyright Act 1996 (DMCA).
.
We publish all contents with good intentions. If you own this content & believe your copyright was violated or infringed, please contact us at [infoguidenigeria@gmail.com] to file a complaint and we will take necessary actions immediately.