Resources
List of Solid Minerals in Nigeria and Where to Find Them
Nigeria is a country blessed with a variety of natural resources ranging from gem stones to our high income generating crude oil. It is a country blessed with a good soil with about 30% of Nigerians employed in agriculture as at 2010.
Agriculture itself used to be the major foreign exchange earner of Nigeria before the discovery of crude oil. Even as at now, rubber, an agricultural product, still stands as the second-largest non-oil foreign exchange earner.
A mineral is a naturally occurring chemical compound with an ordered atomic arrangement and known chemical formula. It is usually formed from abiogenic processes (i.e. not resulting from the activity of living organisms).
Read Also: List of Solid Minerals in Nigeria and their Locations
It is worthy to note that biogenic substances are explicitly excluded by the International Mineralogical Association (IMA): "Biogenic substances are chemical compounds produced entirely by biological processes without a geological component (e.g. urinary calculi, oxalate crystals in plant tissues, shells of marine molluscs, etc.) are not regarded as mineral.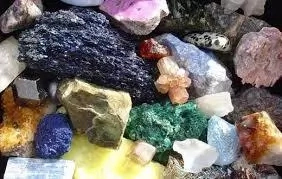 However, if geological processes were involved in the genesis of the compound then the product can be accepted as a mineral.
A solid mineral is a mineral that exist in the solid form. Rocks are not equivalent to minerals. A rock is an aggregate of one or more minerals or mineraloids.
Some rocks, such as limestone or quartzite, are composed primarily of one mineral – calcite or aragonite in the case of limestone, and quartz in the latter case.
Read Also: Top 20 List Of Mining Companies in Nigeria and their Websites, Phone Numbers and Address
Let's now take a look at the list of solid minerals in Nigeria and where to find them
Solid Minerals in Nigerian and Location
Abia state

Gold.
Lead/Zinc.
Salt.
Limestone.
Adamawa state

Kaolin.
Magnetite.
Bentonite.
Gypsum.
Akwa Ibom state

Limestone.
Uranium.
Lead/Zinc.
Clay.
Salt.
Lignite.
Anambra state

Lead/Zinc.
Clay.
Salt.
Glass-Sand.
Limestone.
Gypsum.
Iron-Ore.
Lignite.
Phosphate.
Bauchi state

Lead/Zinc.
Clay.
Iron-Ore.
Coal.
Limestone.
Columbite.
Gold.
Cassiterite.
Gypsum.
Bayelsa state

Manganese.
Limestone.
Lignite.
Clay.
Gypsum.
Uranium.
Lead/Zinc.
Benue state

Lead/Zinc.
Limestone.
Marble.
Clay.
Baryte.
GemStone.
Salt.
Iron-Ore.
Coal.
Gypsum.
Borno state

Diatomite.
Kaolin.
Gypsum.
Clay.
Limestone.
Bentonite.
Cross River state

Lignite.
Lead/Zinc.
Salt.
Limestone.
Uranium.
Manganese.
Delta state

Marble.
Iron-Ore.
Glass-Sand.
Gypsum.
Lignite.
Kaolin.
Ebonyi state

Edo state

Marble.
Gypsum.
Gold.
Dolomite Phosphate.
Bitumen.
Glass-Sand.
Lignite.
Clay.
Limestone.
Iron-Ore.
Ekiti state

Granite.
Kaolin.
Feldspar.
Syenite.
Enugu state

Lead/Zinc.
Coal.
Limestone.
Gombe state.
Imo state

Phosphate.
Marcasite.
Lignite.
Gypsum.
Lead/Zinc.
Limestone.
Salt.
Jigawa state

Kaduna state

Sapphire.
Kaolin.
Gold.
Clay.
Asbestos.
Amethyst.
Kyanite.
Mica.
Topaz.
Graphite.
Ruby.
Tourmaline.
Gemstone.
Tentalite.
Kano state

Cassiterite.
Gemstone.
Lead/Zinc.
Copper.
Glass-Sand.
Tantalite.
Katsina state

Kebbi state

Kogi state

Coal.
Marble.
Dolomite.
Iron-Ore.
Kaolin.
Gypsum.
Feldspar.
Talc.
Tantalite.
Kwara state

Gold.
Marble.
Tantalite.
Iron-Ore.
Cassiterite.
Columbite.
Feldspar.
Mica.
Lagos state

Glass-Sand.
Clay.
Bitumen.
Nasarawa state

Beryl.
Dolomite
Marble.
Cassiterite.
Tantalite.
Columbite.
Sapphire.
Tourmaline.
Quartz.
Barytes.
Mica.
Galena.
Iron-Ore.
Talc.
Clay.
Salt.
Niger state

Ogun state

Kaolin.
Limestone.
Gemstone.
Phosphate.
Clay.
Feldspar.
Bitumen.
Ondo state

Bitumen.
Feldspar.
Granite.
Kaolin.
Limestone.
Gemstone.
Gypsum.
Clay.
Glass-Sand.
Coal.
Osun state

Gold.
Granite.
Talc.
Tourmaline.
Columbite.
Oyo state

Kaolin.
Marble.
Cassiterite.
Clay.
Dolomite.
Gemstone.
Talc.
Gold.
Tantalite.
Plateau state

Emerald.
Tin.
Marble.
Coal.
Cassiterite.
Tantalite
Columbite.
Lead
Zinc.
Granite.
Belonite.
Iron-Ore.
Kaolin.
Clay.
Barytes.
Molybdenite.
Wolfam.
Salt.
Fluorite.
Gemstone.
Bauxite.
River state

Glass-Sand.
Crude Oil.
Clay.
Marble.
Lignite.
Sokoto state

Kaolin.
Gold.
Limestone.
Laterrite.
Potash.
Flakes.
Granite.
Phosphate.
Gypsum.
Silica-Sand.
Clay.
Gold.
Salt.
Taraba state

Yobe state

Zamfara state

Federal Capital Territory– Abuja
Tantalite.
Cassiterite.
Dolomite.
Gold.
Marble.
Clay.
Lead/Zinc.
Read Also: 11 Factors Affecting Economic Growth in Nigeria
Bismuth

Bismuth is a brittle metal with a silvery white colour when freshly produced, but surface oxidation can give it a pink tinge.
It is used in a number of very different applications. The majority is consumed in bismuth alloys and in pharmaceuticals and chemicals. The remainder is used in ceramics, paints, catalysts and a variety of minor applications.
Bismuth metal is relatively inert and non – toxic. It has replaced toxic lead in many applications such as plumbing, bullets, birdshot, metal alloys and soldering. Bismuth compounds are used in stomach-upset medicines, treatment of stomach ulcers, soothing creams and cosmetics.
Bitumen
Bitumen is a dense, highly viscous, petroleum – based hydrocarbon that is found in deposits such as oil sands, or obtained as a residue in the distillation of crude oil. It is principally used in road construction.
Cassiterite
Cassiterite is a tin oxide mineral, SnO2 and the main ore of tin. It is generally opaque, but is translucent in thin crystals. Its luster and multiple crystal faces produce a desirable gem.
Clay
There are many different clay minerals that are used for industrial applications. Clays are used in the manufacturing of paper, refractories, rubber, ball clay, dinnerware and pottery, floor and wall tile, sanitary wear, fire clay, fire bricks, foundry sands, drilling mud, iron -ore pelletizing, absorbent and filtering materials and cosmetics.
Read Also: Top 10 Popular Natural Resources in Abia State and their Economic Values
Coal
Coal is combustible black or brownish-black sedimentary rock usually occurring in rock strata in layers or veins called coal beds or coal seams. Coal is basically used in the generation of electricity, steel production and cement manufacturing as a liquid fuel.
Columbite
Columbite is a black mineral group that is an ore of niobium. It has a submetallic luster and a high density and is a niobate of iron and manganese. It forms a series with the tantalum-dominant analogue ferrotantalite and one with the manganese-dominant analogue manganocolumbite.
Niobium is used in alloys for improved strength. It has also shown superconductive properties and is being studied with other metals for a possible breakthrough alloy.
Copper
Copper is a soft, malleable and ductile metal with very high thermal and electrical conductivity. It is a chemical element with symbol Cu and atomic number 29. A freshly exposed surface of pure copper has a reddish-orange color.
Copper is used as a conductor of heat and electricity, as a building material and as a constituent of various metal alloys, such as sterling silver used in jewelry, cupronickel used to make marine hardware and coins, and constantan used in strain gauges and thermocouples for temperature measurement.
Diatomite
This is a rock composed of the skeletons of diatoms, single -celled organisms with skeleton made of silica which are found in fresh or salt water. Diatomite is primarily used for filtration of drinks such as juices and wines but it is also being used as filter in paints, pharmaceuticals and environmental clean – up technologies.
Feldspar
Feldspar is a rock- forming mineral. It is used in glass and ceramic industries, pottery, porcelain and enamelware, soaps, bond for abrasive wheels, cement, glues, fertilizer and tarred roofing materials and as a sizing or filler in textiles and paper applications.
Fluorite
Fluorite is the mineral form of calcium fluoride CaF2, it is used in the production of hydrofluoric acid, which is employed in the pottery, ceramics, optical, electroplating and plastics industries.
It is also used in the metallurgical treatment of bauxite, as a flux in open – hearth steel furnaces and in metal smelting as well as in carbon electrodes, emery wheels, electric arc welders and toothpaste as a source of fluorine.
Iron Ore

Iron ores are rocks and minerals from which metallic iron can be economically extracted. The ores are usually rich in iron oxides and vary in colour from dark grey, bright yellow, or deep purple to rusty red. The iron itself is usually found in the form of magnetite, hematite, goethite, limonite or siderite.
Lead
Lead is a soft, malleable and heavy metal with a relatively low melting point. It is a chemical element with symbol Pb and atomic number 82. When freshly cut, lead is bluish-white; it tarnishes to a dull gray color when exposed to air.
Lead is used in the manufacture of storage batteries. It is used in ammunitions (shot and bullets) and as a constituent of solder, type metal, bearing alloys, fusible alloys, and pewter.
Read Also: 10 Natural Resources Found in Yakurr Region of Cross River State
Limestone
Limestone is a sedimentary rock, composed mainly of skeletal fragments of marine organisms such as coral, forams and molluscs. Its major materials are the minerals calcite and aragonite, which are different crystal forms of calcium carbonate.
Limestone is used in the production of cement and is also employed in glass making. It also has wide application in substances such as manufacture of quicklime, slaked lime and mortar.
Zinc
Zinc is a silvery-white metal with a blue tinge. It tarnishes in air. It is a chemical element with symbol Zn and atomic number 30.
Zinc is used to galvanize other metals such as iron in order to prevent rusting. Galvanized steel is used for car bodies, street lamp posts, safety barriers and suspension bridges.
Zinc is also used in alloys such as brass, nickel silver and aluminum solder. It is also widely used in the manufacture of products such as paints, rubber, cosmetics, pharmaceuticals, plastics, inks, soaps, batteries, etc.
Information is Power!
Don't miss any valuable information or opportunity that can change your life, business, family positively and permanently.
👇👇👇👇👇
Subscribe to Blog via Email
✍️ Be Our Guest Publisher!
Do you have a press release, breaking news,  or any other helpful information to share with our growing readers? If yes, send your article to 👉 infoguidepr@gmail.com.
We will be glad to publish it if the information is useful to our audience.
This post can be helpful to somebody else, please share it on Facebook, Whatsapp, Telegram and Twitter. There are buttons below for this (easy to use too)!
Make money writing for us. Apply for
Freelance writing jobs in NIgeria
.
.
Copyright Warning!
Contents on this website may not be republished, reproduced, redistributed either in whole or in part without due permission or acknowledgment.
.
Proper acknowledgment includes, but not limited to (a) LINK BACK TO THE ARTICLE in the case of re-publication on online media, (b) Proper referencing in the case of usage in research, magazine, brochure, or academic purposes,.
.
All contents are protected by the Digital Millennium Copyright Act 1996 (DMCA).
.
We publish all contents with good intentions. If you own this content & believe your copyright was violated or infringed, please contact us at [infoguidenigeria@gmail.com] to file a complaint and we will take necessary actions immediately.