Security
10 Problems of Nigerian Police and Possible Solutions
The Nigeria police force, bound to ensure internal security, to protect lives and properties of the citizens seem to be way off their mission when it was established.
From kidnapping to robbery attacks to frequent ritual killings and murders and not forgetting the other devious crimes faced in this country, the increased scale of crime in our society is underwhelming.
Such is what happens in our country. The police force have lost their fear factor and respect deserved of a force like the police. In recent times they have been found responsible for many of their faults and of course, what does the government not have an hand in?
Read Also: 5 Major Functions of the Nigerian Police Force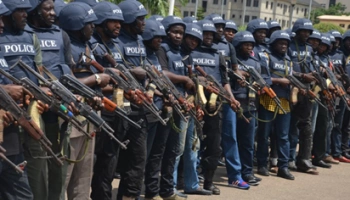 The world internal security and police index  international rated the Nigeria police force as the worst police organization in the world. In the report the organization was worst globally in terms of its inability to handle internal security challenges.
This is bad and not the first time the police has been rated badly. In normal fashion, the police always dismiss such reports as "misleading, misrepresentation of facts and false".
The Nigeria police are not ready to accept blame for anything despite all fingers pointing and everything looking so glaring that the best they put in, is rather not up to standard.
Here are some of the problems affecting the Nigeria police:
1. Corruption
A look into the force's activities points out that one of the major problems faced by the Nigeria police is corruption. In short, corruption is everywhere. In our government, in the society, and even the youths, "our future leaders", have been corrupted.
A typical Nigeria policeman is regarded as corrupt. From taking bribes to colliding with criminals, the menaces of the police is underrated. A force meant to ensure security of the nation seem to have moved away from that and rather prefer to do the exact opposite.
In a country, where corruption is the order of the day and as each day passes new corrupt practices are exposed, the police force is not left out.
From unlawful arrests and detention to threats and acts of violence such as torture, just to extort money from innocent individuals. The police is also guilty of demanding bribe on different occasions.
The era of road blocks brought in more damage than you can ever imagine. Policemen now see it as a responsibility to request money from individuals in the country.
And it is bad to note that when a policeman stops an individual to ask for papers, he hopes the individual falls short and fail to produce complete papers, so that he/she can "drop something" and go scot free rather than being punished.
Read Also: How to Join Nigerian Police Force
2. Lack of Respect
Leaving corruption, another problem faced by the Nigeria police is Lack of respect.
As earlier said, the police have lost their fear factor and respect in which they deserve, instead they have to earn it now. In the era we live in, armed robbers are ready for battle with the police.
Of course, why would they be scared when they have a link in the force and they know the police are just there to blare sirens just to show they are around.
Even when they are caught, it would only take some amount of money in form of bribes to get away and escape punishment.
Reports of bad policing are main reasons for disrespecting officers in the force. A policeman is meant to be respected and held in an high place but reverse is the case. Insults, all forms of abuse and mockery is what is directed towards a policeman.
In fact, some policemen prefer to be without their uniform while out of duty, in a public place or after the day's work for fear of mockery or abuse.
It is disheartening to know that all forms of abuses like that are deserving of men expected to protect the nation. Hard to blame Nigerians as these men depict a negative image of the force and people wonder for the reason to command them respect.
3. Poor Welfare
From corruption to lack of respect, another visible problem is poor welfare.
If you have been to a police barracks, you will understand the height of some of their problems in the force. The police barracks in this country are in bad conditions and are bad sight for the eyes.
As a member of the police force, how do you expect me to perform up to standard when the barracks are in such devastating state? Is it worth it? Lack of proper welfare results in care free attitude by policemen.
Even in other kinds of jobs, certain things are made to motivate workers and if those things are not in place, it results in poor performances which results in loss and in this context, they involve in many vices like we see today.
4. Inadequate Funding
The level of inadequacy and preparedness of the Nigeria police to combat crime is totally unbelievable. Poor equipments, or rather lack of modern day equipments or gadgets and proper technology suitable for the police in this 21st century and era of technology is as a result of inadequate funding of the Nigeria police force.
It is no longer a new story that criminals outgun policemen. When in a kind of situation such as a gun battle with criminals, they are faced with the problem of equipment.
The level of equipment in use by a criminal is more sophisticated than that of a policeman's. How can a simple pistol gun match an AK-47? In their defense, it is advisable to run for their lives rather than going into a fight they had lost before it started.
It is important to note that we are in the 21st century and in advanced countries, level of equipments are way different and even more sophisticated. We are not advanced, but we hope to get there one day.
Better weapons, use of forensic laboratories and data banks, better technological advancements among others will suit the era we are and of course, give them courage to face criminals.
Read Also: Police Torture in Nigeria; Is it Right or Wrong? Read here to Know your Right!
5. Quality of Personnel
The quality of personnel in the force is also a problem.
The Nigeria police seem to have forgotten their priorities and primary assignment but instead engage in the wrong thing. There is need for re-training of officers in the Nigeria police and also track back to the primary principles of the police. There should also be good scrutiny of officers as well as the recruits.
In the modern day, recruitment is more about connections, thereby neglecting the able and ready ones to get into the system and letting in the non-capable ones. Hence, ensuring continued bad policing.
6. Misplaced Priorities
Apart from the quality of personnel, misplaced priorities are one of the root problems in the force.
The failure of the men in the police force to perform their duties effectively and efficiently is underwhelming. They now understand policing as a sort of business and believe it is all about stop-and-search, to waylay innocent people and take "daily share" from commercial bus drivers.
The police have to realize that they are in the force for a reason which stands at "making Nigeria safer and more secure for economic growth and development and also to create a safe and secure environment for all living in Nigeria" just  as their vision states.
7. Critics and Condemnation
It is important to note that low self esteem can be caused by critics and condemnation. Criticism of the police affects how well they hold up their pride as police officers.
And what is the point of working hard and not being proud of your job, hence the few good ones quit thereby leaving the bad ones to keep corrupting and embarrassing the system and the police force as a whole.
8. Political Affiliation
It is also sad to note that in this country, everything seems to have a political backing or political affair to it. To get a job, all you might just need is a political backing or knowing a top official.
Same goes for someone who wants to evade the law or escape punishment, all you might just need is a knowing someone at the top. In such cases, whether a job is done badly, it is not regarded as bad.
Therefore, there is no reward for those who do their job well, instead awards are also given on political basis. Whereas awards can serve as a source of motivation to ensure good officers who do their work well to keep it up.
9. Negative Image
Bad image or negative image of the police is also bad for the force.
Nobody wants to become a policeman, even if someone wants to, it is a job that can get you easily discouraged. The bad officers in the force have created a negative image of the police and as such everyone sees the Nigeria police as bad and corrupt in all areas.
New officers coming into the force either already have a plan to follow the ladder or come in with all honesty. In most cases, they are easily discouraged and after trials to stand with their honesty and change the system, they get fed up and quit.
10. Actions Of The Public
Of all problems, we all, as Nigerians, have a way of influencing these vices commited by men in the police. Must we always resort to bribe when we have an issue with the police?
We complain of corruption but yet when there is a problem with the police the first thing we do is to "settle" them.
Vehicle owners who also drive without complete papers, move around with the confidence that they can drive wherever they like and when they are stopped by policemen they can always use money to appease them. The problems of the police force are mostly instigated by acts of individuals in the country.
Read Also: Know Your Rights: The Use of Police for Debt Recovery is Unlawful in Nigeria
Possible Solutions
With all these problems listed, there are also possible solutions which can be put into consideration.
1. Eradicating Corruption
Some of the corrupts acts by the police are sometimes because of some certain policies put in place. First, No to road blocks. No to stop-and-search. It is a notable fact that this stands as one of the main root problem to corruption in police. There should be strict laws against it while offenders should also be punished and if possible sacked.
2. Good Infrastructure and Proper Funding
Also, good infrastructure should be made available in terms of the police barracks. And not leaving behind proper funding of the police force so as to make them combat crime to the best of their abilities.
3. Better Salary and Reward Scheme
Better salary schemes as well as rewards for devoted and hardworking officers as a means of motivation so as to make others work harder. The need for proper training of officers is also advisable and as earlier suggested deserved punishment should be given to bad officers.
4. Recruitment of Competent Officers
Also top officials should not endorse a candidate based on familiarity rather than capability. this will give chance to have a force with competent and capable officers.
5. Public Enlightenment and Co-Operation
The public also needs to be educated about duties of the police and not forgetting to work hand in hand with the police to help maintain security in the environment.
6. Re-Training Of Officers/ Need For More Education in TGE System
Police officers should be required to take extra training or to revisit their basic training. They have a priority to protect lives and properties and should learn to not divert attention to other irrelevant things.
More education to officers or having knowledgeable officers will only see to improve the system. There should also be upgrades for a better and well equipped police academy.
7. Complete Overhaul of the System
Retiring old and incompetent officers, need for new policies and of course capable people to lead the force. Also, there is need for more action from top officials in service rather than just mere words.
Read Also: The Role of Nigeria Police Force in Nation Building
8. Reform into a Professional Force
There is need to reform the Nigeria police into a professional force. This would be better instead of establishing other agencies that seems to perform similar operations such as the police.
There is need for absolute professionalism from the force. This will also aid proper allocation of funds to the police force.
9. Improving the Image of the Force
As it stands, there is only one way to improve the negative image already  associated with the police is for them to do their job like it is supposed to. Fair dealings and doing a good job in fighting crime will do their image a lot of good.
10. Good Public-Police Relationship
This will earn them their deserved respect and also ensure that the public retains belief in the police to do their jobs accordingly.
The security situation in the country is worrisome and it is even more devastating to know that the force meant to make Nigeria a safe and secure place seems to have lost it.
Let's not forget that before the name "Policeman", these people are just humans like us and they live in the same country that we live in driven by corruption.
To deal with corruption, we all as individuals in this country need to have a positive mindset and also to solve all these problems with the Nigeria police we all have to cooperate and be good citizens so that one again the POLICE IS YOUR FRIEND catch phrase can once again have meaning to our ears.
Make money writing for us. Apply for
Freelance writing jobs in NIgeria
.
.
Copyright Warning!
Contents on this website may not be republished, reproduced, redistributed either in whole or in part without due permission or acknowledgment.
.
Proper acknowledgment includes, but not limited to (a) LINK BACK TO THE ARTICLE in the case of re-publication on online media, (b) Proper referencing in the case of usage in research, magazine, brochure, or academic purposes,.
.
All contents are protected by the Digital Millennium Copyright Act 1996 (DMCA).
.
We publish all contents with good intentions. If you own this content & believe your copyright was violated or infringed, please contact us at [infoguidenigeria@gmail.com] to file a complaint and we will take necessary actions immediately.