Politics
10 Problems of Voters Registration in Nigeria and Possible Solutions
One of the hallmarks of every democracy is its electoral process. The electoral process includes activities such as voters registration and casting of votes. The electoral process is very crucial because the only accepted means of choosing leaders in a democracy is through an election.
However, the electoral process can be hampered by a failure in the voters registration process as there would be no election without a voters registration.
👉 Relocate to Canada Today!
Live, Study and Work in Canada.
No Payment is Required! Hurry Now click here to Apply >>
Immigrate to Canada
In Nigeria the issue of voters registration has posed great challenges to the conduct of credible elections in the country. The Independent National Electoral Commission (INEC) has come up with measures to ensure that these problems are solved.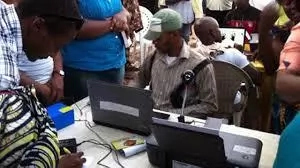 In some cases, the problems have been solved but in most cases, the problems still linger. In this article, we examine the problems associated with voters registration in Nigeria as well as possible solutions.
Problems of Voters Registration in Nigeria
1. Inadequate/Inefficient Staff
The personnel required to ensure the success of this exercise is very important. In most cases, it has been observed that the electoral body does not have the required personnel to carry out voters registration.
Presently, the number of INEC staff involved in the registration process is highly inadequate and more people have to be recruited to ensure the success of the exercise.
However, it seems that the electoral body is hampered by finances as the Chairman Prof Mahmood Yakubu concedes that if the registration exercise is to be expanded from the local governments where they are currently sited, then the body would need to recruit over 100,000 ad hoc staff for the exercise.
Also the conduct and attitude of the registration officers is appalling to say the least. A lot of them are very hostile and disrespectful to those who come for the registration.
2. Inadequate Registration Centers
A major problem facing the registration exercise is that of inadequate registration centers. Presently, the registration exercise is carried out in local government councils which pose a problem.
Most of the people who live far away from the local government councils are unable to register for their voters card and therefore are disenfranchised.
👉 Relocate to Canada Today!
Live, Study and Work in Canada.
No Payment is Required! Hurry Now click here to Apply >>
Immigrate to Canada
Past experience shows that these are the people who actually come out to vote and denying them the right to vote only ensures that the growth of democracy in Nigeria remains a mirage.
For a country with about 60 million eligible voters, having less than 1000 registration centers is grossly inadequate and would lead to the disenfranchisement of a lot of people.
3. Poor Turnout/Apathy
Nigeria's political history is fraught with attacks on her democracy. The military was at the helm of political affairs for most of the first 40years of her independence. Its present democracy only began in 1999.
In that period there have been cases of election violence, murders, snatching of ballot boxes and outright rigging of elections.
In the past, voters registration did not always amount to voters participation in elections. Even in cases where there was voting in elections, the politicians ensured that the process was rigged to keep themselves in power.
This has made a lot of Nigerians lose faith in the electoral system hence the low turnout for registration in many parts of the country.
4. Insufficient and Malfunctioning Machines
A major complain by prospective voters is that the machines available are not enough to ensure that the process goes without a hitch. Where they are sufficient then they most likely are malfunctioning.
Such problems ensure that prospective voters wait in long queues in order to get registered and at the end of the day have nothing to show for the stress. A good number even leave their homes as early as 4am and spend the entire day waiting to get captured.
5. Failure to Collect Printed PVCs
While some complain that they have not been captured, a lot of people have not collected their PVCs. A visit to most registration centers would reveal the fact that lots of PVCs have not been picked up.
Some of this is because some people have relocated and are not aware that they can ask for a transfer to their current residence while others have simply not bothered to check for it. Either way, this poses a problem in registration.
6. Distribution of PVCs
Closely related to the previous point is that of distribution of PVCs. Currently, the only way to get your PVC is to go to the local government office.
However, with the frequent disappointments experienced by prospective voters who have gone to pick their PVCs, it is hard to blame them for abandoning them. An efficient distribution network would ensure that this problem is curbed.
7. Corruption
It is difficult if not impossible for any list of problems in any sector in Nigeria not to include corruption. Corruption has eaten so deep into every facet of the Nigerian society that a promise to fight it was enough to guarantee a victory for President Muhammadu Buhari in the 2015 general elections.
In this case corruption is seen in both the registration process and the distribution of the permanent voters card. There have been allegations that politicians collude with the registration officials to buy PVCs. As a result Nigerians who have registered for their PVCs do not get their cards thus disenfranchising them.
8. Scarcity of Registration Materials
This problem is related to the problem of corruption. There have been allegations by politicians that the parties in power in some areas, working with some corrupt INEC officials hoard the registration materials in areas where they believe is the opponent's stronghold while distributing it in their strongholds.
9. Power
The data capture machines run on electricity and like many other ventures in Nigeria is affected by a lack of power. Most of the registration centers run on generators and when they run out of fuel, the officials stop working immediately.
Since the power supply is erratic and unreliable, the power may not be restored that day or even the next thus putting the exercise on hold.
People who come out for the registration are left stranded and may have to return the next day. After considering the stress involved, it is not surprising that lots of people prefer to sit out the process.
10. Interference of Foreigners
This is one of the biggest problems of voters registration in Nigeria. In the 2015 elections, there were reports of foreigners voting in the elections especially in the northern part of the country.
This could only have happened if they were part of the registration process. This might seem farfetched to most people but since most West Africans cannot easily be told apart, it is highly possible.
A combination of porous borders, ethnic affiliations and desperation to win the elections at all cost makes it possible for foreigners to participate in the voters registration.
Solutions to the Problems of Voters Registration in Nigeria
Having examined the challenges associated with voters registration in Nigeria, we now look at a few solutions to these challenges:
1. A country of Nigeria's standing should by this time in her history have a comprehensive data bank which would help government make policies and security agencies do their job efficiently.
Sadly that is not the case. A step has been taken with the bank verification exercise but it needs to be consolidated. Up till now, birth certificates are not issued at birth in so many parts of the country and death certificates are very rare. This would go a long way in strengthening the exercise.
2. The registration exercise is conducted by ad Hoc staff rather than regular staff of INEC. Most of them are not trained and when they run into problems, they find it difficult to resolve it. In order to ensure that the process is smooth, time should be taken to train the ad hoc staff to carry out their duties effectively.
3. The more registration centers are available, the more people can register. The present scenario where registration centers are restricted to the local government councils is counterproductive as so many people especially in the rural areas live very far from the local government councils.
More registration centers should be made available in these areas as it would enable more people to register. Also the National Assembly should enact a law that makes it possible for the registration to be done in places other than the local governments like driver's license offices, schools, churches, mosques and other centers easily accessible to the public while INEC collects information from them to update the register.
4. The vast majority of Nigeria's voting population are illiterate and do not speak English. No amount of sensitization done in English would get their attention therefore INEC and civil society organizations should do more to make them aware of the exercise using the local languages.
5. Proper remuneration of staff seems to be a universal problem in Nigeria. Virtually every sector is affected. When workers are not paid well, they are not likely to work well as this affects their morale. If the workers are paid well and on time then they would be able to do their job more effectively.
6. Presently, the number of machines available for the exercise is not commensurate with the job they are expected to do. More machines are needed and they must also be of the best quality to forestall frequent breakdown.
7. Corrupt officials who collude with politicians to either hoard registration materials or permanent voters card should be prosecuted and punished accordingly.
8. A more effective plan for the distribution of the PVCs should be adopted such as mailing the cards to addresses previously provided. This ensures that every registered voter gets their card before the elections.
If Nigeria is to achieve her potentials and take her place among the comity of nations, it is important that the voters registration process is gotten right.
A failure to do this right would ensure that every attempt at democratic reform fails before it even begins. Fortunately, it is not a hopeless task but one that can be achieved with determination and a clear strategy and both citizens and the government alike have crucial roles to play in doing this.
👇👇👇👇👇
Immigrate to Canada Via Job Offer!
Get latest Jobs in Canada for foreigners with visa sponsorship 2023 and how to apply. Don't miss this opportunity that can help you relocate to Canada with your family.
👇👇👇👇👇