In the past few decades, fish farming has made waves in Nigeria and has also been a huge part of the agricultural sector of the economy.
Although, fish farming in Nigeria can be dated as far back as one could imagine, but it was not as relevant as it is today as it serves as a source of food as well as for commercial gains, alongside a means of subsistence farming for many family upkeep and sustenance in Nigeria. These and more, has made fish farming one of the fastest growing agriculture enterprise in Nigeria.
👉 Relocate to Canada Today!
Live, Study and Work in Canada.
No Payment is Required! Hurry Now click here to Apply >>
Immigrate to Canada
Read Also: Types of Fish Feed In Nigeria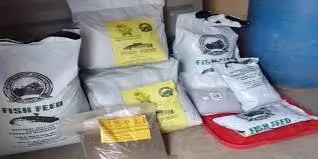 Perhaps, the nutritional value of fish has made its farming a fast rising business. Fish contains Omega III fatty acid that reduces the risk of cardiovascular diseases, arteriosclerosis and hypertension, to mention but a few.
Thus, it is medically prescribed to aging people, aged ones, pregnant and nursing mothers as Omega III enhances development of the brain of foetus and toddlers.
Like every living being, fishes have to feed properly and this in turn determines their well-being and how marketable they'll become.
Read Also: How to Start Fish Feeds Business in Nigeria
Fish farming involves providing a suitable housing structure for the fishes alongside an adequate drainage system for regular flushing out of dirty water system, feeding them adequately and a few others.
For a net-breaking harvest of fish, one must properly and regularly put all necessities in place so as to keep the fish healthy and even harvest attractive.
The most pathetic part of not feeding these fish properly is that they tend to feed on themselves when they starve. This result to a huge loss to the fish farmer, hence, no fish farmer does without getting nutritious and value-added feeds for his feed.
👉 Relocate to Canada Today!
Live, Study and Work in Canada.
No Payment is Required! Hurry Now click here to Apply >>
Immigrate to Canada
This article will focus basically on how to produce these fish feeds from locally available composite materials which in some cases are mere byproducts of what we eat and/or livestock husbandry leftovers such as viscera, blood, bone and fur of cattle, sheep, pig and even chicken.
In most cases, we choose to dispose these economical and cost effective raw materials when unknowingly, they could serve as wonderful nutrients for the growth and development of our fish.
Read Also: Cost of Feeding 1000 Catfish In Nigeria
Raw Materials For The Production Of Locally Made Fish Feeds
The raw materials for the production of locally made fish feeds will be classified based on the class of nutrient they provide to the fish. The classifications are:
Raw materials for energy source: Wheat, full cream rice, corn and other grains could serve as energy source for the fish.
Corn has high carbohydrate content, however, this makes them very difficult to be absorbed by fish, hence, it should be used in low amount in the production of fish feeds and even feeds of other aquatic animals.
On the other hand, wheat has soft texture and excellent elongation and elasticity, thus, it is easily digestible and also promotes easy floatation of the fish feeds on water.
Full cream rice also serves as an excellent energy source, but one must be careful of the oxidative rancidity of the material.
Read Also: How To Start Animal Feed Business In Nigeria
Raw materials for proteins: Fish meal which contains about 60 – 66% crude protein, soybean meal which contains about 45% crude protein, cottonseed meal which contains about 32 – 42% crude protein, rapeseed meal which contains about 33 – 40% crude protein, blood meal, silkworm chrysalis meal, peanut meal, earthworms, maggots and even insects are high quality animal protein source for fish.
Raw materials for mineral source: Shell powder. Egg shell powder, calcium phosphate, bone meal are sources of essential mineral nutrients for fishes.
Moderate addition of fat content can also promote the digestive ability of the feed. Locally available raw materials such as yam, plantain, cowpeas, groundnut, sunhemp seed, leaf concentrates, banana, maize, millet, macona, sorghum, cassava and even kitchen garbage are potential raw materials for the production of fish feed.
Production Of Fish Feeds From Locally Available Raw Materials
When choosing fish feed formulation, there are various factors to be considered. Formulation specifications are usually varied based on the nutritional requirement of the fish to be fed.
Different fish has different varieties, ages, weights, physiological conditions and even the water/pond quality environment which makes them have different nutritional requirement.
It is important to state out here, that the nutritional requirement of the fish determines the proportion at which the class of nutrients will be mixed in producing the fish feeds. However, after settling this, the following general production processes should be followed:
Collect raw feed stuffs mentioned above according to the desired proportion needed.
Weigh the required quantity of various feed ingredients according to the formulation specification.
Grind ingredients into powdery form with a feed grind mill.
Feed the powdery ingredients into fish feed extruder so as to have the feeds in pellets, rather than powdery form.
Cool and dry the finished pellets in the sun, or with a cooler dryer.
Package dried pellets into bags for storage till it's needed and ensure storage conditions keep the pellets cool and dry always. The pellets can be fed to the fish directly when necessary.
With the fast growing rate of fish farming and its feed production regarded as the fastest growing food production in the world, its Nigerian market must rise to the task of producing these feeds locally so as to reduce importation and make the total cost of fish farming reduced in the country.
Read Also: 9 Steps to Start Fish Farming In Nigeria
Further considering the high price and unstable supply of imported fish feed which often restricts the development of Nigeria fish farming; the need for locally made fish feeds is made more important and urgent to the nation.
In addition, Nigerians should focus more on using local feed ingredients and production processes to produce nutritional and healthy fish feeds, reducing fish cost as well as give you the opportunity to make your own desired recipe based on the nutritional need of your fish.
Here's another opportunity to reduce the cost of your fish farm and/or to also produce for sales of fish farmers around you. Welcome to cool cash from ordinary byproducts and leftovers.
👇👇👇👇👇
Immigrate to Canada Via Job Offer!
Get latest Jobs in Canada for foreigners with visa sponsorship 2023 and how to apply. Don't miss this opportunity that can help you relocate to Canada with your family.
👇👇👇👇👇
👍Advertise your business on InfoGuideNigeria.com!
From just
N9,999 per month
, you can advertise your products and services to over
1,500,000 monthly
users on our website.
Click here to read more
.
======
🤑 Make Money now!
👉 Make money writing for us. Apply for
Freelance writing jobs in Nigeria
.
👉 Make Money as InfoGuideNigeria Advertising Agents,
read more here