Here in this article, we are going to show you 7 steps to start an ugwu farm in Nigeria. This vegetable is both highly nutritious for domestic consumption and lucrative as a cash crop.
Ugwu or fluted pumpkin is a vegetable which is eaten by many people in Nigeria, particularly among the South, East and Western parts of Nigeria.
👉 Relocate to Canada Today!
Live, Study and Work in Canada.
No Payment is Required! Hurry Now click here to Apply >>
Immigrate to Canada
It is prominent for its beautiful look it gives to a soup or if it is being used for vegetable sauce. People do love to add Ugwu to their soup to make it have a wonderful look with its own special aroma which it brings to the soup.
Read Also: How to Start Vegetable Farming in Nigeria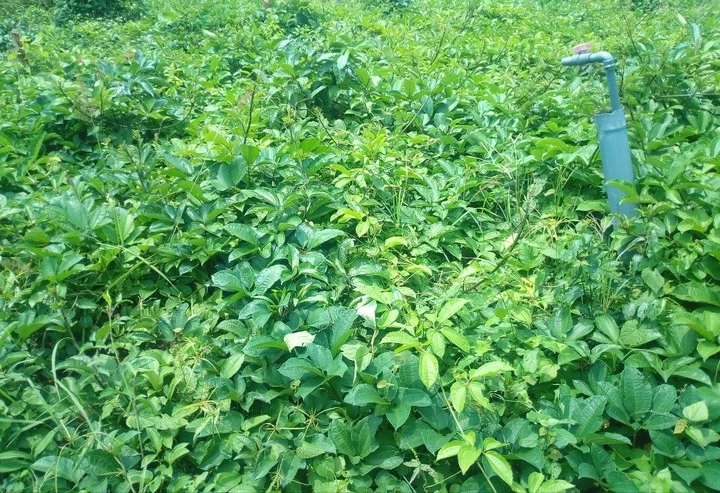 Yet some people do not know the rich medicinal attributes which this leaf possesses. It is used in the preparation of some herbal medicines; it can also be used to treat common ailments like malaria. The seeds gotten from the fluted pumpkin can be used to make soaps.
The Ugwu leaves itself has iron contents which is good in boosting your immune system. It will also surprise you to know that Ugwu leaves are good for people with low blood levels; it also helps in reducing the blood sugar level.
Read Also: 9 Steps to Start Ginger Farming in Nigeria and Tips to Succeed
A lot of things Ugwu leaves can do for the human system, which are numerous to mention. This is to let you know that if you are thinking of going into this business, you stand to go a lot of things at once.
Selling the Ugwu for those who want to cook with it, also selling its seeds to companies or to those who wish to buy, there are a lot of things to gain in this business; you can also start the business and targeting to sell to companies who are in need of this for medicine production.
It is alright to say that Ugu farm business is a very lucrative one. You could start with such a little amount and gain a lot of profit from sales within two months, with adequate planning and strategizing.
👉 Relocate to Canada Today!
Live, Study and Work in Canada.
No Payment is Required! Hurry Now click here to Apply >>
Immigrate to Canada
I have an aunty who is in the village and this is her means of livelihood, I was surprised when I was told by my father that she makes a whole lot of money from this business, well I accredited it o her dedication and hard work towards the farm but she goes through little or no stress in catering for the farm, and it is such a small portion which she made near the stream that made her so much money, because within the village, she is like the top supplier of Ugwu right there in the village.
There are a lot of opportunities for excelling in this business, as almost everyone in the south, west and east do use ugwu to prepare their soups, sometimes it is not enough, because there comes a time when this very ugwu would become very scarce to get in the market, and if it is gotten or seen at all, it would be very expensive.
There is also a bit of competition, though the ugwu never seems to be enough, because people are buying everyday and you if you peradventure go into this business, you would be seeing a lot of customers to sell to without stress.
If you start with a minimal amount of  #80,000, in less than 4-6months, you could be making a double of your capital as your profit "with good market and effective supply".
Read Also: 11 Steps to Start Tomato Farming Business in Nigeria
How Do You Start The Farm?
Get The Required Experience
Now one may say, do you really need experience for this kind of business? I will say yes you do because there are many factors which act as requirements to know in this business.
You need to know when to plant and when to harvest, when it is time to stake them, where to get good seeds from, how to get a suitable land for the business.
You need a professional in the business or you meet an Agricultural Scientist who will help you know one or two things about this business and how to go about it. They say Knowledge is Power, so when you know, you can get the best out of your business.
2. Get Your Land And Farm Tools
It is essential to get the land which you need as this will enable you to start up your farm. If you do not have a land of your own, you can go to the rural areas and get farm lands for lease for as low as #10,000 for a year.
Starting with 1 plot is good enough for you to start up farming on a small scale, and as you reap the profits, you can then expand by trying to acquire additional plots.
You should get your farm tools which will enable you do some minor work; like your cutlass, hoe, knives, watering can etc.
Also do ensure to check the fertility of the land to make sure it is a fertile land, make sure to select a loamy soil filled land because using any other soil that is not loamy soil would make you reap nothing from your farm, so endeavour to get a land that has loamy soil.
3. Purchase Your Seeds For Planting
After getting your land, the next thing for you is to get your pumpkin seeds. This is a section you have to pay attention to.
You cannot plant bad and expect to reap well, so you must try to ensure you get good, quality seeds from a farm which you know produces good Ugwu. After that you can then prepare the seeds for planting
4. Choosing A Location For Your Farm
The best place to situate your farm is in the remote area, like a village because lands there are more fertile than lands in the urban areas which have been polluted.
But it is best to carry your leaves and sell in the town or city areas, as this is the best place to sell at good prices with better gains.
Read Also: How To Start Onions Farming In Nigeria; A Complete Guide
5. Planting Of The Seeds
When you have prepared your seeds and you are ready for the next level, that next stage is planting of your seeds. But before planting, you need to make beds for the ugwu seeds to stay.
Do not plant just anyhow you please; you do not just plant it like you are planting maize or yam. Ugwu has its own specific time of planting and that is between April and May when the rainy season is just beginning.
When planting, plant the seeds vertically into the soil making sure the pointed edge inside the soil. Do not put the seeds too deep into the soil.
Also make sure to check on the seeds every day and water them every day, mostly morning and nights, or you create an irrigation system which allows the flow of water to the farm regularly.
Also weed your farm regularly like every week, weed the farm to get rid of any weeds that may be dragging soil nutrients with the Ugwu.
Get dry manure or fertiliser to put on the farm after 3weeks of planting in which after the tree weeks, they are being transplanted to the main bed where they will stay and grow. Now you have to care of them specially to avoid stunted growth.
6. Harvesting Of The Leaves
This is the final part of the farm work, harvesting your leaves. This is usually done about 7weeks after the transplanting has been done to enable the leaves grow to a mature stage and have a green colour which would be attractive to any buyer. The Ugu then produces seeds after about 6 months of planting.
7. Marketing Your Product
You could decide to sell directly by yourself or decide to be a supplier to those who need it. If you want to take yourself to another level, you can go directly to restaurants, hotels and eateries that cook most of their soups with ugwu leaves, approach them nicely and request to be their major supplier, do not stress them or force them to take you, be nice about it.
You would also need some extra hand in the aspect of labour; you may not be able to do everything by yourself so you need to engage extra hands at a cheap rate, especially the weeding aspect.
Also give people your contact so they can contact you, to homes that a close by to you, you could engage them to accept you as their ugwu supplier, it would help you make some steady sales.
Read Also: How To Start Beans Farming In Nigeria
Conclusion
Ugwu Farm business is not a stressful business; it gives some financial freedom and makes you be a contributor to the growth of the economy through your efforts.
It is putting you on the list of those contributing to the growth of Agriculture in your country. So therefore go into this business and create another means of sustenance and chase away financial problems.
👇👇👇👇👇
Immigrate to Canada Via Job Offer!
Get latest Jobs in Canada for foreigners with visa sponsorship 2023 and how to apply. Don't miss this opportunity that can help you relocate to Canada with your family.
👇👇👇👇👇
👍Advertise your business on InfoGuideNigeria.com!
From just
N9,999 per month
, you can advertise your products and services to over
1,500,000 monthly
users on our website.
Click here to read more
.
======
🤑 Make Money now!
👉 Make money writing for us. Apply for
Freelance writing jobs in Nigeria
.
👉 Make Money as InfoGuideNigeria Advertising Agents,
read more here