Security
13 Effects Of Bombing In Nigeria
The year 2009 marked the beginning of bombing in Nigeria, thereby remaining historic in the history of the country.
The emergence of some terrorist sects especially in Adamawa, Yobe and Bornu States greeted the assumption of the Office of the President, by Dr. Goodluck Ebele Jonathan.
In the Niger Delta region, there are cases of bombing perpetuated by reemerging militant group.
Read Also: 10 Causes of Insecurity In Nigeria And Solutions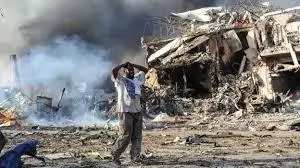 Right from 2009 till now, Nigerians really with all sincerity can better explain the effects of bombing in the country. Bombing by way of definition is an intentional act by criminal-minded group or person to cause damage to lives and properties by dropping or throwing a bomb.
For the benefits of doubt, Bomb is a weapon which is scientifically programmed to explode at a given time thereby causing fatal harm to the victims of its explosion.
The structural design of bomb ranges from largely constructed explosive device to the smallest forms of Improvised Explosive Devices (IEDs) that can be carried in and delivered at targeted areas in subtle ways such as wearing it beneath clothe, fixing it into empty beverage cans etc.
Interestingly, no matter how small or magnificent it looks, it has the same effect at explosion.
Read Also: 10 Causes of Insecurity in Nigeria
The effects of bombing in Nigeria includes the following:
1. Bombing in Nigeria Has Raised the Level of Security Consciousness among Nigerians
Though it sounds unbelievable, the emergence of bombing has caused many Nigerians to be more security conscious than they have ever been.Nigerians are now more careful in their dealings with people who they have not known before.
They are more careful about the places they go to. They are also mindful of what time they go out and when they return.Staying outside late into the night and too long in an over-crowded environment especially in the affected areas have become a thing of the past.
2. Issue of Collective Security and Partnering with Security Agencies in Checking Crime has Increased
Community policing, for instance has become a common concept in the country and among Nigerians. Security Agencies depend on ordinary people to report suspicious movement and people around them.
They do this in order to forestall the menace of bombing. The idea of collective security has been better been appreciated as a result of bombing. The contributions of Vigilante groups in various villages in the north east worth some recognition.
3. Security Agencies Have Been Better Equipped and Trained
Nigerian Security Agencies like the Nigerian Police Force, the Nigerian Army, Air Force and Navy amongst others have been better equipped, trained and exposed than they used to be in the past.
For instance, a sum of 2.1 million US Dollars was disbursed in 2014 alone for arms purchasing. This was done to further strengthen the Nigerian army in their war against terrorism. Imagine that this money was not diverted by some "good Nigerians".
Although Security Agencies have lost many of its personnel to bombing; they have gotten better experience, exposure and knowledge.
Read Also: 10 Ways to Improve Security in Nigeria
4. Destruction of Lives and Properties
A day visit to the affected markets, churches, mosques, public relaxation centres and communities ravaged by bombing will better explained this effect.
In the last seven years, about thirty thousand (30,000) lives have been lost to bombing. These include unborn babies, infants, children, teenagers, adult male and female.
Innumerable properties including automobiles, houses, perishable wears, livestock, etc. have been also lost to bombing.
5. Increase in the Number of Internally Displaced Persons (IDPs)
Bombing has rendered thousands of Nigerians foreigners in their country. Their house are destroyed and their means of livelihood taken away.
The survivors are thrown to the streets and places far away from their homes. Surprisingly, the current number of displaced persons in Nigeria is about 2,152,000 people, making Nigeria the third country in the world with the highest number of displaced persons after Nepal and Niger. This has never been the case except lately.
6. Increase Burden of Rehabilitation for the Government
The government which is already over-burdened with its' enormous responsibility of administration is further weakened with the need to rehabilitate the affected communities.
Unfortunately, the cost of building new houses, providing clothing materials and financial empowerment to those who have been affected by this act further explains the pains of bombing in the society.
The resources which would have been used for other developmental programmes are redeployed for rehabilitation. Recently, the Senators representing affected senatorial district in the North East have called for the establishment a North East Development Commission (NEDC).
The commission according them is to look into the issue of rehabilitating the natives of the area who have been affected by this menace. This will require huge amount of funds and extra responsibility from a government that has been stressed up already.
7. Environmental Degradation of the Affected Area
Often times, the land areas where the bomb explodes are adversely affected by chemical radiation of radioactive materials. These materials are used to construct the bomb.
Apart from the radioactive material reactions, bombing also result in fire outbreaks and destruction of chemically developed automobiles.
These eventually release dangerous chemical substance into the environments. As a result of bombing, viable agricultural lands, ecological environment relevant to plants and animal life which are relevant to the human environment are practically destroyed.
Read Also: How To Start A Security Business In Nigeria
8. Increase in Health Challenges
Bombing render many people blind, lame, cripple and completely deformed. There are other health complications that are caused by the incident.
This may be due to the exposure of the victims to complex chemical compounds which are fatal to human health. Other remote health related issues are diarrhea, cholera, sexual abuse, kwashiorkor caused by starvation and malnutrition which is largely reported among several IDPs camps in Nigeria. This is perhaps a pointer to how detrimental bombing is in Nigeria
9. It Foils the Economic Life of the People
The bomb ravaged zones of the country have been rendered useless for trade and commerce. For instance, the commercial cities of Adamawa, Yobe and Bornu in the last seven years have been badly destroyed by bombing.
Commercial activities are practically impossible in these areas. Crude oil production in the Niger Delta region continues to be hindered by cases of incessant bombing of pipelines and production facilities. The impact of this on the country is obviously the issue of recession and others attendant effects.
10. Education and Manpower Related Problems
The educational pursuits of many young Nigerians are serious affected. Some of the children that were in school are no longer in school again. School buildings have been bombed down.
Their sponsors have also been sent to their early grave. Hence, their education is a failed dream.The career life of the working population has also been mired due to bombing activities.
Much potential who are victims of bombing in Nigeria have been buried with their promises and their dreams have ended halfway.
As children are displaced from their previous settlement, their education becomes affected since some of them cannot go back to school for obvious reasons and it takes time for some to adapt to the new environment.
Similarly, many working class people have lost their jobs to bombing. Manpower development has also largely been affected on the negative; there have been a significant immigration of useful manpower to places that are comparatively safer. The meaning of this is:
11. Backwardness of the Affected Areas
It is more than true that development cannot thrive in the midst of conflicts and wars. Bombing is technically a form of war that has affected the growth and development of many parts of Nigeria.
Manpower development, infrastructural and basic amenities as well as capital resources and economic investment have been slowed down. The result of this is unemployment, poor living condition and impeded development.
Read Also: 10 Causes of Insurgency In Nigeria
12. Human Right Abuse and Violation
The right to life, freedom of movement, association and the likes becomes widely affected in the face of bombing. People lives are toiled with regardless of age or gender.
The freedom of movement is hampered by the declaration of the state of emergency and security checks. Freedom of association and peaceful gathering is also hindered by the fear of attracting suicide bombers.
13. Increased Suspicion and Extreme Fear
The activities of most Nigerians are dominated by the fear of the unknown. There exist wide spread suspicion of the next target and who the accomplice is.
Nigerians are also afraid of falling a victim of the next attack. This has affected even the Youth Service Corps deployment of its members to affected areas.
Nigeria therefore, has pitiful stories to tell about bombing activities within its domain. Nigerians have sad experiences to share about this menace. You will agree with me that the country has been through a lot as a result of bombing.
Buy and Sell Bitcoin in Nigeria - Register for free on Luno
Click here to see the latest
Study Abroad Scholarships and Guides
Click here to see the latest
Jobs opportunities in Nigeria
.
Copyright Warning!
We work really hard and put a lot of effort and resources into our content, providing our readers with plagiarism-free articles, original and high-quality texts. Contents on this website may not be copied, republished, reproduced, redistributed either in whole or in part without due permission or acknowledgement.
Proper acknowledgement include, but not limited to (a) Proper referencing in the case of usage in research, magazine, brochure, or academic purposes, (b)"FAIR USE" in the case of re-publication on online media. About possible consequences you can read here: What are the consequences of copyright infringement? In an effort to protect our intellectual properties, we may report your website to Google without prior notice and your website be removed from search engines and you may receive a strike. All contents are protected by the Digital Millennium Copyright Act 1996 (DMCA).