In this post we discus the 6 ways to improve tourism In Nigeria. Tourism is viewed as one of the economic booster globally, but in Nigeria, the business of tourism  has been stagnated.
Nigerian government has failed to understand the important of tourism in national development, even though, there have been some efforts on the part of government to improve tourism in Nigeria, but the will to carry it through has been lacking.
Tourism, being revenue generating industry, if priority has been given to this industry, at least, some Nigeria's unemployed  youths would have been gainfully employed.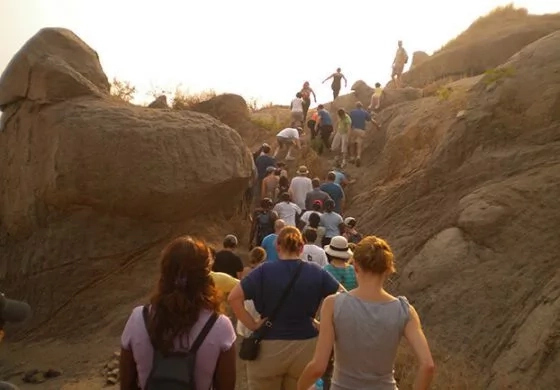 However, without much ado, I will be discussing with you in this article some of the ways tourism can be improved in Nigeria. But before we continue, let us define the word 'tourism'.
Read Also: 10 Roles of Tourism in Economic Development in Nigeria
What Is Tourism?
Tourism is a journey or travel people make to derive pleasure, and sometimes for business purposes; it could be the theory of touring and the same time, it can be the practice of touring, also tourism is the business of attracting tourists, accommodating tourists and as well entertaining tourists,.
It is operation of tours business. Having said that, let go into discussing some of the ways tourism can be improved in Nigeria..
How to Improve Tourism in Nigeria
Since tourism is one of the drivers of nation's economy, there is need to improve that sector with a view to boost revenue generation, and for government to achieve this, there are a number of ways to go about it, and here they are.
1. Invest In Nigeria's Tourism Sector
Tourism business is driven by individuals, it thrives in the private sector, that is why you find local operators of tourism in the country, many hospitality industry in Nigeria are really active, but something need to be done in that sector.
These individuals need to be encouraged, government has to do something if tourism in Nigeria must be improved.
There is need for adequate investment in the Nigeria's tourism sector to improve the sector, when Nigeria is exposed with these attraction both man made or natural tourism sites in the country would be generating sufficient revenue to improve its economy.
The tourism operators in Nigeria need government assistance to boost tourism here.
Read Also: Problem and Prospect of Tourism Development in Nigeria
2. Reduced Trips to Foreign Nations
Nigeria is one of the most endowed nation in the continent of Africa, in terms of fascinating tourist sites begging to be developed. It is unfortunate that Nigerian leaders believed that until there is knowledge transfer, they may not be able to develop tourism in Nigeria.
That is why every now and then, they are on foreign trips to either buy this knowledge or wow foreign investors.
Truth be told, people have some ways they want to make their investments, and in most cases this happened where an enabling environmets have been created for business, nevertheless, seeking foreign investors is not wrong, but Nigerian leaders should know that they have what it takes to develop Nigeria's tourism.
Don't Miss: 7 Reasons why Nigerian students prefer to study abroad
3. Identify Holiday Cities In Nigeria
There are some cities in Nigeria that one will always find holiday seekers traveling to, particularly during weekends or holidays, these centers are more visited. Identifying these cities will well positioned the federal and the state government to come into partnership with a view to develop these tourist sites or facilities.
These states concerned can actually collaborate with the federal government to improve tourism in Nigeria.
Having developed tourism in these states of the federation, such cities where these tourism facilities are found can be known and called Nigeria's holidays centres, and should have well developed infrastructure particularly, the transportation infrastructure to allow for easy access into these cities, and the sceneries in these states must be attractive and appealing.
Private sectors can also be encouraged to invest in Nigeria 's tourism. We have some of these cities, like Uyo, Lagos, Abuja, Port Harcourt among others.
See: 10 Best Places to Visit in Nigeria
4. Develop Nigeria's Beaches
Nigeria is blessed with beautiful coastlines bounded by Atlantic ocean, this coastlines spanned over hundreds of thousands kilometers and run into beaches, but these beautiful beaches which traversed Nigeria's coastlines have been abandoned to shipwreck by the Nigerian government.
When I think about how other African nations are developing their beaches, and managed them, I know Nigeria still has along way to go, and I wonder whether Nigerian government is not aware that beach economy is a key generator of revenue thus, helped boost economy. Tourism in Nigeria can be improved by developing Nigeria's beaches.
5. Promotes Tourist Products Through Social Media
Social media remains veritable platform to advertising and promoting Nigeria's tourists products, and as well sell them. Through social media one can reach out to his clients, negotiates business with one's clients, and one can also source for assistance through social media.
I am told that Nigerians has the highest number of persons using social media, and I wonder whether Nigerians have avialed themselves of the opportunity of promoting Nigeria's tourists products, and I am afraid other African nations may have edge over Nigeria by engaging the services of social media to promote their tourism.
I am also yet to believe that there are some sites online, used by Nigerians to promote tourism in Nigeria, if this is truth, then kudos to them, but Nigerian government should know what to do encourage such efforts, by so doing tourism in Nigeria can be improved.
Read Also: 6 Notable Tourist Attractions In Lagos State, Nigeria and Their Locations
6. Encouragement of Adventure Tours
Encouraging Nigerians in adventure tours and travel can intact, improve tourism in Nigeria, and persons well assigned for such task are those in the private sector, if the private sector would be willing to invest in this regard, they also need encouragement from the government, as well as enabling environment to thrive.
There is a way in some parts of country, where the topographies are quite interesting, and where they could be developed and made attractive for the youths of the country to explore. Employing these suggestions, I believe tourism in Nigeria can be improved.
CONCLUSION
Tourism, being revenue generating industry, if priority is given to this industry, at least, some Nigeria's unemployed youths would have been gainfully employed. There is need to improve tourism in Nigeria.
🤑 Start making money from home today!
👉 Get correct FREE TIPS and Guides on how to make money from home today. Click here to start
.
👍Showcase your business here!
With over 1M unique users per month across all channels, we have a large audience for you to showcase your products and services. Simply get in touch via 👉 marketing@Infoguidenigeria.com.
🤑 Make Money now!
👉 Make money writing for us. Apply for Freelance writing jobs in Nigeria.
👉 Make Money as InfoGuideNigeria Advertising Agents, read more here
.
This post can be helpful to somebody else, please share it on Facebook, Whatsapp, Telegram and Twitter. There are buttons below for this (easy to use too)!
Copyright Warning!
Contents on this website may not be republished, reproduced, redistributed either in whole or in part without due permission or acknowledgment.
.
Proper acknowledgment includes, but not limited to (a) LINK BACK TO THE ARTICLE in the case of re-publication on online media, (b) Proper referencing in the case of usage in research, magazine, brochure, or academic purposes,.
.
All contents are protected by the Digital Millennium Copyright Act 1996 (DMCA).
.
We publish all contents with good intentions. If you own this content & believe your copyright was violated or infringed, please contact us at [infoguidenigeria@gmail.com] to file a complaint and we will take necessary actions immediately.