Automobile
6 Steps to Apply for Plate Number in Nigeria
Registration of plate number in Nigeria is very easy. Here in this article, you will find all the information you need on how to apply for plate number in Nigeria. This information promises to be helpful.
Have you just bought a car and want to register it? Or do you own a car already and yet to register it? Whatever your answer is, we are about to tell you how to apply for a vehicle plate number in Nigeria.
👉 Relocate to Canada Today!
Live, Study and Work in Canada.
No Payment is Required! Hurry Now click here to Apply >>
Immigrate to Canada
Vehicle registration in Nigeria has always been in the law over time now. Vehicle user will only illegally ply the roads if they don't register their car(s) and may likely be arrested and possibly face the law for their illegality.
Read Also: 6 Reasons Why You Need A Vehicle Tracking Device Installed In Your Car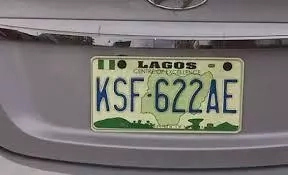 Vehicle owners are still allowed to ply the roads without registration number if they have covering papers to show and can also ride a new vehicle for some limited period of time without registration but as soon as the grace period expires without you registering your vehicle (getting a plate number) then you pay for your wrong doings if caught.
But wouldn't it be an embarrassment to be stopped maybe on your way to a very important function and maybe your car seized, apart from wasting time, you may also end up missing the important event you were to attend, that's just one of the possible instance though.
There are several steps involved in applying for a plate number in Nigeria, we will take one after the other and try relating it with you in a very simple language.
Read Also: Why Car Booking In Advance Is Essential For Travel Planning?
Now here are the steps to follow when applying for plate number in Nigeria:
1. Get a Driver's License
You surely need a driver's license before applying for a plate number in Nigeria. One can also own a driver's license in Nigeria without even owning a car.
If you own a driver's license before then you have to skip this stage but if you don't, just walk into any federal road safety commission of near you, meet the incorporate officer and tell them you want to apply for driver's license.
👉 Relocate to Canada Today!
Live, Study and Work in Canada.
No Payment is Required! Hurry Now click here to Apply >>
Immigrate to Canada
Your biometric data will be captured then you proceed to pay the sum of N10,000 cash to the commission. After the payment you will be given a temporary pass that will serve as the license itself for some period of time, say 60 days, but not too worry as the permanent driver's license will be ready within 14 days of registration. Once the driver's license is ready you will be notified via sms or mail so you can go pick it up.
2. State Board Of Internal Revenue/Motor Licensing Authority SBIR/MLA Registration
the next is the step is the state board of internal revenue/motor licensing authority registration which will only be proceeded if you have your driver's license.
Get to this authorities (SBIR/MLA) board close to you and on arrival you will be given several forms to complete. The forms you will be given to fill include the Federal Road Safety Commission Form, Form B, Auto vehicle License form, Allocation of Plate Number form and tax form.
You are expected to complete all the forms given to you with precise information, attach the originals of your documents and submit them back to the officer in charge of this duty.
Note: The documents you are expected to submit include the following; proof of ownership, custom papers (applicable only for imported cars), insurance papers, engine numbers written out, proof of address (that is a utility bill), tax identification number (as added recently by the authorities), a valid driver's license, an insurance policy number, means of Identification (it could be a permanent voters card, international passport or a national identification card).
Still at this stage your car may be physically inspected by state board of internal revenue/motor licensing authority to see if it me the required level it needs to be at before being used on the road, if it does meet the required level then you will be issued a temporary road worthiness certificate that stands in until the awaited plate number is ready.
Read Also: Used Cars In Nigeria; How To Choose The Best Used Cars To Buy In Nigeria
3. Verification By The Police Authority
while stage two seems to be very rigorous, this stage is much simpler as all completed forms and document will be forwarded to the police and the officer in charge will do the needful by going through the submitted documents to see if it meets the necessary requirement, if it does then the officer in charge will sign and stamp but if does not then the opposite might be the case as well.
4. Payment
After you must have been cleared by the police, then follows the payment which will be done at the bank.
Go to a cyber café or with the use of your smart phone, pc or tablet create a Remita retrieval reference code RRR, proceed to the bank and make a payment of N50,000 depending on the state of registration and the number type.
Though in some cases bank charges may apply but never worry as it won't exceed N100 or something in that region, after payment, return back to the state board of internal revenue/motor licensing authority office for receipt verification.
Present your receipts to the personnel(s) in charge as they go through them and if approved you will be handed a proof of ownership certificate and a vehicle identification tag (VIT).
You will also be handed the original copies of the documents you submitted earlier and will be advice to go through them one after the other to missing document.
5. Collection of Plate Number
A vehicle plate number will be handed to you at this point and the number given depends on the availability of such a number.
Read Also: How To Start Car Battery Selling Business In Nigeria
6. Insurance
Not compulsory but necessary is buying an insurance policy for your vehicle which can also be done with numerous private insurance companies.
Hope we covered just exactly what looked for. Most times registering your vehicle look very difficult and seem to sab a lot of money in the process, so we decide to put this up as a guide to direct you on the various steps you need to follow when applying for a vehicle plate number in Nigeria.
👇👇👇👇👇
Immigrate to Canada Via Job Offer!
Get latest Jobs in Canada for foreigners with visa sponsorship 2023 and how to apply. Don't miss this opportunity that can help you relocate to Canada with your family.
👇👇👇👇👇
👍Advertise your business on InfoGuideNigeria.com!
From just
N9,999 per month
, you can advertise your products and services to over
1,500,000 monthly
users on our website.
Click here to read more
.
======
🤑 Make Money now!
👉 Make money writing for us. Apply for
Freelance writing jobs in Nigeria
.
👉 Make Money as InfoGuideNigeria Advertising Agents,
read more here