Education
10 Best Software Development Training Center in Nigeria
Here in this post, we are going to give you a list of 10 best software development training center in Nigeria. We hope you find this list informative.
Software development has been one of the uprising courses in computer science as trainees in this line keep increasing on a daily basis.
👉 Relocate to Canada Today!
Live, Study and Work in Canada.
No Payment is Required! Hurry Now click here to Apply >>
Immigrate to Canada
Software developers make a whole lot of money as employees and as self-employed persons just when they develop software that can solve problems of the society on a daily basis.
Read Also: 10 Best CISCO Training Institutes in Nigeria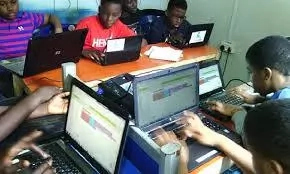 10 Best Software Development Training Center in Nigeria
Here we are about to take a look at the best software developing training centers in Nigeria.
1. Denor Tec Computer Institute
Denor Tec Computer Institute brings ICT to your door step, this institute trains on all ICT programs but they are specialist when it comes to software development. Other ICT programs they train on include; Hardware engineering, web design and development, Logo Design, Poster design, ICT Consultancy, ICT office setup and maintenance, Graphic design etc.
Denor Tec Computer Institute is Suit 10 Fasahla Plaza Kwamba Suleja Suleja, Niger State.
Read Also: 20 Best IT Training institute In Nigeria
2. MSN Academy
MSN Academy is standard ICT institute that provides innovative and cutting and cutting edge technological training for Nigerian who are very passionate about building a career in software development.
MSN Academy do not only train student on software development but also working on student technical skills, communication skills and presentation skills.
👉 Relocate to Canada Today!
Live, Study and Work in Canada.
No Payment is Required! Hurry Now click here to Apply >>
Immigrate to Canada
Before student completes a program, they will be asked to create a software that solves a particular problem in the society. MSN Academy watchword is as follows 'We ensure that the knowledge imparted by our excellent facilitators can be used in real-time'.
MSN Academy is located at No. 53 Oladipo Bateye Road, Ikeja GRA, Ikeja, Lagos.
3. Coquina Software Company Limited
Coquina Software Company Limited has been a core software company though they have diversified over time now. Coquina Software Company Limited are professionals in creating custom software to financial companies like banks, mortgage, stock brokering and insurance company.
Education, game and gambling industry, oil and gas industry, sales and retail industry, health and pharmaceutical industry, restaurant, recreation and tourism industry are all companies that coquina software company produce customized software for. This company produce a customized software as requested by a particular company.
Coquina software company limited is located at F3 Ewet Housing Extension, Uyo, Uyo, Akwa Ibom State.
4. Codespace Technologies
CodeSpace technologies are specialist in developing customized business software across all platforms, be it mobile app, websites and blogs. Codespace also train clients on software development, starting from the basics to the advance level using the current technology tools and create mobile and pc friendly software for companies and businesses in Nigeria and its environ with professional touch and moderate prices. The training staffs is made up of certified, visionary and devoted IT leaders and technocrats.
One can contact Codespace technologies at the head office, No. 31 Alcon Road, Woji, Port Harcourt, Rivers State.
Read Also: How To Start Computer Training Centre In Nigeria
5. Sheriffdeen Al Salam Communication
Sheriffdeen Al Salam communication are professionals in designing software, applications and websites for small organizations. This information technology company are dedicated to imparting computer knowledge into people and also creating its awareness to the entire public.
Sheriffdeen Al Salam communication have creative and professional software developers who can create and customize software for your business and companies.
Sheriffdeen Al Salam Communication is located at No. 195 Rumfa Sheu Street, off Rijya Zakiangina Gwarzo road, Kano Nigeria.
6. InfoTitans
Tech Giants as they call themselves, Infotitans are builders of software, tech solution providers, mobile and web apps.
For years now infotitans has been involve in software development, implementing and supporting of diverse range of information technology systems and solutions. This IT company deploy their product and service to suit customer business need, filled with a team of dynamic professionals well focused on offering effective and reliable information technology solutions that will empower productivity of organization.
Infotitans has a very robust online support system to ease up clientsoperations regardless of where they are.
Infortitans office is located at Suite 41, Ademasingba shopping complex, Ibadan, Nigeria.
7. Dreamlabs Technology
Dreamlabs technology work with organizations using mobile and web technologies to proffer solutions that solve software problems and generate greater profits.
Dreamlabs says they are strong in the use of agile methodologies as they breakdown large projects into small phases and deliver as tangible, functional and working unit.
Partners, client and customers enjoy flexible and innovative payment methods which include zero financing models and payments by instalmant over a period of time.
Dreamlabs technology have their head office at PH06 Hatlab place, 1952 Sokedo Crescent, Zone 5, Abuja. Other branch office are No. 12 Umaru Audi road, G.R.A, Ilorin, Kwara state and 13 Ann Close, Apapa, Lagos.
Read Also: 10 best oil and gas training institutes in Nigeria
8. Concept Group Limited
Concept group are giant in software development, with over 23 years of experience and five international and local awards concept group seems to stand out from the rest.
Concept group limited head office is at No. 32 Montgomery road Sabo-Yaba, Lagos. They also have branches in in Abuja, Port Harcourt and Warri, Delta state.
9. PureSoft Technologies
Dedicated to developing customized software, Puresoft Technologies is technology partner you can trust as a pivotal part of your digital transformation strategy, if you want to stay ahead of others in the IT world.
Puresoft technologies offer software development, online learning solutions, online collaborative platform, enterprice mobility, eCommerce solution, corporative website development, mobile website development and content management system, all of these at 90 plus percentage rate.
The company contact address is at Suite 211, Jinifa Plaza, central business District, Abuja.
10. Dallas Global Technologies
Dallas Global Technologies is big software developing company with highly skilled professionals providing quality services in software development, website development, ecommerce site development, branding and more.
Dollas global technologies have been in existence for years now creating quality and highly customized and quality software for small and large companies and business groups.
Read Also: 9 Functions of Nigeria Computer Society (NCS)
Dallas Global Technologies head office is at 168, Zik Avenue, Awka, Awka South, Anambra state.
These has been our own selection of the top 10 software development training centers in the country. You will agree with me that most of the top-notch IT institute are cited in Lagos and Abuja but we tried to research and pick other big and quality IT companies who are who are equally giant in software development training.
📢

We are hiring writers!
Article Writing Jobs
- We are hiring good freelance writers -
Click here to apply