Job Description
Executive Assistant Job Description and Roles/Responsibilities, Qualifications
Executive assistant job description: In this article, you will see the Executive assistant job description, roles/responsibilities, and qualifications. Use this job description if you wish to work in this field.InformationGuideNigeria
Executive assistants are frequently the "right-hand person" of the executive, enabling them to drive company ideas and goals. They filter and handle the executive's day-to-day responsibilities so that the executive can concentrate on high-level leadership and strategic tasks. Your job description should include a quick summary of the organization and the primary objectives of the position, as well as specific information regarding responsibilities, skills, credentials, and benefits.
👉 Relocate to Canada Today!
Live, Study and Work in Canada.
No Payment is Required! Hurry Now click here to Apply >>
Immigrate to Canada
Read Also: Radiation Therapy Job Description and Roles/Responsibilities, Qualifications
Who is an Executive Assistant?
An Executive Assistant is a person who works for a company and is in charge of managing the schedules and communications of the company's top executives. They put emails and phone calls in order of importance and set up meetings and business events.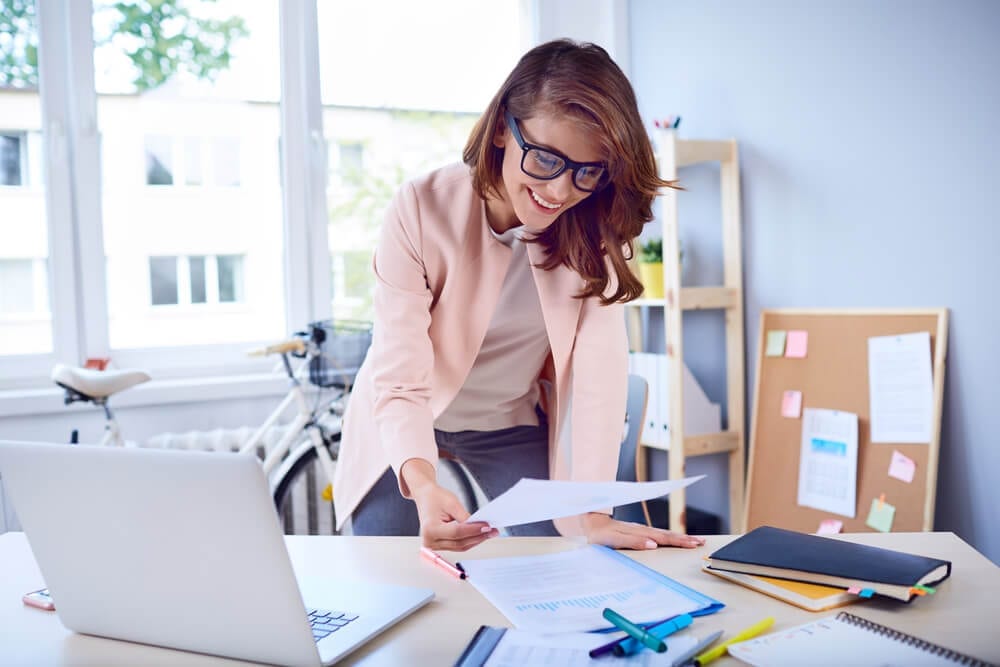 An Executive Assistant also called an Executive Administrator, is in charge of key company executives' schedules and communications. Their jobs include sorting emails and phone calls by importance, gathering documents for meetings, and arranging travel.
Responsibilities of an executive assistant
Take care of the executive's schedule (s)
Write, check, and send messages on behalf of a company executive (s)
Plan and organize meetings, such as gathering documents and taking care of meeting logistics. Zinoleesky's biography: age, girlfriend, net worth, house, music
Answer and return phone calls, send messages and information to the executive,
Sort your emails by importance and reply when you need to.
Coordinate travel arrangements
Keep different records and papers for company executives (s)
Helping with administrative tasks like writing and editing e-mails, making memos, and putting together communications on behalf of the executive.
Keeping records that are complete and correct
Taking care of small accounting tasks
Setting up meetings, like when and where they will be, sending out reminders, and arranging food if needed.
Answering the phone in a professional and polite way
Greeting visitors and finding out why they are there before sending them to the right department. Executive Assistant Job Description
Taking care of the executive's schedule, which includes making appointments and putting the most important things first.
Serve as the point of contact between executives, employees, clients, and other external partners.
Manage the flow of information in a timely and correct way
Manage the schedules of executives and set up meetings for them.
Plan your travel and where you'll stay.
Track your daily costs and make reports weekly, monthly, or quarterly
watch how the other office workers do their jobs.
Be a manager of an office by keeping track of the office supply stock.
Format information for memos, emails, presentations, and reports, which are used for internal and external communication.
Take minutes during meetings
Screen and direct phone calls, and pass out mail
Set up and take care of the office's filing system
Read Also: ScribeAmerica Job Description, Roles/Responsibilities and Qualifications
Roles of an executive assistant
Executive assistants play a vital role in an organization by aiding company executives with scheduling, organizing, and administrative duties. While there are some basic obligations and talents that all executive assistants should have, your job posting should include information about any specific responsibilities and skills. In this article, we will assist you in writing the job description for an executive assistant and provide samples to help you get started.
The executive assistant's function is crucial to the success of the executive and, consequently, the firm. An executive assistant assists the executive for whom they work with scheduling; reviewing, prioritizing, and responding to emails; answering and returning phone calls; organizing documents; maintaining records; taking meeting notes, and any other administrative tasks that help the executive perform their job.
An executive assistant typically collaborates with top leaders in a firm to manage all of the executive's administrative requirements, including appointment scheduling, phone support, and mail response as needed.
Read Also: EMT and Paramedic Job Description, Roles/Responsibilities and Qualifications
👉 Relocate to Canada Today!
Live, Study and Work in Canada.
No Payment is Required! Hurry Now click here to Apply >>
Immigrate to Canada
Executive assistant job qualifications/skills
Experience as an Executive Assistant, Personal Assistant, or in a comparable capacity
Excellent Microsoft Office skills powerNpower Recruitment
Exceptional organizational and time management abilities
Familiarity with office devices and software (e.g. e-calendars and copy machines)
Respect for discretion and confidentiality
High School degree20 Best Men's Wrist Watches in Nigeria and their prices
PA certification
Management of time and the ability to meet deadlines
talents in both oral and written communication
Strong organizational abilities and ability to multitask
Problem-solving and determination
Initiative and self-control
Interpersonal skills
Read Also: Zumiez Job Description, Roles/Responsibilities and Qualifications
Executive assistant salary structure in the USA
In the United States, how much does an Executive Assistant make? As of October 27, 2022, the average Executive Assistant I salary in the US is $65,001, but the range is usually between $56,790 and $74,479.
Types of executive assistant
Work From Home Executive Assistant:
Computer and typing abilities, an understanding of software such as Microsoft Office, and the ability to do duties autonomously with limited direct oversight are required for a work-from-home executive assistant position.
You must also be able to multitask and organize information succinctly.
Most businesses expect executive assistants to have a high school diploma or equivalent.
To distinguish yourself, get a postsecondary certificate or degree in business administration or a similar field.
You must be comfortable with chat programs, project management and scheduling platforms, and other internet tools and software to accomplish your job from home.
Executive Assistant Manager:
Managers oversee a group of people; they set goals, allocate duties, and track progress.
The specific obligations of a manager will vary depending on the organization and industry in which they operate, but their primary responsibilities will remain substantially the same.
Managers keep track of their employees' accomplishments while keeping the department's overarching goals in mind.
They collaborate with Human Resources to identify and solve staffing shortages, coordinate and allocate roles, monitor employee performance, and provide extra training and instruction as needed.
Temporary Executive Assistant:
A temporary job is an employment agreement in which both the employee and the employer agree ahead of time that the position will be filled for a specific amount of time.
Temporary jobs are frequently based on seasonal or project-specific needs of businesses.
Temporary employees may be awarded permanent, full-time roles if their performance is exceptional and a post is available.
You should not, however, make this assumption.
Freelance Executive Assistant:
Freelancers work for themselves. As a freelancer, you do work for clients and bill them for it.
The type of clients you have is determined by the services you provide.
Individuals or businesses can be your clientele.
A full-time freelancer frequently works on projects for numerous clients at the same time.
Writing, editing, graphic design, web design, marketing, programming, accounting, and bookkeeping are all common freelance services.
Freelancing is perfect for those who wish to be their boss and are prepared to advertise themselves to reach their financial objectives.
Executive Assistant Trainee:
The qualifications for a trainee position vary by industry. Before you may start working in some fields, such as architecture or accounting, you must first complete a recognized degree program.
Retail, manufacturing, and telemarketing, for example, may simply demand a high school diploma or a GED certificate to enter a training program.
Whatever job you are interested in, you should have good verbal and written communication skills as well as a desire to advance in your career.
Read Also: Forensic Scientist Job Description, Roles/Responsibilities and Qualifications
Virtual Executive Assistant:
A high school diploma or GED certificate is usually required to work as a virtual executive assistant.
Many executive assistants have advanced credentials, such as an associate degree in administrative assistant studies or a closely related field.
In addition, you should have several years of clerical experience in a typical or remote setting.
A virtual executive assistant must have great communication, time management, and organizational abilities, as well as the capacity to multitask and understand of key office software packages.
Reliable internet and phone service are also required.
Executive Assistant Internship:
An internship is a position in your desired field that pays little or nothing but allows you to obtain real-world experience.
This could help you stand out in your future job search.
Employers almost always demand internships on the resume of an entry-level candidate.
If you have any work experience, you are far more valuable to an employer.
Entry-Level Executive Assistant: 
Entry-level occupations do not require any prior expertise in the role.
Most entry-level employment is geared towards high school or college graduates as a stepping stone to a more advanced career.
A college student may have majored in their desired job field, but they will still need to start in an entry-level position to gain experience in the real world.JAMB Form
Some students progress from internships to entry-level work, although most entry-level occupations do not require prior employment or on-site training.
Conclusion:
In conclusion, you can use this job description to attract and hire the best applicants. If you can not find what you are looking for in this article, feel free to drop your comment in the comment area.WAEC Result
Check JAMB Result
Check and Confirm: How much is Dollar to Naira
👇👇👇👇👇
Immigrate to Canada Via Job Offer!
Get latest Jobs in Canada for foreigners with visa sponsorship 2023 and how to apply. Don't miss this opportunity that can help you relocate to Canada with your family.
👇👇👇👇👇
👍Advertise your business on InfoGuideNigeria.com!
From just
N9,999 per month
, you can advertise your products and services to over
1,500,000 monthly
users on our website.
Click here to read more
.
======
🤑 Make Money now!
👉 Make money writing for us. Apply for
Freelance writing jobs in Nigeria
.
👉 Make Money as InfoGuideNigeria Advertising Agents,
read more here