Groundnut cake also referred to as kuli-kuli by many Nigeria is indeed one of the most popularly consumed snack in Nigeria. Groundnut cake is majorly made and sold by the northerners in Nigeria.
This snack has become a staple in Nigeria for more than a century, and its preparation technique has been passed on from generation to generation.
Its preparation method is quite easy and can be made in any type of kitchen space. A lot of the locals in Nigeria make it and sell it to retailers both at the roadside and in Market places.
Read Also: How To Start Cashew Trade In Nigeria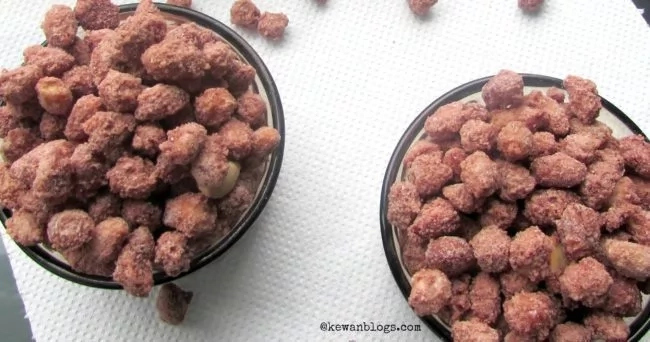 The major ingredient for making groundnut cake is groundnut as the name implies, other ingredients like dry pepper, salt, sugar and ginger can also be added.
Groundnut cake majorly involved groundnut mashed into powdered form, mixed with spices, made into a paste, and fried in different shapes and sizes.
I will be explaining the ingredients and the preparatory method involved in making the delicious groundnut cake.
Materials needed for making groundnut cake
a. Frying pan
b. Turning spoon
c. Cutting board
d. Knife
e. Mixing bowl
f. Heat source (gas cooker, electric cooker, fire wood, oven etc)
Read Also: How To Make Nigerian Groundnut Soup
Ingredients for making groundnut cake
a. Raw or fried groundnut
b. Groundnut or vegetable oil
c. Ground pepper
d. Salt
e. Sugar
f. Ginger
Method of preparation
1. Fry the fresh groundnut in the frying pan without oil to a golden brown state. Be careful not to allow the groundnut get burnt. (Alternatively you can use an already processed groundnut to save you the stress).
2. Peel off the back from the fresh groundnut and transfer it into a food processor or you can pound it locally using a mortar and piston or even a grinding machine if you are preparing a large quantity.
3. Because of the presence of oil contained in the groundnut it will look like a paste after it is blended. (make sure the grinded groundnut forms a smooth paste)
4. Transfer the grinded groundnut into a mixing bowl and add the grinded pepper, ginger if desired, salt to taste, sugar to taste and mix thoroughly, make sure the dried ingredients completely dissolves into the groundnut paste. Be careful not to add excess spice to groundnut paste thereby overshadowing the natural taste of the groundnut.
5. While mixing the groundnut paste in the bowl, try as much as you can to press out the excess oil from the mixture in the bowl, to avoid the ground nut cake looking too crispy when fried in hot oil.
6. After the ingredients have been mixed properly you transfer it to a flat surface of a cutting board and take a little portion at a time to form the desired shape you want your groundnut cake to have. Continue until you have used up all the content of the bowl.
7. Transfer the mixture into a pan of hot oil in medium heat. Avoid making the flame or source of heat too high as it could thwart the desired result, hence you are to fry the paste in medium heat for 5 to 7 minutes, making sure to turn the other sides of the groundnut cake to fry evenly. (avoid overcrowding the frying pan with too much groundnut cakes)
8. The groundnut cakes are ready to be transferred from the frying pan to a plate when it turns golden brown.
Your groundnut cake is ready, allow to cool before consuming it.
You can take the groundnut cake with garri, you can consume it directly as a snacks.
Points to note
a. The spicing of groundnut cake totally depends on individual preference, but never the less it is important to note that nobody wants a salty groundnut cake. Hence moderate salt is advisable.
b. Make sure to press the groundnut paste with your hands as way of extracting the excess oil.
Read Also: How To Make Nigerian Fruit Juice
How to preserve groundnut cake
Groundnut cake can last for days because of the fact that it looks dry and strong after being fried, with little or no oil contained in it. Hence preserving it for weeks is not a problem.
a. Groundnut cake can be stored in an air-tight container. That gives little or no room for air.
b. Groundnut cake can be sealed in a nylon bag
c. It is locally tied in transparent white nylon bags and sold at retail out lets or in market places to consumers.
d. Groundnut cakes are also stored in cans.
Profitability and benefits of groundnut cake business
1. Because of the storage capability and advantage of groundnut cake, a majority of the locals in Nigeria tend to make, sell and store groundnut cake for a long time with little or no fear for loss. A good groundnut cake should last for at least 3 months or even more.
2. The ingredients for making groundnut cake do not cost much, hence you are sure to make maximum profit if you decide to take up groundnut cake as part of your business.
3. Groundnut cake is majorly taken in combination with garri which is loved by many Nigerians. Hence selling it or getting people to buy it from you will not be too tedious.
4. You can decide to supply to different households from the comfort of your home as setting up a groundnut cake factory might not be necessary especially if your business is small scale.
Also groundnut cake does not necessarily need a big kitchen space for its production. That's why both the rich and the poor can venture into it and still produce good result.
5. Learning how to make or teach others groundnut cake production is not difficult, people in recent times even learn from the internet tutorials, thanks to technology.
6. You can step up your game to stand out by branding your own special groundnut cake with attractive labelling. This will make people of high class to easily patronize you and also help you sell at a higher cost as an attractive packaging attracts attention of buyers.
Read Also: How to Make Nigerian Egg Fried Rice
Conclusion
Perhaps you have never imagined that the production process for making groundnut cake is this simple, now you can save cost by making your own groundnut cake after reading this article.
An average Nigerian has seen and tasted groundnut cake or at least heard about it, so weather you are Nigerian or not it is something worth trying that will leave you with no regrets in the end. Enjoy!
Information is Power!
Don't miss any valuable information or opportunity that can change your life, business, and family positively and permanently.
👇👇👇👇👇
For Latest updates on News, Jobs & Business Ideas, and Opportunities.
Copyright Warning!
Contents on this website may not be republished, reproduced, or redistributed either in whole or in part without due permission or acknowledgment.
.
Proper acknowledgment includes, but not limited to (a) LINK BACK TO THE ARTICLE in the case of re-publication on online media, (b) Proper referencing in the case of usage in research, magazine, brochure, or academic purposes,.
.
All contents are protected by the Digital Millennium Copyright Act 1996 (DMCA).
.
The images, except where otherwise indicated, are taken directly from the web, if some images were inserted by mistake violating the copyright, please contact the administrator for immediate removal.
.
We publish all content with good intentions. If you own this content & believe your copyright was violated or infringed, please contact us at [infoguidenigeria@gmail.com] for immediate removal.
🤑 Start Making Money from home today!
👉 Get the correct
FREE FOOTBALL PREDICTION
TIPS
and
Guides
today.
Click here
.
👍Advertise your business here!
With over 1M unique users per month across all channels, we have a large audience for you to showcase your products and services. Simply get in touch via 👉 marketing@Infoguidenigeria.com.
🤑 Make Money now!
👉 Make money writing for us. Apply for Freelance writing jobs in Nigeria.
👉 Make Money as InfoGuideNigeria Advertising Agents, read more here
.