Biography of Linda Ikeji
Linda Ifeoma Ikeji is a blogger, entrepreneur and ex model. Born on the 19th of September 1980, she hails from Nkwerre in Imo State, south eastern Nigeria.
Linda is the second child of her parents and was raised in Lagos in a catholic family; she has several sisters (Vera, Laura, Benita) and one brother Pepsi Ikeji.
👉 Relocate to Canada Today!
Live, Study and Work in Canada.
No Payment is Required! Hurry Now click here to Apply >>
Immigrate to Canada
At the age of 10 she began to write as a hobby, family and friends praised her little write ups and this encouraged her, owing to the fact that she came from a not so comfortable home, she began hustling as a teenager.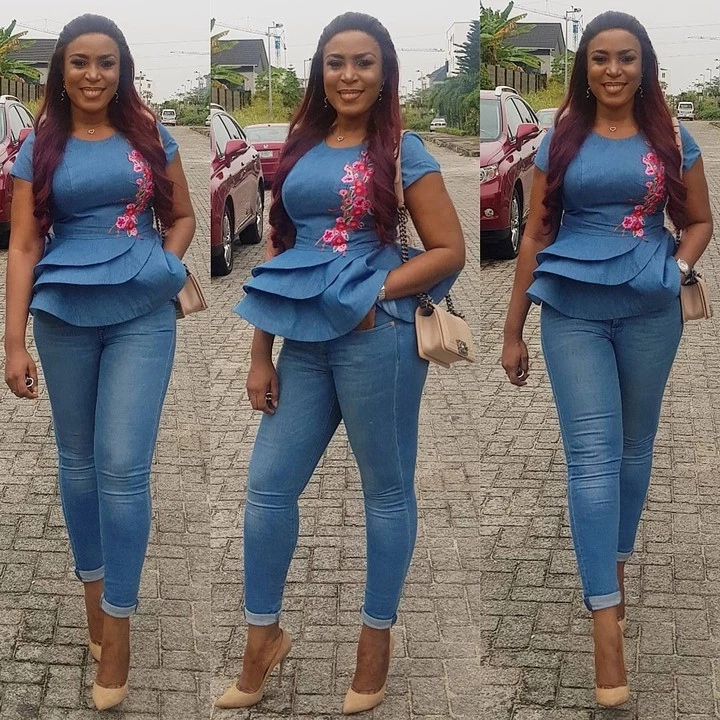 After her secondary school education at the Lagos Girls' Anglican Grammar School, Linda wanted to study mass communication because she had a keen interest in the media; she loved watching newscasters and interviews on television.
She got admitted into the university of Lagos to study English Language and while at the university, she did several menial jobs to see her herself through school.
She has worked as a waitress, usher, bar tender and finally decided to settle as a model. She actually started modelling in in 1998 for several brands like the 'Rose of sharon' label owned by Nigerian business tycoon and billionaire Folorunsho Alakija, she also featured in glamor shows like the St. Moritz Style Collection, ECOFEST and other advertisements.
Upon graduation in 2004, Linda Ikeji launched her media company 'Black Dove Communications' which dealt with modelling and events managements.
Not too long ago, Linda shared her inspiring story on the challenges she encountered while trying to set up her agency and now defunct magazine FM&B, which was capital intensive and time consuming.
She had obtained a loan from a microfinance bank to start and couldn't pay back as at when due; she was arrested in the process and after two editions; the magazine suffered a natural dearth.
In 2006, Linda fully returned to blogging which was her first love and passion. She admitted she sometimes blogged out of boredom and had to visit a cybercafé frequently.
👉 Relocate to Canada Today!
Live, Study and Work in Canada.
No Payment is Required! Hurry Now click here to Apply >>
Immigrate to Canada
She had no thoughts or plan on how to monetise her blog. In that same year, BellaNaija another prominent Nigeria made a blog post about her.
This opened her mind to the underlying opportunities in blogging and she decided to explore and never looked back. By 2010, her domain became the most popular gossip and advertisement site in Nigeria.
She blogged about Nigerian celebrities and public figures who sometimes reacted to the blog posts; creating controversies and generating traffic which in turn increased the monetary value of the blog. By 2011, she started charging for advert rates after a company approached her for publicity services.
In August 2012, Linda was profiled as one of Africa's most prominent women by FORBES and on the 25th of September 2012, she was interviewed by BBC on their Focus on Africa programme and in 2014, she had completed a duplex for her parents in their home town in Nkwerre local government area in Imo state and purchased a brand new ranger rover worth about 24 million naira, later that year, she purchased and moved with her parents and siblings into a mansion in banana island which is speculated to be worth more than 500 million naira.
On October 8 2014, her blog was shut down for a few ours by Google for undisclosed reasons but it was restored on 10th of October 2014.
Social media went agog with the news and Linda Ikeji became the most searched item on Google search by Google users in Nigeria.
A Google correspondent stated that they had been notified of the existence of contents on the blog that may had violated their terms of service and had to act quickly to determine if a violation actually took place.
In 2013, she won the best entertainment blog awards at the Nigerian Blog Awards and has been nominated severally at other awards. Linda is a philanthropist who finds delight in assisting young girls in achieving their dreams.
She firmly believes that young women do not necessarily need to rely on men for financial prowess; she also advises against prostitution and promotes women empowerment by her 'I'd rather be self-made' initiative which has assisted young ladies with great business ideas with start-up capital. She gave out ten million naira at the first phase of the project and is yet to commence the second phase.
Linda ikeji is currently single. She maintains a low profile on her relationships. She once dated Dan Foster and was rumoured to be in a relationship with Psquare's older brother and manager Jude Okoye, she refuted the claim stating that she had never met Jude who is now married.
Net Worth of Linda Ikeji
Linda is not just Nigeria's most successful and richest blogger but has been cited by Africa facts zone as Africa's richest blogger.
Her blog alone was worth about $1.2 million dollars in 2012. She is the queen of blogging and the reason why virtually every young Nigerian has developed an interest in blogging and making money online by building their online profiles.
The total revenue generated monthly from direct adverts on Linda ikeji blog is about 19 million naira every month. Revenue generated from AdSense is estimated above 1 million every month. It is safe to say Linda is worth about 3.2 billion naira.
Business And Investments of Linda Ikeji
Linda launched her ultra-modern social media ' Linda Ikeji Social' in 2016. In an interview with Ifeoma Ononye, she explained that Linda Ikeji Social (LIS) represents a revolutionary innovation in not just news and reporting but in facilitating social interaction.
It creates a meeting place that combines the dissemination of news and enables social connection and interaction. She said LIS is a platform where users can land the home page from anywhere they are navigating from, view notifications, messages, submit stories and get paid. Linda has a dream of becoming Africa's Oprah Winfrey.
In 2016, she launched a multimillion naira media house ' Linda Ikeji Media' which comprises of a television station, a radio station, a music studio, a blog office and a podcast studio. The office which has a 22 room partition is situated in lekki and has kicked off operations successfully.
👇👇👇👇👇
Immigrate to Canada Via Job Offer!
Get latest Jobs in Canada for foreigners with visa sponsorship 2023 and how to apply. Don't miss this opportunity that can help you relocate to Canada with your family.
👇👇👇👇👇