Culture
The Origin And Celebration Of Egungun Festival
About Egungun Festival
One major and important means of cultural renaissance is the celebration of festivals, Every cultural group has its own distinct festive or festivals that is or are celebrated by its members.
Festival plays a major role in the identification of specific cultural group, In Africa most especially, Festivals are usually associated with deified beings, this to an extent serves as an act of respect and honour paid to them, and also, It serves as a form of remembrance of these great deities.
Read Also: The Significance Of Osun Oshogbo Festival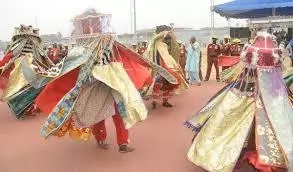 Festivals have always been the custodian and embodiment of all aspects of culture of a people, and it plays the role of a cultural indicator in the traditional society. Festivals have both religious and aesthetic components, It also signifies and point at a particular religious practice other than it being a form of aesthetics.
Festivals express the philosophical, art, aesthetic and ideology of a particular cultural practice and religious belief. The term "Festival" is seen as an indigenous cultural institution, a form of art nurtured on the African soil over centuries and which has therefore developed distinctive features and whose techniques are sometimes totally different from the borrowed form.
Read Also: Argungu Fishing Festival in Kebbi State, Nigeria
In other words, Festival connotes an event or community gathering, usually staged by a local community, which centres on some theme, sometimes on some unique aspect of the community.
In mythology, it refers to as a set of celebrations in the honour of a god or gods. The celebration of festivals in Africa is very rampant, occasionally, festivals are celebrated to remember and honour a particular god.
Mostly, festivals are annual, that which is celebrated once in a year, and in some cases biennial. In Nigeria particularly, among the Yorubas, different cultural festivals signifying the aesthetic and beauty of the Yoruba tribe and some it's famous gods are celebrated. Some of these festivals include, Sango festival, Osun festival, Egungun festival, Ogun festival, Oya festival and so on.
The Egungun festival is a traditional festival celebrated among the Africans most especially the Yorubas, It depicts the holistic nature of the totality of visual arts, crafts, and the performing arts as well as an embodiment of the philosophy of the people in their communal essence.
The Manner Of Celebrating Egungun Festival
According to the Wikipedia, Egungun, in the broadest sense of the word, refers to all types of Yoruba masquerades or masked, costumed figures.
Read Also:How Sango Festival is Celebrated in Oyo Town, Oyo State Nigeria
When used in its more specific, common sense, "Egungun" refers to the Yoruba masquerades connected with ancestor reverence , or to the ancestors themselves as a collective force. The singular form, for an individual ancestor, is Egun. Culled from https://en.m.wikipedia.org/wiki/Egungun
The Egungun festival like all other prominent traditional festivals has varied origins and also speculative but still justifies it's recognition as an ancestral worship as well as serving non religious purposes.
The Egungun Masquerades are prominent features in virtually all Yoruba towns and compounds (Agbo Ile), Each compounds have their own ancestral masquerade, In fact, it is somehow funny for a Yoruba town not to have a distinct Egungun (Masquerade).
Amongst the Yoruba, the annual ceremonies in honour of the dead serve as a means of assuring their ancestors a place among the living. They believe the ancestors have the responsibility to compel the living to uphold the ethical standards of the past generations of their clan, town or family.
The Egungun are celebrated in festivals, known as Odun Egungun, and in family ritual through the masquerade custom.
Ade Adekola also clearly stated that, Cloth and textile hold an important significance within Yoruba culture, the role of which is particularly key within the Egungun myth. Yoruba legend equates nakedness with infancy, lack of social responsibility and even insanity.
Read Also: Awon Mass Wedding Festival in Shao, Kwara State, Nigeria
Thus elaborate dress is a crucial symbol for the Egungun, reflecting the power and prestige of the family and its ancestors. In this work, he confirms that the importance of dress and display is still highly significant within contemporary Nigerian culture, and that despite the longstanding nature of the Egungun designs, they remain contemporary works of art. http://www.lagosphotofestival.com/exhibit/egungun.
The Masquerades are often referred to as "Ara Orun", A typical Egungun festival is celebrated for nine days that is the time to incorporate and complete the cycle of the communal interaction between the gods and man. In this celebration, the common foods eaten are the Akara, bean cake, Olele, pudding, Eko, corn porridge.
We have two major kinds of Egungun, first is the Egungun Olele and the second is the Egungun Odun, the formal takes place towards the end of March when beans are harvested and the latter takes place towards the end of June when the new yam is ripening. The festival usually commences on a Thursday known as Ojobo, day of Sacrifice and ends on the Friday week.
It begins with a supplication headed by the Alaagba, the Administrator and the Oje, Egungun custodians at the Igbale, the sacred groove, they then dance to the palace in a parade to notify the King of the successful ritual.
Each Masquerade or group of Masquerades do have special day for going out, by this time, the Egungun parades round the town offering prayers, dancing, and entertaining people.
After that, All Masquerades will then hold a communal carnival in the market/Oba's palace as the find festival, Some of these notable Masquerades include Opeleba, a notable Masquerade in Oshogbo, Ewo, Aye amongst others.
Read Also: The Igue Festival of Benin Kingdom, Nigeria
Conclusion
Festivals are significant events connoting the aesthetic, philosophy, ideology, art, of a particular cultural group or religious belief.
Various cultures have its own specific festive celebration which is usually organised as a form of remembrance and honour of a particular deified being.
⚽ Start winning football betting today!
👉 Get correct FREE GG and Over 2.5 football prediction tips. Click here to join
.
👍Showcase your business here!
With over 1M unique users per month across all channels, we have a large audience for you to showcase your products and services. Simply get in touch via 👉 marketing@Infoguidenigeria.com.
🤑 Make Money now!
👉 Make money writing for us. Apply for Freelance writing jobs in Nigeria.
👉 Make Money as InfoGuideNigeria Advertising Agents, read more here
✍️ Be Our Guest Publisher!
Do you have a press release, breaking news,  or any other helpful information to share with our growing readers? If yes, send your article to 👉 infoguidepr@gmail.com.
We will be glad to publish it if the information is useful to our audience.
.
This post can be helpful to somebody else, please share it on Facebook, Whatsapp, Telegram and Twitter. There are buttons below for this (easy to use too)!
Copyright Warning!
Contents on this website may not be republished, reproduced, redistributed either in whole or in part without due permission or acknowledgment.
.
Proper acknowledgment includes, but not limited to (a) LINK BACK TO THE ARTICLE in the case of re-publication on online media, (b) Proper referencing in the case of usage in research, magazine, brochure, or academic purposes,.
.
All contents are protected by the Digital Millennium Copyright Act 1996 (DMCA).
.
We publish all contents with good intentions. If you own this content & believe your copyright was violated or infringed, please contact us at [infoguidenigeria@gmail.com] to file a complaint and we will take necessary actions immediately.