How To's
How To Become A Professional Makeup Artist In Nigeria
How to become a professional makeup artist in Nigeria is written as a guide on getting involved in the constantly metamorphosing make up industry.
This article provides informative details on how to be part and beneficiary of this ever evolving industry. Makeup is a part of Nigeria creative industry which is currently witnessing a boom as a result of the dearth of employment opportunities from the government.
👉 Relocate to Canada Today!
Live, Study and Work in Canada.
No Payment is Required! Hurry Now click here to Apply >>
Immigrate to Canada
Makeup in my own words is simply the act of enhancing looks. While some people, especially ladies hire the services of a professional makeup artist for special occasions like weddings, photo shoot and other formal events, others use on set of television, fashion shows, film sets to enhance the looks of their specific characters and generally to make people look good on television and cameras.
Read Also: How to start cosmetics business in Nigeria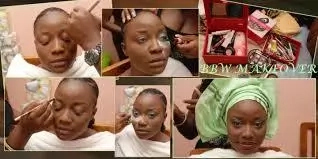 It involves the use of cosmetics to enhance, alter or cover natural looks and appearances.
Some of the best Makeup artists in Africa are Nigerians.
Notable key players in the industry are Banke Meshida of BMPRO who has been in the industry for over two decades, Tara Durutoye of House of Tara who has also been in the industry for almost as long as Banke.
These two ladies are like pioneers of professional makeup artistry in Nigeria. Other notable ones include Bimpe Onakoya, Jide of St. Ola, Bola little Nerfertiti, DaveSucre, and very many others.
How Lucrative is Professional Make-up Artistry in Nigeria?
I will simply respond to this question by asking you to look up the professional makeup artists in Nigeria, the longevity of their businesses and rate at which they work. It is impossible to depend fully on Makeup business as a sole means of survival.
The cost of bridal makeup alone ranges from thirty to over a hundred thousand naira. Make up for film and television, fashion shows and celebrity make over are not cheap either.
Read Also: Top 15 Fashion Blogs in Nigeria
👉 Relocate to Canada Today!
Live, Study and Work in Canada.
No Payment is Required! Hurry Now click here to Apply >>
Immigrate to Canada
Opportunities In The Make-Up Business
MakeUp For Film and Television: the film industry in Nigeria is the third largest in the world after Hollywood and Bollywood.
It is a thriving sector that has created countless job opportunities for very many Nigerians from all technical spheres including makeup.
One of the most prominent professional makeup artists for film and television in Nigeria is Jennifer Alegieuno whose brand name is JBeautyfull.
There are many others and there is still room for more. Makeup in this sector is precise and very different; it aims to create believable characters as portrayed in their productions.
A professional makeup artist in this industry must work in sync with the director and producer on set to create special effects and to create a connection between live actors and the fantasy world.
MakeUp For Fashion Shows: the services of a professional makeup artist are also required on the runway. In Nigeria, a lot of makeup artists like MaryJane Ohobu of zaron, Bimpe Onakoya and Dodos are always part of the annual Lagos fashion week.
As a good makeup artist for fashion shows, you must understand the application of makeup on different skin colors and fabrics, your role is to transform a fashion model into a work of art, sync with the photographer and the theme of the show.
This is another underlying opportunity market for professional makeup artists in Nigeria.
Bridal Makeup: this is another vast market for makeup artists.
Banke Meshida is one of the most renowned bridal makeup artists in Nigeria who has made quite a good fortune from it. She was responsible for the good looks of Alhaji Aliko Dangotes daughter who recently got married. There is a lot of money here if you can properly harness you skills and be extra creative.
Read Also: Top 15 Modeling Agencies In Nigeria
How To Become A Successful MakeUp Artist
Knowledge Required
To become a successful professional makeup artist in Nigeria, you need to have the creative ability. Lack of creativity will limit you invariably because makeup is an art and art is all about creativity.
Read books, watch videos and start by practising in bits. Next, get professional training. Makeup gurus mentioned above all offer trainings.
The House of Tara, BMPRO, Bimpe Onakoya, Zaron cosmetics all offer training courses that you will very useful. Where one is limited by funds, you can volunteer with a professional makeup artist close to you as an intern.
You also have the options of volunteering to movie producers and fashion designers to handle the makeup on their film sets and shows.
Equipment Needed
A professional makeup artist must not compromise when it comes to his or her work tools. Quality tools and products implement your skills in the same vein low quality products and tools will ruin and discredit your efforts.
Your applications become better by merely using quality brushes and pigmented products. You will need about eight basic brushes that include: Foundation brush, Concealer brush, Fluffy powder brush, Blush brush, small blending brush, flat eye shadow brush, precision angle brush and lip brush.
You also need an array of makeup products like lipsticks and glosses, eye shadows, blushes, lip liners, concealers, foundation, powder, primer, mascara and many other products.
Which can reputable makeup brands like Zaron cosmetics, Glam's Cosmetics, BmPRO cosmetics, House of Tara cosmetics, Maybelline, Mac, Flori Robert, LA Girl and classique amongst others.
Take out time to find these brands on other social media pages and websites like www.glamsnigeria.com, www.zaroncosmetics.com, www.lagirlnigeria.com To make it easier you may register as a distributor with some of these brands to enable purchase at bulk rates and makes you exclusive to certain promos. You need a makeup box as a freelancer.
Read Also: How to start cosmetics business in Nigeria
Make-Up Studio Equipment
For parties interested in running a studio, you will need: Mirrors, good lightning, a table or two, chairs, a sink, cleaning materials and a good supply of electricity. Some of these equipments can be found on jumia.
Location
As a freelancer, you can work from home and meet up with clients at designated locations. Operating a studio however means finding a good and accessible location where you can be seen and reached with ease.
Funding
You need adequate fund to finance your training and purchase all your tools. Carry out research on what you need and source for funds accordingly. You can apply for loans in a micro finance bank like the consumer micro finance bank.
Find a suitable name for your studio and register with the corporate affairs commission and other relevant bodies within your location.
Management Tips
Running a makeup studio means hiring extra hands. It is okay to let in interns, who you can train and have them work for your under duly signed contractual terms. As a freelancer, you don't need so many hands. One person is okay to move around with.
Marketing Tips
There is quite a good number of makeup artists and upcoming ones already in the industry. The competition is stiff; you have to work a hard at putting your work out there for prospective clients and making contacts.
You can offer discounted promos for brides and birthday make over, make good use social media: YouTube, instagram and face book are ideal for posting pictures of your work.
Read Also: How To Produce Body Cream In Nigeria
Conclusion
Make-Up is exciting, interesting and sometimes fierce. In times like these where is essential to learn a skill in addition to bagging degrees, makeup is an interesting, marketable and durable skill that cannot be ignored.
👇👇👇👇👇
Immigrate to Canada Via Job Offer!
Get latest Jobs in Canada for foreigners with visa sponsorship 2023 and how to apply. Don't miss this opportunity that can help you relocate to Canada with your family.
👇👇👇👇👇