Business
6 Steps to Start Zoo Business in Nigeria
Here in this post, we are going to bring to you detailed guide on the steps to start zoo business in Nigeria. We hope you find this post invaluable.
Business Overview of Zoo Business in Nigeria

There are lots of people who love wildlife and the site of it. There are also those who go to a zoo just for the fun of it, seeing the animals move about in their cages, especially monkeys, tigers, lions and the kangaroos, they are always a sight to behold.
The zoo is a place where various kinds of animals are kept for sight-seeing. But unfortunately, in Nigeria we have few numbers of zoos in Nigeria.
Read Also: 8 Steps to Start a Video Game Business in Nigeria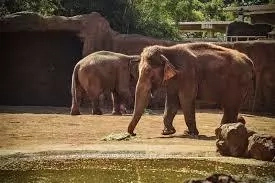 Due to poor management and lack of care for the animals put in the zoo, most zoos are outdated and not operational anymore, also because the relevant authorities responsible for the overseeing of this venture neglect their duties.
But on the good part, doing a zoo business will be profitable and attract a lot of customers. It is a great investment on the part of tourism in the country.
Trying to do something for the nation and not just waiting for the government to implement laws and create avenues for tourism and sight-seeing, you can take a step towards this venture and start reaping profits little by little.
Profitability of the Business
On weekends and Public Holidays, people look for recreation spots or places where they can go out to have a good time, if there were probably zoos around, they would be a great option instead of just going to eateries to eat and just relax, but there are still people looking for places where they can look at some wildlife and be pleased, especially kids. So the possibility of you making some money from the business is actually endearing.
Read Also: 11 Steps To Start Your Own Business in Nigeria
Popular Zoos in Nigeria
There are some very notable zoos in Nigeria which are run by Government and some run by a group of investors.
We have the Audu Bako Zoo in Kano which was established the military governor then of Kano State in 1972. It is managed by the Kano State Zoological & Wildlife Management (KAZOWMA).
There is also the National Children's Park and Zoo which is at Asokoro, Abuja which also holds a variety of animals.
There is also the Jos Wildlife Park in Plateau State.
In Lagos, there is Omu Resort in Lekki.
These are but the few notable operational zoos in Nigeria.
Opportunities Available
There may not be really enough customers or patrons with this business here in Nigeria unlike how it is a profitable business in America and Europe.
But if you could put in a lot of resources into management and resources to bring out the best of this venture, it would pay well. What such a business needs is the availability of species of different animals which people do not just see on a normal day.
For the fact that there are just few zoos present in Nigeria and operational, you could seize the opportunity to make something out of this business venture.
As for competitions, there will be very few competitions in this business as there are just a few handy zoos in Nigeria. You can use the opportunity to open your own zoo from a small scale but with the necessary animals which people want to see.
Not just any animal we see every day. Like a zoo which has donkeys or horses may not attract customers. But when there is a hyena, Lions, Cheetahs, Kangaroos, Zebras, Reindeer etc, all these are animals seen only on the National Geographic Channel, but once these animals are made ready at your zoo, you are sure to attract a great lot of viewers to your zoo.
How to Start a Zoo
1. Knowledge and Experience
This is needed by anyone who wants to start up a zoo. You must have studied zoology in the university or maybe run an internship at an already existing zoo, to enable you run the zoo effectively well, because poor management leads to a business rundown of some zoos.
You need sufficient knowledge about animals and their behaviours so you would know when they are in perfect condition and when they are not, so as to enable you have them checked and treated in case of any problems.
Read Also: 11 Steps to Start Tissue Paper Business in Nigeria
2. Make your Zoo Business Plan
This will be the next thing for you to do, as this will help you to select your animals you will need, also plan your staffing, finances, spending and decide on how you want your zoo to be operated. It will also serve as a guide for your business to enable you to make future projections and profit analysis.
3. Acquire a suitable Location
Now you have to get your location before acquiring your animals because you will not leave them just anywhere to roam without proper care and shelter.
You should be able to get a wide expanse of land just far away from human activities. You will need a remote area for these as this would tally with the living style and conditions of the animal living. So a large expanse of land in a remote area will be conducive for your zoo and its animals.
4. Get your Equipment and Facilities
Now you will have to equip your zoo and get the necessary facilities to enable you to contain your animals, like cage houses and other necessary facilities. Water supply is also necessary for a zoo as the animals need water to survive too.
5. Get your Animals
This is the great task of the business, as getting animals of different species and kinds are not easy. Most zoos do get their animals from illegal poachers or hunters who hunt these wild animals to supply to those who need for their own leisure.
But it is advisable to get these animals from reputable zoos. Either from South Africa or the U.S.A as these countries boasts of different types and kinds of animals.
You can approach them and purchase animals from them. Why this is the greatest task of all is because it would involve a lot of money to transport these animals and take care of them while on the road and settling them in their new homes.
Read Also: 7 Steps To Start a Lottery Business In Nigeria
6. Business Name registration and Operating License
After getting your animals and you are about to start, you have to get the license to operate a zoo in your state or country.
You will have to register with the Corporate Affairs Commission (CAC) to get the license to your business name. Also, you will have to go to the Zoological Society of Nigeria to know what will be needful for you to get a license to start operating your zoo.
As getting of this permits and license may take some time to approve by these bodies but it is necessary to make your business legal. Once this is done you are then able to start your zoo business.
Funding
Getting funds to start this business is actually a huge task cause you may need up to 10million naira to get your zoo running, equipping it and getting the necessary facilities.
You should consider getting a loan from a bank to add with your existing capital because it is necessary to have your own money and use a loan to augment your capital.
There are various banks which can assist you with loans, so far as you are able to abide by their terms and provide the necessary requirements.
Marketing Tips
In order to make good sales and create awareness of your business within your area and even Nigeria at large, you will need to make a grand opening of your business and also make good advertisements on radio and TV stations also on Billboards.
As this will enable you create a lot of awareness and make people know about your zoo. Also, make attractive and affordable prices. Starting at a price of #500 per adult and #200 per child is good enough for a start.
Also get staffs that have ample knowledge about animals so they can serve as guides to the customers.
Management and Staffing
Where you have to put in more attention is the aspect of management and staffing. A zoo is a fragile business which can fold up if not managed properly, so you have to get the right staffs which are appropriate to help in the running of the zoo.
Basically, you may need to have the following:
A zoologist
A veterinary Doctor
Zoo guides
Zoo attendant
Animal caregivers.
These are basically what you will need to start up your zoo to an extent.
Read Also: How To Start A Food Stuff Business In Nigeria
Conclusion
Starting a zoo business is actually time-consuming and costly to star, because getting the necessary animals and staff and the transportation of the animals, acquiring of the equipment and facilities do take a lot of time and money.
It is not a type of business for a salary earner because it would consume all you earn and even your savings. But anyone that wants to start this business should probably start with the few available animals you can get around. It is a good business though to boost the tourism economy of the country or state.
Click here to see the latest
work from home jobs
Click here to see the latest
Jobs opportunities in Nigeria
.
Click here to Join
Recharge and Get Paid
Click here to Read Latest School News in Nigeria
Copyright Warning!
We work really hard and put a lot of effort and resources into our content, providing our readers with plagiarism-free articles, original and high-quality texts. Contents on this website may not be copied, republished, reproduced, redistributed either in whole or in part without due permission or acknowledgement.
Proper acknowledgement include, but not limited to (a) Proper referencing in the case of usage in research, magazine, brochure, or academic purposes, (b)"FAIR USE" in the case of re-publication on online media. About possible consequences you can read here: What are the consequences of copyright infringement? In an effort to protect our intellectual properties, we may report your website to Google without prior notice and your website be removed from search engines and you may receive a strike. All contents are protected by the Digital Millennium Copyright Act 1996 (DMCA).