Here in this post, we are going to show you steps to produce powder in Nigeria. This knowledge can empower you and make you become self-reliant in the powder-making business.
Well, did it just occur to you, that as simple and commonly used the powder is, you do not have the slightest knowledge on what its production entails and even the ingredients used in producing it?
You know, I honestly think that beyond unfavorable government policies and economic situations, one huge problem we have to overcome as Nigerians is our lack our inquisition and ability to think explosively.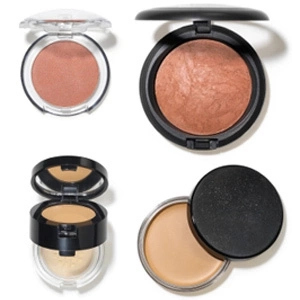 Read Also: 7 Steps to Produce Powder Detergent in Nigeria
There quite a few very little stuffs we cannot do without in our day to day life, producing them doesn't cost much and has a large number of prospective customers and target market.
Face powder, like I'll prefer to refer to it through our discussion in this article, is a cosmetic powder applied to the face basically for beauty and fashion purposes and to set a foundation for application of other beauty products. Face powder is also used in saloons; barbing saloons particularly, that's a huge business idea.
Having to supply all barbing saloons in your vicinity face powder at their comfort, helping them save the hustles and bustles of going to the market.
The dusting powder is a special type of medicated powder and is sometimes preferred to normal face powder especially in the treatment of rashes, diaper irritation and a few other skin diseases or reactions.
Hence, this article would focus on the production of both normal face powder and dusting face powder. However, we fully commence the lessons in full, it is important to note that a good powder should cover skin imperfections; pimples, eczema or even mild deformations and it must be the right colour for the skin.
It must also serve the purpose of absorbing sweats and oily sebum deposits and should be able to remain on the skin for a reasonable period of time.
Read Also: How to start cosmetics business in Nigeria
Production Of Face Powder
Necessary Ingredients For The Production Of Face Powder
Talc Powder: This is virtually the active ingredient in the production of face powder and it makes up about seventy percent (70%) of the powder. It is commonly known as talcum powder; is a clear or dusty luster and is translucent to opaque. It is used in many industries such as pulp and paper, paint and coatings, food, rubber, ceramics, pharmaceuticals and cosmetics.
Zinc Oxide: This is a white powder with the formula ZnO. It serves as a protective coating for mild skin irritations. Zinc oxide is also helps in preventing sunburn and tanning.
Kaolin: The creamy clay-like substance has an excellent covering power, absorbs oil and reduces the slight sheen produced by talc. However, because of its inability to slip, it may feel harsh on the skin and hence, should not be used in a large proportion.
Calcium carbonate: White chalk, CaCO3, has excellent absorbing properties and covering power. It also helps reduce the shine effect caused by the talc.
Magnesium carbonate: MgCO3 is often used to absorb the perfume before adding it to other mixed ingredients.
Calcium silicate: Calcium silicate is usually white or slightly cream coloured. It has an excellent water absorption property.
Starch: The use of starch in the production of face powders must be thoroughly and carefully done as it readily cakes in the presence of moisture and once sticky, it reduces the effectiveness of the powder and allows bacterial growth. As a matter of fact, most producers prefer to stay away from starch in the production process as its function is not too distinctive and could be performed by some other ingredients.
Read Also: How To Start A Makeup Business In Nigeria
Titanium oxide: This is usually a white inorganic pigment. It gives the characteristic colour to the powder and could be replaced by other colourants in the production of coloured powders.
Perfume: A good perfume should have an awesome scent and provide good fragrance too.
Menthol Crystals: Menthol is an organic compound made synthetically or obtained from corn mint, peppermint, or other mint oils. It is a waxy, crystalline substance, clear or white in color. It has local anesthetic and counterirritant qualities and is used only in the production of dusting powders.
Industrial Camphor: Camphor can be found in local shops in Nigeria and is produced by using special extracts of a tree. It also serves as an antimicrobial agent in the production of face powders. It is also a specific ingredient for making dusting powders.
Recipe
Talc powder – 650g
Zinc oxide – 200g
Kaolin – 50g
Calcium carbonate – 150g
Magnesium carbonate – 50g
Calcium silicate – 50g
Titanium oxide – 50g
Perfume – 100ml
Menthol crystals – 1 or 2 spoons
Industrial camphor – 1 or 2 spoons
Read Also: 8 Cosmetic Ingredients Sourced from Animal Products
Production Of Face Powder
First, grind all the ingredients separately to a powdery form.
Heat the talc and kaolin gently and warmly in an air tight container, and then, allow to cool.
Measure the required quantity of calcium carbonate, zinc oxide and talc powder in a bowl or container and mix very well.
Use a white filter cloth to sieve the mixture, removing all stoning particles contained in the mixture.
Add other ingredients as required to the mixture and mix properly.
In case of production of dusting powder, add the menthol and industrial camphor to the mixture and mix well.
Add perfume of your choice to the mixture until the scent disperses evenly across the mixture.
Finally, package your powder attractively.
That's just eight simple steps away from being your own boss. Basically, you would notice that production of these essential stuffs we have been talking on lately, are usually within the range of five to eight steps. They are actually not as difficult as we assume they should be. What then should be hindering us from utmost maximization of these opportunities?
Read Also: How To Become A Professional Makeup Artist In Nigeria
Do give a try, sometimes; the most difficult step we actually need to take is the initial step in taking a new decision. Like Newton's first law of motion, that idea or strategy will remain in your mind or unrealistic until it is acted upon by an external force of propelling it to finally becoming. Another cheer to an amazing blooming business opportunity knocking at your doorstep.
⚽ Start winning football betting today!
👉 Get correct FREE GG and Over 2.5 football prediction tips. Click here to join
.
👍Showcase your business here!
With over 1M unique users per month across all channels, we have a large audience for you to showcase your products and services. Simply get in touch via 👉 marketing@Infoguidenigeria.com.
🤑 Make Money now!
👉 Make money writing for us. Apply for Freelance writing jobs in Nigeria.
👉 Make Money as InfoGuideNigeria Advertising Agents, read more here
✍️ Be Our Guest Publisher!
Do you have a press release, breaking news,  or any other helpful information to share with our growing readers? If yes, send your article to 👉 infoguidepr@gmail.com.
We will be glad to publish it if the information is useful to our audience.
.
This post can be helpful to somebody else, please share it on Facebook, Whatsapp, Telegram and Twitter. There are buttons below for this (easy to use too)!
Copyright Warning!
Contents on this website may not be republished, reproduced, redistributed either in whole or in part without due permission or acknowledgment.
.
Proper acknowledgment includes, but not limited to (a) LINK BACK TO THE ARTICLE in the case of re-publication on online media, (b) Proper referencing in the case of usage in research, magazine, brochure, or academic purposes,.
.
All contents are protected by the Digital Millennium Copyright Act 1996 (DMCA).
.
We publish all contents with good intentions. If you own this content & believe your copyright was violated or infringed, please contact us at [infoguidenigeria@gmail.com] to file a complaint and we will take necessary actions immediately.