How To's
How to Produce Rat Killer in Nigeria
Here in this post, we are going to show you a detailed guide on how to produce rat killer in Nigeria. This information is useful if you want to become self-reliant and independent.
Soo le, ogun ekute… O npa ayan, o npa eku… Gbogbo eku ile yiin ti r'ogo ooo (Just drop it, rat killer, it kills insects and rats, all the rats in your house are in soup).
Hahahaha, I laugh hard when I hear rat killer vendors advertise their products to passersby on the street, passengers at the bus stop, or even at strategic populated social gatherings.
Read Also: How to Clean Bathroom Tiles Naturally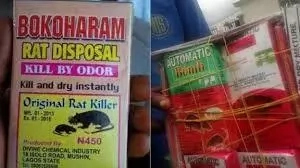 But come to think of it, have you ever had those terrible neighbours and flatmates for quite a long time? They eat up your entire foodstuff, your provisions are not safe and everything in your own house is placed at the owner's risk.
Some are even as frustrating as watching TV with you in the living room, embarrass you in the presence of your visitors when they start their numerous hanky-panky games during the broad daylight and wait till you raise your hands on them before they run.
Read Also: 10 Most Popular Chemical Importers in Nigeria
Sometimes, to me, I feel if we could probably read their minds (if they at all have one), we would laugh out hardly at the terrible plans and frustrations they have in store for us.
Only last Saturday, a market woman was explaining how the rats in her house opened her pot one terrible night and got quite a chunk of the meat in it.
Unbelievable right? But it is strangely true! The rate at which they reproduce is another huge topic that can probably irritate anyone who has experienced this scenario.
Today, you have two rats, in a few weeks; you have a community of rats already having their landlord association in your kitchen and some having their family meetings in your room. Gosh! I don't want to explain further. Reminiscence on these scenarios just wants to make me cry right away. #lol!
There are a thousand and one methods that have been devised to eradicate these rats in your house; my comic relief rat killer vendors sell the soo le rat poison, many people use indocine tablets, rat trap, rat gum-books and the biological method of keeping a cat pet to devour the rats.
Well, the latter is not an option for many as they can't stand the sight of a cat as well and sadly, some former methods are not too healthy for inhalation at home, using a rat trap or rat gum-books at home with toddlers can be really risky too. How then can we get rid of these little devils?
Let's look into how to produce homemade rat poison that is much safer for home use without necessarily using commercial rat poisons which contain toxic chemicals that pose a risk to humans and domestic animals.
I'll be taking you through three (3) effective methods and then, you choose which would suit you considering the ingredients available around you. All methods do you make use of harmful or toxic ingredients.
Method 1
Ingredients:
Plaster of Paris (1/2 pound i.e. about 225 grams)
Cornmeal (1/2 pound)
21/2 – 5 cups of milk (about 0.5 – 1 litres)
Read Also: Steps To Produce Powder In Nigeria
Procedures:
Mix about 225 grams of the Plaster of Paris with the same measurement of cornmeal in a large bowl. The Plaster of Paris can be bought at craft or hardware stores. It is a dry powder made of gypsum that when mixed with a liquid, thickens and eventually hardens.
Add about half to a liter of milk. You can add more mil if clumps of the cornmeal or Plaster of Paris are still dry.
Use your hands to knead the mixture into dough.
Break the dough into little chunks and roll into balls.
Place the balls behind the fridge, inside cupboards, under the stove or cooker, or strategic places where you notice their activities.
Magic! All you have to ensure is that they have a bite of this appealing rat killer and oops, they're gone.
Method 2
Ingredients:
Plaster of Paris (1/2 pound i.e. about 225 grams)
Instant potatoes (or sufficiently cooked and mashed potatoes)
Cinnamon
1 cup of water
Procedures:
Mix a package of instant potatoes and half pound of Plaster of Paris in a large bowl.
Add a dash of cinnamon to the mixture.
Add a cup of water (about a quarter liter) to the mixing bowl.
Stir the concoction mixture and pour it into small bowls of empty tins.
Place bowls or tins in strategic rat hide-outs.
Magic! All you have to ensure is that they have a bite of this appealing rat killer and oops, they're gone.
Read Also: How to Make Money From Home Cleaning Service
Method 3
Ingredients:
Flour (1 cup – about 125grams)
Baking soda (1 cup – about 125grams)
Sugar (1 cup – about 200 grams)
Procedures:
Mix a cup of flour with a cup of baking soda in a large bowl.
To the mixture, add a cup of sugar and stir sufficiently.
Pour the mixture into shallow containers that assures that the rats can reach it.
Place at strategic rat hide-outs.
Magic! All you have to ensure is that they have a bite of this appealing rat killer and oops, they're gone.
Besides the adverse health risks of the commercially sold rat killers, it is obvious that in most cases, rats avoid them due to their strong odour and smell.
If I serve you an orange juice in a glass cup and it looks really black. You try to take it closer to your mouth, and its smell isn't familiar either.
You get confused right? 'This ain't a glass of orange juice', you'll most likely say to yourself. I bet you won't dare take a gulp or even a sip of the so-called juice.
That's how it appears to these rats too. The poison smells and looks so strange to the normal food staples they've been gallivanting on.
Read Also: 6 Steps To Produce Waterproof In Nigeria
The methods stated above are very effective because they make use of normal food staples that do not seem strange to the rats and also have good smells that do not push the rats away.
So, let's toast to a good life without our old flat mates and neighbors. What an interesting and stress-free life it will be!
Buy and Sell Bitcoin in Nigeria - Register for free on Luno
Click here to see the latest
Study Abroad Scholarships and Guides
Click here to see the latest
Jobs opportunities in Nigeria
.
Copyright Warning!
We work really hard and put a lot of effort and resources into our content, providing our readers with plagiarism-free articles, original and high-quality texts. Contents on this website may not be copied, republished, reproduced, redistributed either in whole or in part without due permission or acknowledgement.
Proper acknowledgement include, but not limited to (a) Proper referencing in the case of usage in research, magazine, brochure, or academic purposes, (b)"FAIR USE" in the case of re-publication on online media. About possible consequences you can read here: What are the consequences of copyright infringement? In an effort to protect our intellectual properties, we may report your website to Google without prior notice and your website be removed from search engines and you may receive a strike. All contents are protected by the Digital Millennium Copyright Act 1996 (DMCA).