Depression is something that can hit you when you least expect it and if you've ever had to face that, then this guide is for you.
The National Institute of Mental Health (NIMH) describes depression as a common but serious mood disorder. It is a continual problem, not a passing one, the average length of a depressive episode varies between 6 and 8 months. This state is different from the fluctuations in mood that we all experience as a part of a normal and healthy life.
If you've ever had problems dealing with depression, then here are a couple of things you should know first and foremost.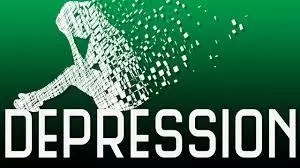 a. It is a real illness.
b. Different people are affected differently.
c. It is treatable.
d. If you have depression, you are not alone
Signs and Symptoms

a. A feeling of helplessness and hopelessness: Associated with a bleak outlook on life.
b. Loss of interest in activities: A complete disinterest in daily activities that you once enjoyed.
c. Weight Changes: There is usually an increase or decrease in weight.
d. Sleep Changes: Either insomnia or oversleeping
e. Anger or Irritability: Feeling agitated, restless, or even violent.
f. Loss of energy: Feeling fatigued, sluggish, and physically drained.
g. Self-loathing: Strong feelings of worthlessness or guilt.
h. Reckless Behaviour: You engage in escapist behaviour such as substance abuse, compulsive gambling, reckless driving, or dangerous sports.
Types of Depression

Depression comes in various ways and knowing the type that you have can help you recognize the symptoms and getting effective treatment.
1. Major Depression: This is less common and accompanied with severe symptoms that affect ability to eat, sleep, study or work.
2. Dysthymia (mild, recurrent depressions): A type of chronic, low grade disorder. More often than not you feel mildly depressed although you may have brief periods of normal moods. Usually lasts a long time (at least two years)
3. Seasonal Affective Disorder(SAD): SAD affects about 1% to 2% of the population, particularly women and young people. Occurs during seasons of less sunlight such as winter months.
4. Bipolar Disorder: is different from depression. The reason it is included in this list is because someone with bipolar disorder experiences episodes of extreme low moods (depression). But a person with bipolar disorder also experiences extreme high moods (called "mania").
Factors that make you vulnerable to depressive episodes
1. Loneliness and isolation
2.Lack of social support
3. Recent stressful life experiences
4. Family history
5. Marital or relationship problems
6. Financial strain
7. Early childhood trauma or abuse
8. Alcohol or drug abuse
9. Unemployment or underemployment
10. Health problems or chronic pain
Tips For Dealing With Depression
Below are a few tips that can help you deal with depression;
a. Try to be active and exercise: When you're depressed, just getting out of bed can seem daunting, let alone exercising.
But regular exercise can be as effective as antidepressant medication in countering the symptoms of depression. Take a short walk or put some music on and dance around. Start with small activities and build up from there.
b. Cultivate a healthy eating diet: Reduce consumption of foods that can adversely affect your moods, such as alcohol, caffeine,sugar and refined carbs. Increase intake of food containing mood enhancing nutrients like Omega-3 fatty acids (fish, walnut, egg yolks).
c. Set realistic goals for yourself.
d. Try to spend time with other people and confide in a trusted friend or relative.
e. Try not to isolate yourself, and let others help you.
f. Expect your mood to improve gradually, not immediately.
g. Postpone important decisions, such as getting married or divorced, or changing jobs until you feel better. Discuss decisions with others who know you well and have a more objective view of your situation.
h. Continue to educate yourself about depression.
i. Seek professional help
j. Lastly if you are the religious type, praying can be a helpful way of dealing.
🤑 Start making money from home today!
👉 Get correct FREE TIPS and Guides on how to make money from home today. Click here to start
.
👍Showcase your business here!
With over 1M unique users per month across all channels, we have a large audience for you to showcase your products and services. Simply get in touch via 👉 marketing@Infoguidenigeria.com.
🤑 Make Money now!
👉 Make money writing for us. Apply for Freelance writing jobs in Nigeria.
👉 Make Money as InfoGuideNigeria Advertising Agents, read more here
✍️ Be Our Guest Publisher!
Do you have a press release, breaking news,  or any other helpful information to share with our growing readers? If yes, send your article to 👉 infoguidepr@gmail.com.
We will be glad to publish it if the information is useful to our audience.
.
This post can be helpful to somebody else, please share it on Facebook, Whatsapp, Telegram and Twitter. There are buttons below for this (easy to use too)!
Copyright Warning!
Contents on this website may not be republished, reproduced, redistributed either in whole or in part without due permission or acknowledgment.
.
Proper acknowledgment includes, but not limited to (a) LINK BACK TO THE ARTICLE in the case of re-publication on online media, (b) Proper referencing in the case of usage in research, magazine, brochure, or academic purposes,.
.
All contents are protected by the Digital Millennium Copyright Act 1996 (DMCA).
.
We publish all contents with good intentions. If you own this content & believe your copyright was violated or infringed, please contact us at [infoguidenigeria@gmail.com] to file a complaint and we will take necessary actions immediately.