The reasons why you should start a web design business in Nigeria are quite enormous. This is a lucrative business because almost everybody in the country needs a website and the service of a web designer.
Starting a web design business requires a great deal of intelligence, hard work, tenacity as well as great visions to maintain your goals.
👉 Relocate to Canada Today!
Live, Study and Work in Canada.
No Payment is Required! Hurry Now click here to Apply >>
Immigrate to Canada
Web design business is a service-oriented one and you will face a few challenges while relating to your clientele. In Nigeria today, a lot of people are looking forward to having their own website.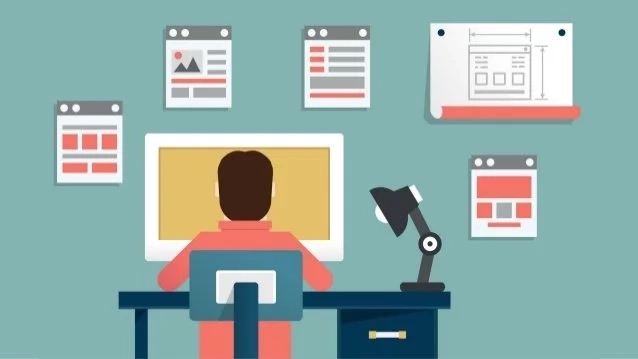 This desire to have a website is not limited to companies alone but also individuals that want to showcase their businesses to the world. So, Nigeria is a good place for you to do your web design business.
Read Also: How to Become a Professional Digital Marketer in Nigeria
Profitable Places To Do Web Design Business in Nigeria
Although, anywhere you desire to have your business center is good for you, there are some industrial areas where you can site your business and make more money than other places in Nigeria.
We suggest Lagos, Abuja, Port Harcourt, Kano, Kaduna et cetera. These are the areas where many companies are located too. Most companies often create a website for any major programme they want to hold.
In these areas, there is a handful of young entrepreneurs who are willing to have their businesses grow. People in these areas know the importance of your service and they can pay you very well.
Typical Structure Of Web Design Business In Nigeria
You may decide to site your business premises in the city where you can get people informed of your office to make web designing request.
👉 Relocate to Canada Today!
Live, Study and Work in Canada.
No Payment is Required! Hurry Now click here to Apply >>
Immigrate to Canada
By operating from your office, your clientele should be able to get the best service because they believe in you. They must have asked their friends questions about whether you should be chosen or not.
They believe that they can come to your office at any time to lodge their complaints.
Another mode of operation in web design business is doing your service online. While doing your business online, you need a number of tools for effective delivery of your service.
Tools Needed for Web Designing Business In Nigeria
1. A Website
You need to create a website where your clientele can visit. This is very essential. In your website, you should allow your clientele to apply for services and be able to communicate with you effectively.
You should make sure that there is auto-reply messenger or chat feature on your website so that your clientele will feel safe, that you are with them.
Read Also: How to Create Business Website using WordPress even without Web Design Skills
2. Good Computer Systems
As a web designer, you must have good computer systems that can function for hours even if there is no electricity. This should include laptops and desktop computers.
3. Active Email Address
You need an active email address to communicate with your clientele. Make sure that you respond to your clients early.
If their emails are not responded early, your clients might think that you are either not serious or unavailable for the business.
4. Have Active Social Media Accounts
Communication is essential in web designing business. As such, you need to create accounts, with your company name, on the social media so that people will follow you and your business in the social media.
Read More: 6 Tips to grow your business using social media
Fund & Capital Requirements to Start Web Design Business
You do not need much capital to set up your web design business in Nigeria. If you do not have money to rent an office, you can design a website for yourself and relate to your clientele online.
1. Software & Tools For Web Design
There are several software that can enhance your performance as a web designer. This software will help you to deliver early. Some of them are:
2. WordPress
WordPress is a content management system (CMS) used for developing both static and dynamic websites. It can be used to design any kind of website.
All that is required is to install WordPress on a web server, configure it and in a few seconds, your website is up and running.
3. Wix
This is a modern software for web design. It is easy to use and had beautiful and innovative features and apps. You can also create a website with wix.com. If you want to get this software on your computer, you must buy it online.
4. Squarespace
This is a design-oriented website builder that you can also install on your computer.  It gives you access to develop some templates to your own taste.
5. Weebly
This is another software for web design that you can install on your computer. You can purchase this online. It has some themes designed by experts that you can also develop.
Read Also: 16 Useful Content Marketing Tips for New Websites or Blogs
Knowledge Required for Web Design Business in Nigeria
1. Get A Degree In Web Designing
If you want to know the science of web design, you need to get a degree in this field.
If you want to get a degree in web designing in Nigeria, you need to write entrance exams and get admission into a tertiary institution via the Unified Tertiary Matriculation Examination (UTME).
Choose computer science or Computer Engineering while filling your form for the exam. You will spend about four-five years for this training.
2. Go For Internship
After your university degree, you still need to do internship programme with some reputable companies. Sometimes, they may not pay you very well at the start, but your focus is should be on the experience you will gain there.
During this internship period, you will be able to create websites for the company or companies. The essence of this is to get the much-needed experience in the profession and know how to relate to your customers when you start your own business.
3. Meet Other Web Designers
You can also rub minds with other web designers you know around you to get more experience.
Read Also: Top 10 Skills in High Demand in Nigeria Currently
Strategies For Beating Competitions & Opportunities For Sustainability in Web Design Business
If your business is in a cosmopolitan environment, you will be competing with other experts in the industry. The only thing that will make you stand out, attract more customers, is creativity in your work.
Another thing that will promote your business in a competitive area is the ability to deliver your work when your client request for it.
If you are serious about the business, a competitive environment is a good place for your business.
Advertisement Strategy for Web Design Business in Nigeria
You need to advertise your business especially when you are in a competitive environment where you have to convince the audience why they should choose you.
You can opt to advertise online than offline because a larger crop of people that need your service is always online.
e. You can advertise by yourself through your social media platforms or pay for ads online.
Read Also: 15 Ways to Do Online Advertising in Nigeria
Summary
Web design business is very lucrative in Nigeria or anywhere in the world. The world is now a global village and to a large extent, this has been achieved through the efforts of web designers.
If you want to survive as a web designer, you must be diligent, focused, and trustworthy every time.
📢

We are hiring writers!
Article Writing Jobs
- We are hiring good freelance writers -
Click here to apply
👇👇👇👇👇
Immigrate to Canada Via Job Offer!
Get latest Jobs in Canada for foreigners with visa sponsorship 2023 and how to apply. Don't miss this opportunity that can help you relocate to Canada with your family.
👇👇👇👇👇