Here in this post, we are going to show you detailed steps to produce salt in Nigeria. We hope you find this article informative and educating.
Overview of  Salt Production Business in Nigeria
Over millions of people use salt in Nigeria for cooking an also other purposes. Salt constitutes part of the everyday life of a Nigerian.
Nigeria also has a lot of locations where salt can be found especially in the Eastern region; Abakaliki to be precise. The state is also known as the salt of the nation due to the presence of salt in the area.
Read Also: How To Start Garri Production Business In Nigeria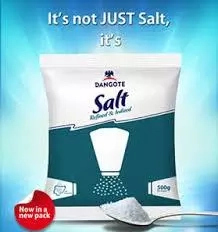 There are also some other places where salt I produced in Nigeria. For the fact that Nigeria has salt as a natural mineral created by God and deposited in the country makes us to be one of the producers of salt.
So if you may not know that going into the production of salt is a viable business, then you are missing out on good steady income. Even in the rural areas, the people residing here manufacture their own salt.
But the best form of salt is the manufactured and processed salt, because it goes through some processes which cleans and purifies the salt making it good for consumption and use in food.
How profitable to Produce Salt in Nigeria
Nigeria has a population of over 160million citizens across the 36 states. With this population, there is no person or individual who makes a meal without salt; this makes salt a wanted commodity by all.
If you are to target region of about 10million people living there, you are bound to make good sales every month by providing salt for all of them.
Read Also: How To Start Yam Flour production Business In Nigeria
Popular producers of salt
Around the 90s people were used to using the local salts until some companies ventured into the production and Packaging of salt; companies like Annapuna which came Intern the market with a popular advert then.
Dangote also produces salt till now, Also Mr Chef is also a producer of salt in Nigeria, although new but they have made a name for themselves as they specialize on the spices industry.
Opportunities in the business
Nowadays, people do not ask for a special type of salt, what they do want is a product that is affordable to them, also the market is not congested, there is always room for a new entry into the business.
Many people use salt probably on a monthly basis, a pack of salt is used, so sales are sure to be present if one goes into the business.
Target Market and competition
The primary target of salt production is homes which cook on a daily basis, restaurants and eateries which sell foods to a wide range of people. This is a business that makes sales at all times so you be a producer of salt definitely makes you a money maker.
Competition is definitely not too strong here because people do not really look at names of the salt producer but the finesse and quality of the product, so if you're able to give a good quality and a good price, you will d able to beat competition.
Steps to Produce Salt in Nigeria
There is basic information which you need to know to produce salt, which are:
1. Knowledge and Experience
For you to understand how the production works and what equipments suit the production you have to know more from an already existing producer of salt. Try to approach salt companies and ask for an internship program with them so you can learn the basics of the production.
Read Also: How To Start Bottle Water Production Business In Nigeria
2. Raw Materials needed
The raw materials needed to produce salt are Rock salts and Salt Brines. Try Rock salts are gotten from the Earth and the salt brine is water which contains salt crystals; these things are being passed through a process to get the refined salt. Most table salt is iodized in order to provide the trace element iodine to the diet.
This helps to prevent goitre, a disease of the thyroid gland. To supply iodine, a small amount of potassium iodide is added.
Table salt also contains a small amount of various chemicals used to keep the salt from absorbing water and caking. These chemicals include magnesium carbonate, calcium silicate, calcium phosphate, magnesium silicate, and calcium carbonate.
3. Equipments needed
There are some few types of equipment which are needed to mine the salt. The production of salt is of three types. Salt brine method, evaporation method and salt mining which entails the quarrying of the earth.
Most of these equipments are drilling machines for digging into the Earth and vacuum pans for holding the salt. But the most popular method is the Use of Salt brines method. Most of these equipments can be gotten on Alibaba website and most are imported from China and India.
4. Technology needed
The process of salt production and purification involves some technical know-how as for the operation of the machines. So a good operator is always attached to these machines to help with the controlling of the machine.
5. Procedure
This is a rather long procedure you can try by yourself but it will take time
The first step is to get you a lot of salty seawater. I used 5-gallon buckets with lids, but I've seen others use milk jugs (for smaller batches) and coolers (for larger batches).
Let your seawater sit for a while to allow any sediment and particles to settle.
Get your stockpot out and ready for the boil, then siphon or scoop water from the top of the container, careful not to disturb the sediment at the bottom, through a filter into your stockpot.
Use a dishcloth in a sieve for your filter, which will provide a good fine mesh to get out any sand or other particles
Read Also: Commercial production of cassava in Nigeria; 10 Tips to Succeed
The quickest way to turn your saltwater into salt is by boiling it. But be careful, you don't want to scorch the salt! Be prepared to spend all day in the kitchen with the stove on or use firewood to save money. When it is almost like wet sand, you are done with the boiling.
Then you will have to do another boiling but this time with a low heat so you don't burn the salt. So reduce the temperature of the fire and continue stirring it.
Then you will have to leave it again to boil, this is allowing the water to evaporate thereby leaving the salt behind, this will take a longer time, remember to still maintain the wet sand consistency.
Then the next part is the drying. You will use a large pan to spread out the sand and let it dry up, this will also take a longer time.
After this, whatever that is left after it must have dried up, is your salt. You can put it in a jar to preserve it.
N.B: This process could take you a week. This is why it is better to you use technological advanced equipments o produce salt. If you will not be patient enough for the salt process, it is better you buy your own salt or go into commercial production of salt. Besides, this process will have to be done with a large drum of sea water to get more salts.
6. Best Location
The best Location for you is a cool reserved area without disturbance; probably a place close to where your raw materials are will be better as to enable quick processing of the salt.
7. Funding
You could apply for a business loan from any commercial Bank, or from the Bank of Industry as they do consider loans for production of goods and services. It would cost you over 5million to start up your own salt factory
8. Business name registration/licensing
You will have to get registered by the corporate affairs commission to make your business legal and then get to know if there are any other regulatory bodies which you need to get license to operate or produce; like the SON and NAFDAC.
9. Packaging and Marketing tips
A good pack which attracts customers will be necessary for you to be able to please the customers. Get a pack that is transparent and shows your product clearly. Also a good and affordable price will boost your sales, so get a pack that shows the whiteness of your salt and with a good price, you are bound to have more customers.
Also do not forget the use of adverts, adverts on the various electronic media and social media will help to boost the sales of your salt.
Read Also: How To Prepare Bread
Conclusion
Making a good and clear salt which is healthy for human consumption is essential. Starting up a business like this will cost a lot but you are sure to make huge profits at the long run.
You could make this a life investment to bring you money when you retire. The production of salt is essential to growth of the economy, and if you can follow the procedure in the article, then you will be your own salt producer.
👍Advertise your business on InfoGuideNigeria.com!
From just N4,999 per month, you can advertise your products and services to over 1,500,000 users on our website. Click here to read more.
👇👇👇👇👇
Information is Power!
Don't miss any valuable information or opportunity that can change your life, business, and family positively and permanently.
👇👇👇👇👇
For Latest updates on News, Jobs & Business Ideas, and Opportunities.
Copyright Warning!
Contents on this website may not be republished, reproduced, or redistributed either in whole or in part without due permission or acknowledgment.
.
Proper acknowledgment includes, but not limited to (a) LINK BACK TO THE ARTICLE in the case of re-publication on online media, (b) Proper referencing in the case of usage in research, magazine, brochure, or academic purposes,.
.
All contents are protected by the Digital Millennium Copyright Act 1996 (DMCA).
.
The images, except where otherwise indicated, are taken directly from the web, if some images were inserted by mistake violating the copyright, please contact the administrator for immediate removal.
.
We publish all content with good intentions. If you own this content & believe your copyright was violated or infringed, please contact us  for immediate removal.
🤑 Start Making Money from home today!
👉 Get the correct
FREE FOOTBALL PREDICTION
TIPS
and
Guides
today.
Click here