Politics
Electoral Violence In Nigeria; History, Causes, Effects And Way Forward
In this post, we will discus the issues behind electoral violence in Nigeria. Here, you will see the history of electoral violence in Nigeria, factors responsible for electoral violence in Nigeria, effects of electoral violence in Nigeria as well as solutions to electoral violence in Nigeria (way forward).
Nigeria's political history has episodes of electoral malpractices which has become a tradition associated with politics.
This electoral malpractice is usually carried out with the use of violence by politicians to achieve their desperate ambitions for power.
Read Also: Election Rigging In Nigeria; Causes, Effects and How to Stop it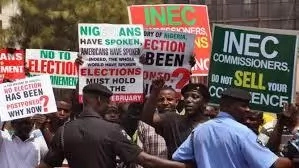 This arbitrary use of violence to usurp power makes a mockery of the principles of democracy which enshrine the franchise of the citizens to exercise their choice in what should be ideologically; a representative government of the people by the people.
The phenomenon has thrown the credibility of the electoral process to the mud and robbed the common citizen the trust in voting during election.
Election is the process of actualizing representative democracy. It is a means of peaceful change in leadership by the people.
It is a formal decision-making process by which population chooses an individual to hold public office. As a mechanism of democratic transition of government, the secret ballot box system has been preferable to the open ballot system in Nigeria.
Through this means, the sovereignty of the people's mandate is enthroned. Apart from being free and fair, transparency is a vital feature of any election.
An absence of these, question the validity of the outcome. Free here implies devoid of any form of electoral malpractice such as rigging which usually adopts violence as an effective measure.
Violence during election can manifest in various forms such as use of thugs to snatch ballot boxes, intimidation of voters, and disruption of electoral process with the use of weapons at the polling station, vandalization of electoral materials or any other form of physical assault.
Thus, electoral violence is any act of violence carried out in the course of political activities before, during or after election.
Read Also: 10 Causes of Cultism In Nigeria
History of electoral violence in Nigeria (Notable Cases) 
1. 2011 Presidential Election
Permit me to cite these cases in an un-chronological order. Perhaps because of the experience I personally had in 2011 about electoral violence which I still share some sentiments with.
The election which was held of 16th April, 2018, saw the emergence of People's Democratic Party (PDP) as the winner with the total vote of 22,495,187, followed by Congress Progressive Change (CPC) with total votes of 12,214,853, Action Congress of Nigeria (ACN) had 2,079,151, and All Nigeria People's Party (ANPP) had 917,012 and so on.
The outcome of the election caused havoc in the entire Northern states of Nigeria. As a Corp member serving in Gombe State and a Polling Assistant in Funakaya Local Government Area, I experienced the unedited mayhem which rocked Bajoga town on 17th April, 2018 as the election results were being announced.
With the glaring figures of People's Democratic Party (PDP) in about 19 states of the federation as at 8:00pm (GMT), the town went agog with chants; thick smoke engulfed the sky and shouts for help from different direction.
Few churches were burnt, the People's Democratic Party's house was vandalized, and the Independent National Electoral Commission (INEC) office was destroyed and other shops and property that were vandalized.
It took the intervention of the military from the Barracks at Gombe (the capital) to qualm the situation before we the corpers came out from the police station were we ran for safety.
The election witnessed violence across the entire Northern states simultaneously which recorded destruction of lives and property and another big loss to some Easterners trading in the North.
 2. 1992 Presidential Election
The presidential election which was held on 12th June, 1993 had the emergence of Social Democratic Party (SDP) as the winner with a total of 8,341,309 votes while National Republican Convention (NRC) scored a total of 5,952,087 votes.
However, with the annulment of the election which is considered as the most free and fair election in the history of Nigeria's politics by the then Military ruler, Ibrahim Babangida, violence erupted which led to destruction of lives and property and finally a coup that brought in Sani Abacha into power.
Causes of Electoral Violence
Here we will see the factors responsible for electoral violence in Nigeria.
1. Unemployment
Most of the youths used as thugs to carry out this violence are unemployed. The rate of unemployment in Nigeria is high.
The streets are full of graduates roaming about looking for job. This failure of the government in providing adequate job opportunities for the teeming population has been a major cause of most crimes in the society.
Unemployment can drive young people into doing dirty games such as electoral violence for money. The politicians take advantage of the financial circumstances of these youths and exploit them by using them as thugs.
Some of them lose their lives or wounded in the course of this violence. If the youths are gainfully employed, most of them will not think of risking their lives to perpetuate violence during election.
2. Failure of the Judicial System
The judicial failure to prosecute the perpetrators of electoral violence has continued to encourage the act. Violence during election is always sponsored by someone, usually one of the politicians contesting in the election that uses violence in places of less influence to destabilize the process.
In most cases the sponsors of the violence are known, but little or nothing is done about enforcing the law against them for bridge of peace and order.
Read Also: 10 Problems of Voters Registration in Nigeria and Possible Solutions
3. Wrong Mindset of Politicians
Politicians and political aspirants in Nigeria have a wrong mindset towards politics generally. They see politics as a do or die affair.
Such disposition affects their approach towards election which they try to win at all cost. The desperation and selfishness drives them into violence to achieve their political ambition.
4. Corruption
Corruption has eaten deep into our society. This is also seen in the electoral system where some officers also aid electoral violence.
Even some security personnel usually assigned to the polling units collect tips from party agents and politicians during election for them to execute their plan without interruption.
Effects of electoral violence in Nigeria
1. Destruction of lives and Property
One major effect of electoral violence in Nigeria is the loss of lives and property during such incidences.  Many innocent citizens that come to exercise their franchise can be victims of sporadic shooting, either dead or badly wounded.
In the 2011 electoral crises in the North, some corps members that worked as INEC adhoc staff were attacked on their way back from the polling units after the election. Some people lost their shops and houses during the post-election crisis.
2. Disruption of Electoral Process
Violence during election usually affects the smooth electoral process and coordination. In most cases it leads to the cancellation of the entire election within the area of reported violence.
When such happens, a by-election is usually conducted in the area, however it hampers the collation of the results and final declaration of the winner.
3. Lack of Trust in the Electoral System
Electoral violence creates unusual tension and panic in the public. Generally people conceive politics as a dirty game.
Such violence helps to further validate their impression and reservations towards political participation. In the case of violence before the election proper, it can cause low turnout of the voters on the election day arising due to fear and anxiety.
This can discourage the level of political activeness especially in an area where electoral violence has been a usual occurrence.
Read Also: 10 Problems of Nigerian Politics and Possible Solutions
Solutions to electoral violence in Nigeria – The Way Forward
1. Independence of the Judiciary
The judiciary can be more effective when they are autonomous. At the state level where the judiciary arm is funded by the state government, their audacity in judicial powers over the executive can be limited.
In cases of electoral violence which can be affiliated to some forces within the executive arm of the government, the judiciary can be mute.
This is because even the appointment of the Chief Judge is approved by the Chief Executive of the state. When the judiciary is an independent system of the government in essence, they can be able to prosecute the perpetuators of electoral violence both at state and federal level.
2. Political Sensitization
More political sensitization programmes can be carried out by the Independent National Electoral Commission (INEC) to educate the masses on conduct during and after the election.
Such programmes should be targeted more towards the youths who are usually the mercenaries used for electoral violence.
Political re-orientation should be given to public office holders as well as political aspirants on the right approach towards elections and politics generally.
3. Adequate Security in Rural Areas
Enough security should be provided during elections. More security personnel should be deployed to rural areas where cases of electoral violence are much.
The case of flooding the urban areas with security personnel has been effective; however there is need for them to be dispatched more to remote villages where violence and other forms of election malpractices are usually carried out.
The masterminds of electoral violence normally have upper hand in those areas than the main cities where security is usually tight.
Read Also: 6 Reasons Why Nigerian Politics is STILL a Dirty Game
4. Employment
When our youths are gainfully employed, they will not have time to engage in electoral violence. Most young people that are used for electoral violence are unemployed and idle.
An idle mind they say is devil's workshop. Creation of more employment opportunities by the government can help to reduce youths' involvement in electoral violence.
In conclusion, electoral violence is a dent to democracy and youths must arise and so no to such violence for the sustainability of good governance.
Buy and Sell Bitcoin in Nigeria - Register for free on Luno
Click here to see the latest
Study Abroad Scholarships and Guides
Click here to see the latest
Jobs opportunities in Nigeria
.
Copyright Warning!
We work really hard and put a lot of effort and resources into our content, providing our readers with plagiarism-free articles, original and high-quality texts. Contents on this website may not be copied, republished, reproduced, redistributed either in whole or in part without due permission or acknowledgement.
Proper acknowledgement include, but not limited to (a) Proper referencing in the case of usage in research, magazine, brochure, or academic purposes, (b)"FAIR USE" in the case of re-publication on online media. About possible consequences you can read here: What are the consequences of copyright infringement? In an effort to protect our intellectual properties, we may report your website to Google without prior notice and your website be removed from search engines and you may receive a strike. All contents are protected by the Digital Millennium Copyright Act 1996 (DMCA).