Security
10 Causes of Cultism In Nigeria
In this post, we will discus the causes of cultism in Nigeria. The term "cultism" rings a loud bell in our contemporary society.
Not just because of the evil connotation associated with the practice as perceived by the society, but its activities which has been on the increase over the past few decades especially among young people of tertiary institutions are secondary schools alike.
Most cases of crimes such as armed robbery, drug abuse, sexual assault, murder, bullying and so on, are associated with cultism directly or indirectly.
As a social menace, cultism continues to be an issue of concern to government, religious organizations, families and individuals.
Read Also: 10 Problems of National Security in Nigeria and Possible Solutions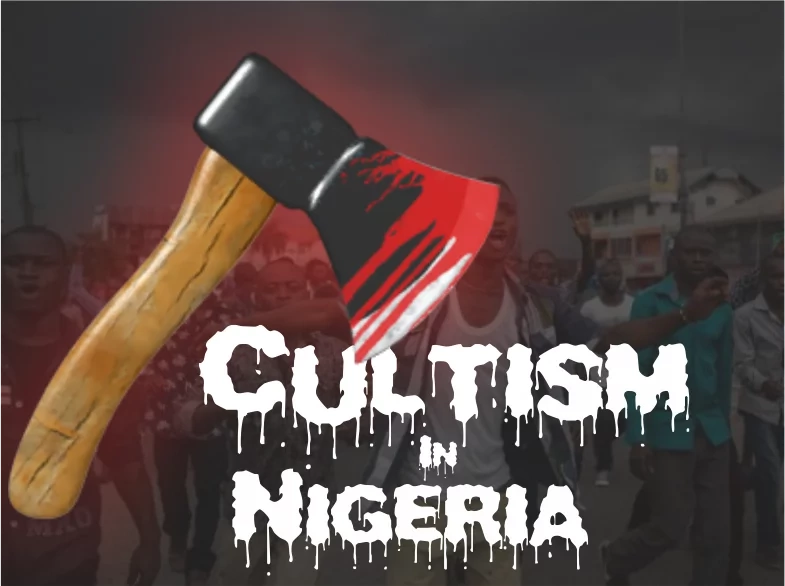 Definition Of Cultism
According to the Oxford Dictionary, cultism is a religious or social group whose beliefs are secret, individualistic and esoteric.
The history of Cultism or cult can be traced back to 1952 when the Nobel Laurel Prize Winner, Wole Soyinka and six others, formed the Pyrate Confraternity (a.ka. Sea dogs).
Various schools of thought has developed, surrounding the actual objective of the pioneer cult group which its members claims to be void of evil and a platform for the  fight for human right and justice, however various cult groups have emerged over the years whose activities suggest nothing but evil to the society.
Some of these cults include; Buccaneers, Black Axe, Vikings, Aro Mates, Supreme Eiye, Black Eye, Black Beret, Black Bra, Daughters of Jezebel and so on.
These cults share some features in common which include initiation of new members, ritual practices such as; use of blood, inscription of marks on bodies of new members, use of colour and symbols, oath taking and so on.
With the constant effort of government and school authorities to put an end to cultism, their activities remain visible.
These involve frequent violent clash among the different cult groups which always end in casualties, armed robbery, sexual assault, drug abuse, harassment and bullying of fellow students, forceful intimidation of lecturers for grades, examination malpractices, vandalization etc.
The problems associated with cultism cannot be overemphasized.  What really is the cause or causes of cultism? Why have efforts by government, school authorities, community leaders and even religious bodies proved less effective in curbing the societal ill?
Read Also: 10 Problems of Juvenile Delinquency in Nigeria and Possible Solutions
Causes Of Cultism In Nigeria:
1. Use of Cultists by Politicians
Use of cultists as thugs by politicians encourages cultism in Nigeria. Politicians clampers the effectiveness of effort towards curbing cultism through their direct or indirect affiliation with these cults.
Most cult groups have government officials as their patrons and patronesses who finance them often for their personal dubious motives.
During campaigns and elections, they use these young boys they as their hit men to carry out their intentions such as snatching of ballot boxes, destruction of election materials, assassination of their political opponents, intimidation of electoral officers and so on.
This external support gives the cult members themselves high morale to perpetuate their evil being confident they have backbones and godfathers that can always use their highly placed influence to get them out any detention or court case.
2. Search for Protection
Also people seek protection and security through cultism. On feature of cult is that the members are brother's keeper to each other.
People join cult in search of protection from harm or any form of harassment or intimidation. The sense of security offered to the members gives them boldness and confidence against any threat in any form.
Such sense of protection can lead to arrogance in the members. They are constantly conscious of the backup available to them in case of any emergency.
Members of cult are rarely intimidated or afraid of their peers or anyone else. The use of charms, talisman and weapons like guns, knives, matches, bottles etc is very common to them.
3. Quest for Social Identity
Another cause of cultism is the quest for social identity. Some students in tertiary institutions want to belong to a class of lifestyle superior to their peers.
This they desire to be in order to gain more popularity, respect and admiration from opposite sex. In an attempt make such definition of a typical "Big Boy" or "Mean Chick" in the campus they join cult which offers them, that psychological fulfillment.
As a product of low self esteem, the desire to identify with cult in this kind of situation is a voluntary action. Without any form or persuasion or force, such individual reaches us to any cult group that tickles his or her fantasy.
Read Also: 10 Problems of Insecurity in Nigeria and Possible Solutions
4. Poor Parental Training
Poor parental training has lead to cultism among students. Some join cult in secondary school or tertiary institution because they lack adequate home training.
The contemporary parenthood to an extent is a deviation from what it out to be. With demanding economic challenges on daily basis, the pursuit for career or money is inevitable.
Of course to make a means of livelihood for the family, some parents give more time to business and work than their children.
That explains the reason why a secondary school student, still under the roof of the parents, can join a cult and the both parents will have no idea about it.
Failure of some parents to inculcate moral values and discipline in their children has resulted in moral bankruptcy among young people.
As unfortunate as it is, they do not give quality attention to their children's moral development which requires time and keen attention.
The present day's parenthood suffers a bridge of communication and intimacy between parents and their children. Communication and closeness are two inseparable factors that can foster effective parenthood.
Where such is lacking, inculcating moral values may be frustrating, or even if done, will be a momentary compliance born out of fear.
When such a child leaves home to school or lives in the campus, compromise becomes a freedom to choice of lifestyle.
5. Peer Group Influence
Peer Group Influence is another major cause of cultism peculiar to young people. This is often seen in universities and secondary schools were students socialize more with each other.
Through this process of interaction, both positive and negative influences are bound to happen. Most students from good family background end up joining cult as a result of wrong friends and association.
To such students, joining cult was never their intention before they entered the university, but due to negative influence of friends, they ended up becoming cult members.
Influence goes a long way in changing both mindset and behavioral pattern of individuals. At the long run, such individuals become addicted to habits like drug abuse, clubbing or gambling which make it difficult for them to break away from the circle of friends.
To such individuals, breaking away from cultism becomes difficult as a result of threats received from the cult members.
Some people who were lured into cult by their friends find it difficult denouncing their membership because of fear of being killed by the leadership.
Read Also: 10 Ways to Improve Security in Nigeria
6. Revenge
Furthermore, people seek revenge through cultism. For some men and women who are victims of harassment, assault, bullying or a painful past, cultism gives them a platform to swiftly take their own pound of flesh.
This is because the team work assistance form cult members, makes such a mission possible. The assistance with charms, weapons and human personal can make revenge an easy task.
Also cultism gives members a high morale to do the unimaginable. Through the initiation process, the member develops tough skin and meanness to life and circumstances. The use of drugs which is very common in cult can also transform a weakling to a brutal assassin within few weeks.
7. Emotional Instability
Emotional instability can also lure someone into cultism. Individuals who face emotional challenges like depression and melancholy can find solace in cultism.
This is because of the brotherhood nature of cult. Within the group the individual suffering from such disorder finds a new circle of friends, a family that literally protects and looks out for him or her.
Such feeling gives the comfort and eases loneliness. Through the interaction of co-members, the individual gets involved in drug, gambling, alcohol, partying and sexual adventures thereby finding a sense of peace and happiness with him and the environment.
8. Loneliness
Loneliness also can lead to cultism. Just like depression finds solace in adventure, so also loneliness can take succor in the company of friends.
Friends have great influence over each other just like influence among peers. Unfortunately as it may be, most people are victims of such circumstances, they end up finding themselves in the company of cult members as friends who do not just offer them friendship but also lures them into cultism.
9. Drug Abuse
Drug abuse and cultism are two inseparable vices in the society. The influence of drug on young people makes them through away their conscience to the wind.
In extreme cases of drug addiction, the individual who constantly craves for drug connects with other drug addicts for daily supply. Some of these drug addicts are associated with cultism directly or indirectly.
The creeks and hideout where they usually sell and take those substances are vulnerable places for easy initiation into cultism.
Read Also: How to Start a Security Company in Nigeria
10. Poverty
Cultism can be caused by poverty. Most people are being lured into cult due to financial hardship. In quest for help or assistance which the cult offers its members, most people seek and find solution there. Members help each other with business connection more than non-members.
Cultism if not tackled, will continue to eat down into the very root of our society with more effects on individuals, families, schools and society at large.
Buy and Sell Bitcoin in Nigeria - Register for free on Luno
Click here to see the latest
Study Abroad Scholarships and Guides
Click here to see the latest
Jobs opportunities in Nigeria
.
Copyright Warning!
We work really hard and put a lot of effort and resources into our content, providing our readers with plagiarism-free articles, original and high-quality texts. Contents on this website may not be copied, republished, reproduced, redistributed either in whole or in part without due permission or acknowledgement.
Proper acknowledgement include, but not limited to (a) Proper referencing in the case of usage in research, magazine, brochure, or academic purposes, (b)"FAIR USE" in the case of re-publication on online media. About possible consequences you can read here: What are the consequences of copyright infringement? In an effort to protect our intellectual properties, we may report your website to Google without prior notice and your website be removed from search engines and you may receive a strike. All contents are protected by the Digital Millennium Copyright Act 1996 (DMCA).