Career
How to Become a Software Developer in Nigeria
Here in this article, we are going to give you detailed information on how to become a software developer in Nigeria. You will need this info if you want to succeed as a software developer.
As the demand for IT knowledge keep increasing in the world today, one must not be left behind. Having the basic ICT knowledge gives one an added edge during employment today in Nigeria, as most firms prefer employing persons with basic IT knowledge.
Sure, you attest to that as most of the task in companies, schools, and hospital are carried out with the use of computer.
Read Also: 5 Functions of Institute Of Software Practitioners of Nigeria (ISPON)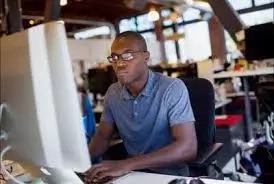 Being an expert in one of the IT based course like software development makes readily available for employment and will also boost you confidence as well.
So, if you have any intention of becoming a software developer in Nigeria, we are about to put you through the basic things you need to and equally answer those questions you have in mind to help actualize your dream.
Do I need to be a graduate before becoming a software developer?
Trust me a good number of people who have the intention of becoming a software developer do ask this question. Well, you don't need to be a graduate, in fact you don't need any qualification to become a software developer, all you need is the ability to read and write plus a basic knowledge about the computer and you are good to go.
Being a graduate too gives you an added advantage as you must have encountered some of those things you will be taught during the training while in school and no matter what course you study in school you must take introduction to computer as one of those compulsory courses in your first or second year.
Read Also: Price of Peachtree Accounting Software in Nigeria
How long will it take me to learn Software Development?
Though different training centers have their timing for different IT professional courses, say 6 months, 9 months, 1 year and so on but there is certainly no guarantee you will be perfect within the stipulated frame of time.
From my personal experience, you can learn software development within 120 days, that's 4 months if you are starting from scratch or even less depending on how fast you are able to follow but I will advise you to spend good time learning it, that will help you gain some necessary experience and be exposed to some possible challenges you may likely encounter in the field proper.
What and what am I expected learn during this training period?
This will certainly depend on your level and knowledge in the IT world, if you have a web designing knowledge then you will have to skip it as you already know that part but if you don't have any knowledge then definitely have to start from scratch.
Here are the courses and steps you need to pass through before becoming a professional software developer:
Responsive Web Design: This involves building a flexible website that can give on the page response.
Javascript Algorithms and Data Structure: This involves writing algorithm (set of commands) and arranging data to perform a specific function.
Front End Libraries: This is creating where your HTML, styles sheet and other programed words will be saved.
Data visualization: This is simply helping people to understand the significance of data by placing it in a visual context, trend, correlation that might that will go undetected in a text based data.
Apis and Microservices: This involves learning how to manage the speed and flexibility provided and also taming complexity with Apis.
*Information Security and Quality Assurance: information security is about preventing unauthorized access, disclosure, modification, disruption, use, destruction, recording or inspection of information which quality assurance is all about preventing against mistakes, defects and malfunctioning in a product manufactured and also avoiding unexpected problems while delivering services.
Now, let us put you through the basic steps and everything you need to become a software developer.
Read Also: 10 Leading School Management System Software in Nigeria
1. Get a personal Computer
It is very important to have a personal computer while learning software development or any other professional IT course. Trust me the owners of the training center wouldn't allow you to go home with their computer and how on earth will you ever learn a complicated computer course like software development without practicing at home.
It must not be a very expensive or the latest computer product but must meet the basic requirement. So, if your pc RAM is up to 2GB and ROM 500MB, then it is good enough.
It is quite necessary though not mandatory to have to have a personal computer before going in software development training.
2. Choose a good training center near you
Being trained by highly rated professionals is recommended as you have the chance of working and gaining the needed experience from the best in that field.
Ensure the training center has all the equipment that will make the training ease and fun for you. We are not going to recommend you to any as we might not know you location but we have written articles on best software development training centers in Nigeria still on this blog so can check that out yourself and select any training center very close to you.
Read Also: 7 Functions of Computer Educators Association Of Nigeria (CEAN)
3. Choose A Favorable Training Time
This is one of those important things you need to consider before starting. You have to choose the appropriate time that will be quite favorable to you and avoid skipping trainings.
Most of the training centers have different time schedule for their trainees starting from morning-noon program, noon-evening programs and weekend programs as well, so select the one that best suit your scheduling.
4. Passion to Learn
To learn and become a professional software developer is very difficult if I must tell you the truth. If you must succeed then you need to dedicate so much into it, most specially you time, money is involved as well, you need to sacrifice those things you love in many occasion just to achieve what you want.
In a bit to help you actualize your dream, we have decided to put this down having in mind you might need this as you don't really have a core knowledge about software development.
We want you to be encouraged, go ahead and learn software development as it will surely add more value to your life.
🤑 Start making money from home today!
👉 Get correct FREE TIPS and Guides on how to make money from home today. Click here to start
.
👍Showcase your business here!
With over 1M unique users per month across all channels, we have a large audience for you to showcase your products and services. Simply get in touch via 👉 marketing@Infoguidenigeria.com.
🤑 Make Money now!
👉 Make money writing for us. Apply for Freelance writing jobs in Nigeria.
👉 Make Money as InfoGuideNigeria Advertising Agents, read more here
.
This post can be helpful to somebody else, please share it on Facebook, Whatsapp, Telegram and Twitter. There are buttons below for this (easy to use too)!
Copyright Warning!
Contents on this website may not be republished, reproduced, redistributed either in whole or in part without due permission or acknowledgment.
.
Proper acknowledgment includes, but not limited to (a) LINK BACK TO THE ARTICLE in the case of re-publication on online media, (b) Proper referencing in the case of usage in research, magazine, brochure, or academic purposes,.
.
All contents are protected by the Digital Millennium Copyright Act 1996 (DMCA).
.
We publish all contents with good intentions. If you own this content & believe your copyright was violated or infringed, please contact us at [infoguidenigeria@gmail.com] to file a complaint and we will take necessary actions immediately.