Economy
How To Produce Soap In Nigeria
Soap is an important item in people's homes worldwide. Everybody uses soap everyday. Soaps are important because we use them to wash clothes, bathe and clean items in the home.
People worldwide buy soaps daily. Nigerians are not an exception. There different types of soap brands sold in Nigeria.
👉 Relocate to Canada Today!
Live, Study and Work in Canada.
No Payment is Required! Hurry Now click here to Apply >>
Immigrate to Canada
They are local and international brands of soap. People buy them because they appeal to their class, convenience , tastes, budgets and choices.
Read Also: How to Produce Shampoo in Nigeria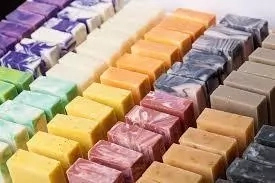 You can therefore imagine that people can not live and do without soaps. The average Nigerian uses soap to bath at least twice a day. Therefore, the demand for soap increases daily.
Some people wonder whether they can produce their own soap. I would say yes. In fact, any body can produce soap. Soap production is as simple as abc. This leads us to the question: what is soap?
Simply, soap is the product obtained from the reaction between sodium hydroxide and fats/oils. The reaction is termed saponification.
All kinds of fats and oils are used for producing soaps. Examples include olive oil, shea butter, coconut oil, Palm kernel oil, canola oil, soya bean oil, etc.
Saponification is used to produce the different types of soap used in   Nigeria. The types of soap include toilet soap, laundry soap, herbal medicated soap, beauty soap, soap used for washing plates, hands and cars.
These different types of soap are found in virtually all homes in Nigeria. To make these soaps is easy. The capital requirement  for soap production is low.
👉 Relocate to Canada Today!
Live, Study and Work in Canada.
No Payment is Required! Hurry Now click here to Apply >>
Immigrate to Canada
In this article, you will learn the easy way of producing soap from your home and making profit from it.
Profitability of Producing Soap
Production of soap is a profitable business. You can start small scale  Soap production with just thirty thousand naira as your starting capital.
Soaps are important items Nigerians use everyday.  They are indispensable to Nigerians. People cant do without them. Therefore, there is the continuous demand for soaps.
This presents a veritable opportunity for aspiring entrepreneurs to start producing soap and make profit daily, weekly, monthly and yearly. This guarantees that one earns a living from soap production enterprise daily.
Home based soap production us an important business opportunity that can be done from the comfort of one's home. You don't need expensive equipment to start producing soap.
If you can produce quality soap, then your daily and monthly returns on investment is guaranteed. You are guaranteed continued patronage as a quality soap producer and supplier. Quality is the key to being a successful soap making entrepreneur.
Read Also: How To Produce Dettol In Nigeria
Amount of Money Needed for the Investments
Starting a soap production enterprise requires minimal starting capital. You can start with just #30,000. You don't need high capital to start the business.
You can use this amount to start producing quality soap products. Remember, quality is the key. Once you are able to make quality soap products, you get more customers to patronize you and get God prices for your products.
Tools/Materials/Ingredients  Needed
Tools
a. Soap mould
b. Cutting machine
c. Trimming machine
d. Metallic stamp
e. Safety hand gloves
f. Metal spoons
g. Immersion blender
h. Measuring scale
i. Paper towel
j. Knives
k. Freezer paper
l. Plastic bowls
m. Plastic spoons
n. Ingredients
o. Base oils
p. Colours/Dyes
q. Organic ingredients
r. Sodium hydroxide
s. Soda ash
t. Sodium silicate
u. Perfume
v. Sodium sulphate
Read Also: How to Produce Aftershave in Nigeria
Where to Find the Materials
1. Chemical ingredients can be procured from stalls and shops selling laboratory chemicals
2. Request a local welder to help you make a soap mould.
3. From companies selling soap making ingredients.
4. From central markets.
Tools/ Materials/ Ingredients Needed and Where to Get Them
Bowls and Spoons
Bowls are used for measuring and mixing ingredients. Spoons are used for measuring and stirring ingredients. It is preferable to use bowls and spoons that are made of the following materials: steel, glass , plastic.
Measuring Scale
A measuring scale is used to make the right measurements. A good example is a digital scale.
Stick/ Immersion Blender
It is used to properly stir the soap mixture.
Soap Mould – This is usually any container that you pour the liquid soap mixture into. The soap will cool, harden and eventually take the shape of this container.
 Knives
They are used for cutting the hardened soap into the required  sizes.
Freezer paper
It is used  for lining the mould so the soap won't stick to it.
Read Also: How to Produce Bleach in Nigeria
Step-by-Step Process of Production
1. Add 1/2liters of water.
2. Mix the palm kernel oil with dye/colorant of your choice.
3. Add sodium hydroxide solution and stir.
4. After adding the sodium hydroxide solution, mix for 5minutes and then wait for another 30minutes.
5. Now you can apply an intensive heat to the soap mixture in the steel container to the mass of soap.
6. Add some extra water to the soap.
7. Heat again for a duration of 10minutes.
8. Reduce the heat gradually .
9. Mix and allow the soap to solidify.
10. Add sodium silicate to the soap.
11. Mix for 3minutes.
12. Add perfume to the soap.
13. Mix again thoroughly.
Finally, pour the soap in mould boxes and leave it to cool till the next day before cutting to shape and sizes.
Toilet Soap
1. Dissolve the caustic soda as for bar soap.
2. Add the require quantity of soda solution to palm kernel oil.
3. Add phenol.
4. Add pine oil .
5. Add carbolic acid.
6. Add colour.
7. Add perfume.
8. Add sodium silicate.
9. Mix all ingredients thoroughly.
10. Pour soap into mould and cut into the desired shapes and sizes.
Packing Strategies
a. Pack soaps into customized nylon with soap labels.
b. For liquid soaps, package into packaging bottles.
c. Pack products into customized cartons.
Marketing Strategies
a. Market directly to your families and friends.
b. Market directly to wholesalers and retailers.
c. Market on social media
e. Market on e-business platforms.
Read Also: 13 Steps to Produce Liquid Soup in Nigeria for Sale and Domestic Use
Conclusion
Appreciating the importance of soap in our daily lives and how much money people spend on soap everyday would  make you realize there is a huge potential in the soap business.
With your newly acquired knowledge and skill, you could focus on producing ordinary and cheap bar soaps for laundry, washing and cleaning.
You could explore different colours, scents and herbs to produce quality soaps for  customers locally and internationally.
It is important to consider the tastes, demand and supply of your local  and international market.
People are concerned about  the exorbitant price of buying soaps and will be interested in  making soap that is cheap, and unique.
Creativity in soap making is important; it makes your brand of soap unique.  You could appeal to and win a sufficiently large base of loyal customers who may  buy your soap for its uniqueness.
👇👇👇👇👇
Immigrate to Canada Via Job Offer!
Get latest Jobs in Canada for foreigners with visa sponsorship 2023 and how to apply. Don't miss this opportunity that can help you relocate to Canada with your family.
👇👇👇👇👇
👍Advertise your business on InfoGuideNigeria.com!
From just
N9,999 per month
, you can advertise your products and services to over
1,500,000 monthly
users on our website.
Click here to read more
.
======
🤑 Make Money now!
👉 Make money writing for us. Apply for
Freelance writing jobs in Nigeria
.
👉 Make Money as InfoGuideNigeria Advertising Agents,
read more here