Here in this post, we are going to bring to you 10 Importance of Technology in Nigeria. We hope you find this informative and useful.
In all history of human's existence, there have been significant records that showed that some form of technology simplified the lives of the humans in those generations, from the stone age to the iron age to the computer age.
Technology has advanced and the use of technology has spread to all regions of the world. In Nigeria, we have embraced many technologies in the diverse sectors of our economy.
Read Also: History of Technology in Nigeria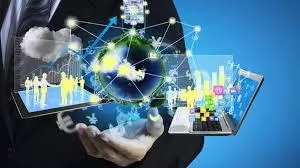 However, some people still refuse to adopt technologies, preferring to stick to obsolete and more strenuous ways of doing things, suggesting that technology has done more harm than good, with the resource depletion and pollution amongst other things.
The fact still remains that there always exist two sides to issues but whenever the good overshadows the bad, it is best we should be adventurous about issues like this and effect it in our daily lives.
This article focuses solely on the importance of technology in Nigeria and I hope to enlighten minds and spark interest in the use of emerging technologies in daily life processes.
Read Also: How to Improve Technology In Nigeria
10 Importance of Technology in Nigeria
1. Technology Enables Production of High-Quality Products and Services with Less Human Resources:
This is one of the major fear of Nigerians with technology. The fear that many people would be retrenched from their existing jobs that involve manual processes to give way to technological processes, with the current rate of unemployment in the country.
The fact still remains that many people don't know is that mastering technology enables one to be employable and be sought after by most employers.
However, technology encourages the production of quality products that can compete with international standards.
In Nigeria, food processing and products packaging are processed with great speed and better quality with technology.
Inventory services and cash transactions have been greatly facilitated with technology. Issues of theft and laxity of workers are resolved with CCTV and RFID technology. These few ways and more shows the importance of technology in Nigeria's industry and production processes.
2. Technology Simplifies Communication Processes
Communication activities of sending and receiving messages have been simplified with the advent of the internet, email, fax, and instant messaging platforms.
Also, international and local calls to friends, family and business partners can be done regardless of the distance of participants through a video conference call on Microsoft Teams, Skype, IMO, Facebook or Whatsapp.
The exciting part of this technology is the real-time factor and the speed of message delivery. These few ways and more shows the importance of technology in Nigeria's communication processes.
3. Learning Is More Fun and Easily Accessible With Technology
With technology, all Nigerians can access learning materials and education from any part of the world. Through technology, distant learning is possible, intensive and extensive research is possible, knowledge sharing through various creative virtual platforms like YouTube and Vimeo is possible, international collaboration is possible, participation in international competitions and events is possible, knowledge management through e-databases is possible.
Technology has become a very important factor in education in Nigeria. These few ways and more shows the great importance of technology in Nigeria's education.
Read Also: 10 Importance of Educational Technology in Nigeria
4. Technology Has Improved Banking Processes
The banking system in Nigeria has really gained from technology. From payment via the counter, where we had to wait in long queues in the banking halls, with rude customer experience to the era of ATMs, Online banking facilities, banking mobile applications to mobile USSD codes available across all banks. All these have helped in managing both corporate and personal finances.
These operations are fully secured with various regulatory and security technologies to curb interfering activities. These few ways and more shows the importance of technology in Nigeria's financial system.
5. Technology Benefits Businesses In Nigeria
E-payments systems rule the business sector in Nigeria. Buying and Selling are now done in a simplistic and comfortable way.
The POS machine is made available in all stores for easy payment from physical stores, with the use of ATM cards, thereby reducing the risk of carrying physical cash around.
Some stores also have online stores, thereby increasing the reach of the target audience. Sequel to this there are varieties of online payment providers like PayPal, Interswitch, Google wallet, Paystack etc that facilitates payments for goods and services. These few ways and more shows the importance of technology in Nigeria's trading system.
6. Technology Facilitates Collaboration and Relationships
Through technology, Nigeria is able to trade on international borders, gain international recognition and actively collaborate with other nations.
Also, social media tools enable us to foster our relationship with family and friend and also exposes us to make friends with foreigners without even leaving our country.
Imagine, if we had no technology, there would be no distant learning, no communication with the outside world, many technologies would not be made available to us, we may still be primitive and may not have reached the level of development we have today. In truth, technology has facilitated the aspect of the globalization of all countries of the world.
Read Also: How Nigeria Own Technology Can Fast-Track (Part 1)
7. Technology Makes Agricultural Systems More Efficient And Productive In Nigeria
Tractors, Ploughs, Planters, Ridgers, Harvesters' machinery and fertilizers have replaced manual labour and crude farm implements like cutlasses and hoes, thus boosting our agriculture sector and commercialized it to trade in international borders.
Technology has improved the storage of farm produce like silos, refrigerators have helped in keeping perishable farm produce like fish, tomatoes etc. and brought about food processing equipment for all types of farm fresh for consumption Through Science and technology, rearing of animals have been simplified by the machine-enhanced production of feeds like blood meal, fish meal, layers feed.
There has also been a rise in digitalized agricultural startups in Nigeria like Ewagric.ng, FarmCrowdy, Growsel, Thrive Agric, Releaf and many others.
These platforms use digital technology and solutions to empower farmers with technology- machinery, fertilizers, and improved seeds or livestock to produce in large quantities, reach/connect investors in the agricultural market, who invest in the potential farm products and also help farmers to sell and process their produce and make a great return on investments. Irrigation technology has aided the farmers in desert encroached planting crops all year round.
8. Technology Enhances the Transportation of People, Goods, and Services
Transport and logistics are the life wire of business activities and indeed the entire economy. Without motor vehicles, ships, aeroplanes, bicycles, motorbikes, goods would not be delivered on time, people would take days and months to reach their destinations on animals or foot, in fact, life would not be as easy as it seems now.
Thanks to technology, we can move to any part of the world anytime and in a comfortable mode of transportation. Technology has opened ports for the importation of goods from other countries and also aided faster delivery of goods and services locally.
We can say that Lagos, the fastest growing economy in Africa, attained this attribute by opening up seaports, airports, and road network for automobile, marine and aero technology for exportation and importation and other economic activities.
9. More Employment Opportunities Have Been Created, Thanks To Technology
Contrary to the fact that technology displaces people from their jobs, as some ignorant Nigerians would think, Technology have created more job opportunities like system analysts, database administrators, programmers, web developers and support engineers, programmers, application developers, software and web developers, graphic designers, web designers, digital marketers, social media influencers, mechanical engineers, IT managers, lab technicians, system support analysts, data scientists, system administrators amongst others.
Unemployed Nigerians can tap into these career opportunities while employed ones update themselves with the latest trends in technology, in order to stay relevant in their jobs. Manmade technology, therefore, a man should master technology, not the other way round thereby curbing unemployment in Nigeria.
10. Nigerians Receive Better Health Care with Modern Health Care Technology
Through Health-care technology, patients receive better health care, health information, and alerts from doctors on health issues.
Also, IVF technologies for pregnant women, artificial insemination, incubation technology, and Caesarean section has ease deliveries of healthy babies. Electrocardiograms, Photo-scan and X-ray technologies have assisted in diagnosis and treatments.
Telemedicine, Mhealth and Tele-monitoring technologies enable monitoring and communication between physicians and patients, thus enhancing the health sector in Nigeria.
Read Also: 10 Best Tech Companies in Nigeria
Conclusion
And there you have it, the use of technology is numerous especially in basic life processes, entertainment, research, data management, organizations, publishing, marketing and a host of others.
A good way to value the importance of technology in Nigeria is to think about your daily life routine and fish out anyone that does not need some of the technology at all or think about the time spent on performing a manual job or the quality of work produced with manual hands. The truth will always find its way out.
Information is Power!
Don't miss any valuable information or opportunity that can change your life, business, and family positively and permanently.
👇👇👇👇👇
For Latest updates on News, Jobs & Business Ideas, and Opportunities.
Copyright Warning!
Contents on this website may not be republished, reproduced, or redistributed either in whole or in part without due permission or acknowledgment.
.
Proper acknowledgment includes, but not limited to (a) LINK BACK TO THE ARTICLE in the case of re-publication on online media, (b) Proper referencing in the case of usage in research, magazine, brochure, or academic purposes,.
.
All contents are protected by the Digital Millennium Copyright Act 1996 (DMCA).
.
The images, except where otherwise indicated, are taken directly from the web, if some images were inserted by mistake violating the copyright, please contact the administrator for immediate removal.
.
We publish all content with good intentions. If you own this content & believe your copyright was violated or infringed, please contact us at [infoguidenigeria@gmail.com] for immediate removal.
🤑 Start Making Money from home today!
👉 Get the correct
FREE FOOTBALL PREDICTION
TIPS
and
Guides
today.
Click here
.
👍Advertise your business here!
With over 1M unique users per month across all channels, we have a large audience for you to showcase your products and services. Simply get in touch via 👉 marketing@Infoguidenigeria.com.
🤑 Make Money now!
👉 Make money writing for us. Apply for Freelance writing jobs in Nigeria.
👉 Make Money as InfoGuideNigeria Advertising Agents, read more here
.