Education
Importance Of business Education To National Development In Nigeria
 Here in this post, we are going to explore the Importance Of business Education To National Development In Nigeria. We hope you enjoy reading this.
Someone may ask how important is business education to national development? But let us face it, in today's modern society, where business of different kinds are evolving, a person can earn a management degree that can help him secure the best employment opportunities.
But if you look at the present economic, and social as well as, academic challenges that Nigeria is facing, one can ask, can anyhow management diploma in business help in boosting one's career? Let us find out as we continue.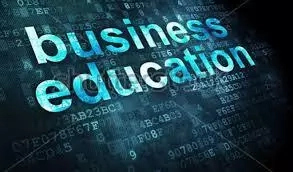 National Development And Education
It is not a new story that Nigeria is somehow facing some sort of challenges as a result of inconsistent government, and corruption, and poverty, and terrorism, and unemployment as well as, a poor academic system.
This challenge is not just affecting the national development, rather it also affects the Nigerian youths. In this situation, to pursue business education and as well, build a thriving and better career can seem to be a daunting task especially for young persons.
But the fact is that Nigeria is striving to make sure that it moves away from remaining a poor backward country, even as it working to emerge as one prominent player among the global economic development states.
Nigeria as a nation has gained effectively a sense of determination and also the objective to making sure that, it does not only face Nigeria's social and economic problems, instead the country has also determined to create a better and conducive environment for its future leaders.
As you can see, Nigerian government plus other establishments are presently taking proactive steps to address social and economic problems.
More so, quite a number of measures are taken into consideration to improve education in the country. Education is known as one of the major bedrocks for national development.
However, since education is one of the basic human rights, it, therefore, suffices to say that every one of Nigerian citizen should make sure that, he or she has access to educational opportunities in the country.
Objectives Of National Development Plan
The objectives of the National Development Plan NDP is actually aimed at achieving quite a number of goals, such as uniting Nigerians of all tribes and religion around a common programme with a view to eliminate poverty as well as, reduce inequality among Nigerians.
The Natural Development Plan also helps in encouraging citizens to make sure that they are active in their individual development, and strengthening democracy as well as,  holding their government leaders accountable.
Education For  National Development
No one can fault the fact that education is important for national development of every society; hence, it is expedient that anyone who had garnered education, should be the calibre of persons to be placed in important and critical positions in the government, and business in order to enhance communal and national development.
Accordingly, schools at all levels should be ready to instruct and as well, educate Nigerian future leaders as well as, help these leaders, who are in business and government to develop high level managerial and technical skills as well as, the abilities necessary for the economic progress and development of Nigeria
That being out of the way, it is true that the state of Nigerian schools and colleges have raised serious causes for concern.
However, the Nigerian government has taken some sort of efforts to improve the ugly situation, of course, more still have to be done.
Given the concern, Nigerians are lagging behind in terms of possessing adequate literacy and numeracy skills. Nevertheless, this has helped in creating some problems for a lot of the learners who desire to either earn higher education as well as, acquire a college degree and/or a business degree.
Having said that, the state of education across Nigeria is said to be in shamble. Perhaps, the situation was better before now, but as of today, it is in bad shape.
For example, several entrance examinations have been conducted, and very bright students have been identified, but the observation is that many of these students are not really good enough.
Hence I am afraid of what may happen to Nigeria,  should it continue this way. There are a huge population of young Nigerians; about 45 percent of these Nigerians are less than say, 20 years old, and these are the people who will be leaders of the nation tomorrow both in business and government. Now should these Nigerians are uneducated, what do you think will befall Nigeria as a nation.
The Need For Business Education
There is need to establish the fact that earning business management via business education is now becoming more important and necessary for Nigerian youths and businessman and woman, irrespective whether they want to build a thriving career or start a thriving business.
But if you ask me, I will advise that there is a need for Nigerians to receive quality business education especially the entrepreneurs without bothering of taking too school loans.
When pursuing a business degree, though it is a little bit difficult, occasioned by socio-economic and political challenges in the country, an increasing number of aspiring Nigerian entrepreneurs and business leaders are as of these days study online business degree from leading UK colleges and universities and Business schools.
Since the UK universities are following the highest academic standards, they are likely to produce high-quality education through the impartation of the necessary business skills.
Moreso, studying a well-recognised business programme in any field of business, can help in making sure that a lot of time and money are saved. An entrepreneur will gain comprehensive knowledge and skills in core management concepts.
He is likely to also develop hands-on skills by seeing to it that he work either a full time or a part-time job while he studies.
I recommend an online programme, since it offers excellent flexibility including convenience, making the businessman and woman have the opportunity of working and studying simultaneously.
Conclusion
If Nigeria can make sure it works for a strong education system and thrive to develop same, especially in the area of business education, such development will bring about national development in Nigeria.
Improving Nigerian citizen's learning is very necessary and at the same time important because their attitude towards any sort of questions can actually influence on Nigeria's national development, that is why there is a clarion call for Nigeria to invest enormously in its education sector because the youths of this country today will be the labourers in this country tomorrow.
👉 Relocate to Canada Today!
Live, Study and Work in Canada.
No Payment is Required! Hurry Now click here to Apply >>
Immigrate to Canada
👇👇👇👇👇
Immigrate to Canada Via Job Offer!
Get latest Jobs in Canada for foreigners with visa sponsorship 2023 and how to apply. Don't miss this opportunity that can help you relocate to Canada with your family.
👇👇👇👇👇
👍Advertise your business on InfoGuideNigeria.com!
From just
N9,999 per month
, you can advertise your products and services to over
1,500,000 monthly
users on our website.
Click here to read more
.
======
🤑 Make Money now!
👉 Make money writing for us. Apply for
Freelance writing jobs in Nigeria
.
👉 Make Money as InfoGuideNigeria Advertising Agents,
read more here